WASHINGTON (CNN) -- Two former White House insiders who have been described as key architects of the Bush administration's interrogation policy proved to be uncooperative witnesses as they testified before Congress for the first time.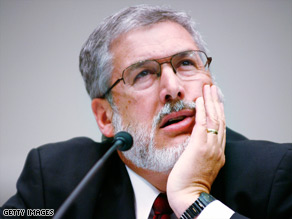 David Addington said he did not play a major role in crafting a memo on interrogation techniques.
Vice President Dick Cheney's chief of staff David Addington refused to say what constitutes torture, telling the House Judiciary Subcommittee on the Constitution, Civil Rights, and Civil Liberties that it had its own lawyer to consult.
"I'm not here to render legal advice to your committee," Addington said.
John Yoo, the author of controversial legal guidance that critics say cleared the way for the United States to torture prisoners, also refused to answer many questions from lawmakers, citing guidance from the Justice Department.
Addington was testifying under subpoena, while Yoo appeared voluntarily.
A former State Department official told the same committee last week that Addington and Yoo had been part of a group of six officials who "colluded" to develop a legal rationale for subjecting detainees to harsh treatment.
The Bush administration has admitted using "alternative interrogation methods" but has repeatedly denied torturing detainees.
The former official, Lawrence Wilkerson, former chief of staff to Secretary of State Colin Powell in President Bush's first term, also named Alberto Gonzales, who was Bush's legal counsel at the time, Jay Bybee from the Department of Justice and William J. Haynes and Douglas Feith from the Department of Defense.
Addington was difficult to pin down in response to questions from Rep. Jerrold Nadler, the New York Democrat chairing the hearing.
He delivered a flat "No" in response to Nadler's question about whether Addington "contributed to the analysis or assisted in the drafting of the August 1, 2002, interrogation memo."
"You had nothing to do with that?" Nadler pressed.
Don't Miss
"No. I didn't say I had nothing to do with it," Addington said.
Nadler quoted a Washington Post report that said Addington "advocated what was considered the memo's most radical claim that the president may authorize any interrogation method, even if it crosses the line into torture."
"Is that accurate?" Nadler asked.
"That the Washington Post said that?" Addington said.
Addington also denied attending what Rep. John Conyers, Democrat of Michigan, labeled "a so-called principals meeting in which Vice President Cheney sat around with other cabinet-level officials to approve specific interrogation techniques."
"I don't know of any such meeting, Mr. Chairman," Addington replied. "It doesn't mean one did or didn't occur. I certainly wasn't at one."
"None?" Conyers pressed.
"I was not at a meeting that fits the description you've given," Addington replied.
Yoo, a former deputy assistant attorney general, repeatedly cited guidance from the Justice Department in declining to provide information about meetings.
"I can't answer the question because of the guidance of the Department of Justice," he said on several occasions.
Nadler told Yoo the Justice Department could not prevent him from speaking and demanded that Yoo specify whether he was claiming privilege himself and asked what the grounds were for it if so.
"You're testifying before a congressional committee," Nadler said, interrupting a line of questioning from Rep. Keith Ellison, Democrat of Minnesota, in which Yoo refused to respond.
Yoo briefly cited security clearance and attorney-client privilege -- which Nadler told him did not apply in Congressional testimony -- before reverting to his original response that he was following Justice Department advice.
In an opening statement, Yoo said that his role in the administration had simply been to provide legal advice.
"We were functioning as lawyers. We don't make policy. Policy choices in these matters were up to the National Security Council or the White House or the Department of Defense," he said.
E-mail to a friend

All About Torture • U.S. Department of Justice • David Addington • John Yoo