By Alexander Mooney
CNN

WASHINGTON (CNN) -- Sen. Barack Obama's name is likely to help several Democratic candidates down ballot, but what about a Republican?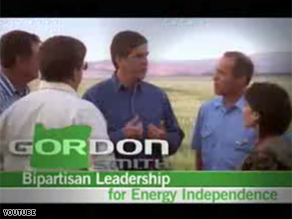 Sen. Gordon Smith, R-Oregon, is hoping to benefit from Sen. Barack Obama in a new ad.
Oregon Sen. Gordon Smith, one of the most vulnerable Senate Republicans, is stressing his history of working with the presumptive Democratic nominee in a new campaign ad that hit airwaves Tuesday.
"Who said Gordon Smith helped lead the fight for better gas mileage and a cleaner environment? Barack Obama," the ad's narrator states. "He joined with Gordon and broke through a 20-year deadlock to pass new laws which increased gas mileage for automobiles."
The Obama campaign immediately made clear the Illinois senator is supporting Smith's Democratic opponent.
"Barack Obama has a long record of bipartisan accomplishment, and we appreciate that it is respected by his Democratic and Republican colleagues in the Senate," Obama spokesman Bill Burton said. "But in this race, Oregonians should know that Barack Obama supports Jeff Merkley for Senate. Merkley will help Obama bring about the fundamental change we need in Washington."
Merkley is the Oregon speaker of the House. Recent polls suggest Smith, a two-term senator, holds a narrow lead.
Smith's tactic marks a clear departure from Republican efforts earlier this year that have sought to use Obama's name to hurt Democratic candidates running in conservative districts.
Don't Miss
Obama has played a starring role or has been mentioned in at least nine GOP-inspired ads designed to undercut Democratic candidates earlier this election cycle, after it became clear he would be the party's presumptive Democratic presidential nominee.

Watch more on this election's campaign ads »
Specifically, Obama's comments about small-town Pennsylvanians being "bitter" people who "cling to guns and religion" over frustration with the economy, and the Rev. Jeremiah Wright's controversial remarks, provided Republicans with ample material to try to inflict damage in down-ballot races.
But those efforts largely fell flat. Democratic candidates won special congressional races in both Louisiana and Mississippi last spring in conservative districts, despite the GOP attempts to link them to the Illinois senator.
The fact that Republicans are using the presumptive Democratic nominee to help some of their own candidates is the latest twist in a long election season that has been packed with surprises.
"If that's not metaphor for what strange elections we've had and what we are heading for, I don't know what is," said Evan Tracey, chief operating officer of TNSMI/Campaign Media Analysis Group.
But it's not surprising that Smith isn't exactly playing up his Republican roots. Oregon is a Democratic-leaning state that voted for Democratic presidential nominee John Kerry in 2004 by four percentage points.
With President Bush's approval rating at historic lows, Smith clearly sees an advantage in showcasing his distance from the leader of his party.
"It's not that new. We had Republicans back in the late 1990s who were distancing themselves from Newt Gingrich when he was speaker of the House," Tracey said. "It shows that clearly, politicians will do what they think they need to do to stay elected, even if that means embracing the enemy."
Obama is also an extremely popular figure in Smith's home state. He beat Sen. Hillary Clinton in the state's Democratic primary in May by nearly 20 percentage points.
And recent polls show him ahead of McCain there by anywhere from 6 to 10 percentage points.
Nonetheless, it may be better for Smith to focus his efforts closer to home.
"I am surprised they don't stay away from the presidential race altogether," Tracey said. "... and keep the focus on the state, on his record and his independent credentials. But not much surprises me in this election anymore."
E-mail to a friend

All About Barack Obama • Gordon Smith • Republican Party