By Bill Schneider
CNN Senior Political Analyst

WASHINGTON (CNN) -- Move over, soccer moms; men are poised to play a crucial role in choosing the next commander in chief.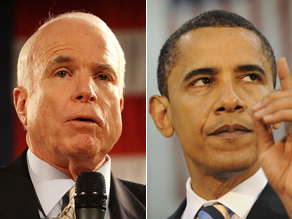 A new poll shows Sens. John McCain and Barack Obama running nearly even among men.
After the long, bruising primary battle with Sen. Hillary Clinton, a lot of Democrats were concerned that Sen. Barack Obama would have a problem getting support from women. But does he?
According to the latest CNN/Opinion Research Corp. Poll, taken June 4-5, not really.
Obama has a 9-point lead over presumptive GOP presidential candidate John McCain among women, 52 percent to 43 percent.
The big surprise is that Obama is running nearly even with McCain among men: 47 percent to the Arizona senator's 49 percent.

Interactive: CNN's latest Electoral College map »
Support from men has become crucial for Republicans, a factor that could hurt McCain in November.

Watch CNN's Bill Schneider's report »
According to exit polls from the 2000 election, 53 percent of men helped George W. Bush get elected in 2000, with only 42 percent of men supporting former Vice President Al Gore.
In 2004, George Bush was re-elected with 55 percent support among men, to Sen. John Kerry's 44 percent.
In fact, in the past nine presidential elections going back to 1972, men have voted for the Democrat only twice: for Jimmy Carter in 1976, when the economy was bad and a Republican was in the White House, and for Bill Clinton in 1992, when the economy was bad and a Republican was in the White House.
And in 2008, the economy is again bad -- and a Republican is in the White House.
For men, the economy is clearly issue No. 1, according to CNN's poll. Forty-two percent say so, with just 22 percent finding the war in Iraq a big concern.
Obama feels their pain.
"George Bush and Washington may not have noticed, but manufacturing jobs have been leaving for years now," Obama has said.
McCain feels it too but sounds more defensive.
"I have a great belief that the fundamentals of our economy are very strong, very strong," McCain has said.
In fact, the economy is giving Obama a foothold with male voters.
Among the nearly half of men who say their top concern is the economy, Obama has a 7-point lead, 52 percent to 45 percent.
E-mail to a friend

CNN's Ed Hornick and Emily Sherman contributed to this report.
All About John McCain • Barack Obama