(CNN) -- Independents will determine who wins the White House in November, according to an author who has analyzed the influence of those voters.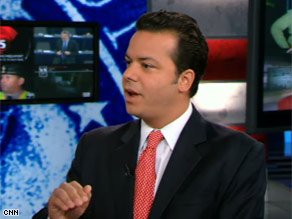 Author John Avlon says independent voters are the fastest-growing segment of the American electorate.
John Avlon told CNN on Thursday that both major party candidates, Sens. John McCain and Barack Obama, have a special appeal to independents.
Avlon is the author of "Independent Nation: How the Vital Center Is Changing American Politics" (Harmony). He was chief speechwriter for Rudy Giuliani as New York mayor and also worked on Giuliani's 2008 presidential campaign.
The following is an edited transcript of Kiran Chetry's interview with Avlon on CNN's "American Morning."
Kiran Chetry: What's the growing influence of independents, and how crucial will they be this election?
John Avlon: Huge. Independents are the fastest-growing and largest segment of the American electorate. There's been an independent movement going on in America right under the noses of the professional partisans in Washington. They're going to determine the winners of this election. That's where the action's going to be in the next couple of months.

Watch Avlon tell why independents hold the key to the election »
Chetry: Both [presumptive Democratic nominee] Barack Obama and [presumptive Republican nominee] John McCain ... seem to have been able to make themselves look more independent or seem more independent. What happens when we get into the nastiness of the general election, and you have people on both sides really attacking each of the candidates?
Don't Miss
Avlon: I think both candidates are going to try to rise above it because they get the joke. They understand that the reason independents like them is because in many cases, they've been above the fray. And that's what that new Washington Post poll shows. It shows that independents like both McCain and Obama. They like McCain as a genuine American hero with a record of political reform, and they like Obama as a once-in-a-generation political talent who transcends the old debate and really offers to bring a fresh perspective, a post-partisan perspective, to Washington.
Chetry: You wonder if some of these attack lines are going to be linking John McCain to President Bush, saying this is going to be another four years of the Bush administration.
Avlon: Both candidates try to do their best to distance themselves from [negative campaigning] because it undercuts their essential message of change. It's going to be one of the real struggles.
Obama has got to be very careful not to get tied to the far left of his party, and the Republicans are going to be doing everything they can to do that. But they need to be aware the old tired tax-and-spend, left-right arguments aren't going to work against this candidate.
To the same extent, Democrats are trying to tie McCain to "Bush's third term." Well, that's just not credible. [McCain has] built his whole legacy in opposition to the Bush-Karl Rove play-to-the-base model.

Watch another take on the importance of independent voters »
Chetry: Why is it that an independent candidate can't rise as a major party candidate? We still are basically choosing between a Democrat and a Republican in the general election.
Avlon: The Electoral College is the first hurdle, and the most significant hurdle, an independent candidate has got to clear. But I think what's significant is that both parties' nominees, McCain and Obama, ran in opposition to the establishment. This is not your father's typical political campaign. And that's why it's so inspirational to so many Americans and independents. These candidates are folks who ran in opposition to the establishment, the extremes on both sides. So it's really a case of the parties changing their message to fit the mood of the electorate, which is angry at the hyperpartisanship, and wants to see a transcending of the old left-right, black-white divisions.
Chetry: And as you see this go forward, who has the edge when it comes to the issues?
Avlon: On policies, independents tend to be fiscally conservative but socially liberal and strong on national security. That's really an opening that John McCain could exploit.
One of the ironies here is that the far-right folks in the Republican Party, who never liked John McCain in the past, the only reason they have a fighting shot at the White House in Washington is because of John McCain's independence. So he can push the issues and try to really drive a wedge through that and exploit the edge he should have on policies.
But Barack Obama is not your typical left-wing Democrat, and he's got a lot of policies that are going to make independents reassess as well.
E-mail to a friend

All About Democratic Party • Republican Party