From Bill Schneider
CNN Senior Political Analyst
WASHINGTON (CNN) -- Which of the two leading presidential candidates is winning the battle for independent voters? So far, neither.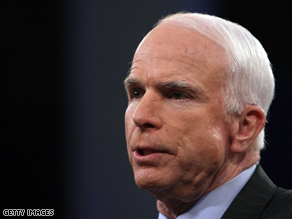 More than half of independents have a favorable opinion of John McCain, a recent poll finds.
Independents hold the key to victory, and both presidential contenders -- Republican Sen. John McCain and Democratic Sen. Barack Obama -- know it.
"I don't know if you would call it maverick, but I certainly have issues that I think can attract independents," McCain told supporters earlier this year, while Obama said last month: "As important as it is for Democrats to be unified, it's also important that we reach out to independents."
Who's got the edge with independents? Two new polls gave the same answer -- neither candidate.
The Washington Post-ABC News poll found that independents are evenly divided, with 44 percent favoring Obama and 43 percent favoring McCain. The ABC/Post poll, conducted June 12-15, had a margin of error of plus or minus 3 percentage points.
A CNN poll by the Opinion Research Corporation also found independents split down the middle, with 45 percent backing each candidate. The poll, conducted June 4-5, had a margin of error of plus or minus 5.5 percentage points.
Independents, remember, have no brand-name loyalties. Bizarre as it may sound, they actually look at the candidates and the issues and then make up their minds.
Don't Miss
So what do independents think of the candidates? Do they hate them both? Actually, they like them both, but they like McCain somewhat more than Obama. The CNN poll found that 61 percent of independents had a favorable opinion of McCain, and 54 percent of independents had a favorable opinion of Obama.
On the issues, however, independents are not happy at all -- 78 percent think the economy is lousy, and 72 percent oppose the war in Iraq -- which explains why independents are so down on the Republican Party.
Only 33 percent have a favorable opinion of Republicans, while 53 percent like the Democrats -- a big difference.
Independents also clearly want change. That is what Obama is trying to sell, telling supporters in May, "You are Democrats who are tired of being divided, but you're also Republicans who no longer recognize the party that runs Washington and independents who are hungry for change."
If independents are so down on Republicans, why do so many of them support McCain? Because most independents think McCain will be different from Bush. Otherwise, McCain wouldn't have a chance.
According to a CNN/Opinion Research Corporation Poll conducted April 28-30, a majority of independents, 57 percent, said McCain's policies are "mostly different" from the president's, while 41 percent thought they were mostly the same. The poll's margin of error was plus or minus 5.5 percentage points.
Independents don't like the Republican brand, but they like McCain. For independents, the brand comes second. For partisan, the brand comes first.
A reporter once asked Harry Truman, "Do you vote for the man or for the party?" Truman answered, "I always vote for the best man. He is the Democrat."
E-mail to a friend

All About John McCain • Barack Obama