From Deirdre Walsh
CNN

(CNN) -- House Democratic and Republican leaders have reached a deal on a war funding bill that will fund military operations in Iraq and Afghanistan into early 2009, several congressional sources said Tuesday.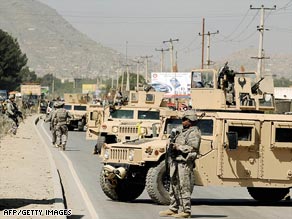 The bill would include $165 billion to fund the wars in Afghanistan, above, and Iraq.
The bill includes $165 billion to fund the wars in Afghanistan and Iraq through the rest of this year and into early 2009, without any restrictions on the money.
Democrats got support to attach two of their key domestic priorities to the war money: unemployment assistance and an expanded GI bill.
President Bush and many Congressional Republicans have resisted extending unemployment benefits, but the compromise bill includes 13 weeks of assistance. Democrats had been pushing for an additional 13 weeks for states with high unemployment rates.
Democrats also got Republican support for a new college scholarship program, known as a "new GI bill." This program expands educational benefits for veterans from Iraq and Afghanistan to pay for full four-year scholarships.
Democrats agreed to a provision pushed by the Bush administration that would allow "transferability" of the benefit to spouses or children of veterans and they dropped a new tax to pay for the program.
Don't Miss
The bill also includes more than $2 billion for disaster assistance in areas in the Midwest dealing with massive flooding.
House Majority Leader Steny Hoyer, a Maryland Democrat, said that a vote on the bill is set for Thursday. He said the plan "will provide for our troops in Iraq and Afghanistan, as well as address important domestic needs."
Congressional sources say White House officials were involved in the final negotiations. White House budget director Jim Nussle said he was pleased with the deal and, from what he's heard of it, President Bush is likely to sign it into law.
"The 'V-word' is 'victory,' not 'veto,' " Nussle said. He said the process should have gone more quickly, but "It may have been worth the wait."
House Minority Leader John Boehner issued a statement confirming the deal.
"This evening, Republican and Democratic leaders in the House have reached a tentative agreement that will get our troops in the field the tools they need for victory," he said in the statement. "I want to stress that we could have had this agreement long ago if the Democratic leadership had not chosen to play political games with our troops. That being said, this bill is a real victory."
A spokesman for Senate Majority Leader Harry Reid said, "Early reports indicate the House will send us a supplemental [budget] that includes a GI Bill, extends unemployment insurance and provides disaster relief, three important priorities we have been pushing for some time."
E-mail to a friend

All About U.S. Senate • U.S. House of Representatives