From Bill Schneider
CNN Senior Political Analyst

WASHINGTON (CNN) -- Could a battered economy, waning enthusiasm for the war in Iraq and President Bush's low approval ratings spell trouble for Sen. John McCain and other Republicans in November? According to a new poll, the answer depends on who you ask.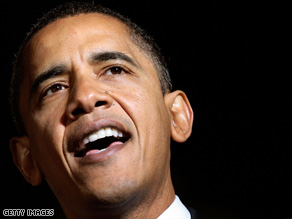 A new poll shows that most voters believe that Sen. Barack Obama is likely to win in November.
A CNN/Opinion Research Corp. poll, taken June 4-5, shows that there is a large morale gap between Democrats and Republicans.
According to the poll, two-thirds of Obama supporters, or 67 percent, say they're extremely or very enthusiastic about voting for president this year.
But only about one-third, or 34 percent, of McCain supporters feel fired up. The poll question had a sampling error of plus or minus 5 percentage points. Read more about the poll
Four years ago, there was almost no difference in enthusiasm between George W. Bush supporters and John Kerry supporters. According to the poll, 66 percent of Bush supporters say they were fired up, compared with 65 percent of Kerry supporters.
But after eight years of the Bush presidency, Republicans are demoralized -- and McCain is trying to deal with it.
"This is indeed a change election. No matter who wins this election, the direction of this country is going to change dramatically," McCain told a crowd in Kenner, Louisiana, on June 3.
Don't Miss
But the change argument is hard to make for McCain, who shares the same party affiliation and policy positions as Bush. It's an argument that Obama needs to play on, according to CNN political analyst Donna Brazile.
"I think it's important, especially at this stage of the game, to define himself, but also to define his opponent, John McCain, as being part of George Bush's legacy. ... 'If you want more of George W. Bush and Dick Cheney, vote for McCain.' That's what Barack Obama is trying to do," she said.
Terry Jeffrey, editor in chief of Cybercast News Service, says the Bush factor is the "main reason the Democrats have an advantage this year. ..."
"The country is tired of President Bush. He's not popular. He is definitely a problem for John McCain," he said.
Jeffrey says McCain already has three strikes against him going into the general election.
"The economy is not doing well -- people are paying more than $4 for gas. The war in Iraq is not popular. And ... President Bush is not popular. Those are three strikes against John McCain."

Watch more on how the economy is affecting the presidential race »
Brazile says that if he wants to win, McCain needs to show how he differs with the president.
"He will have to take time to distance himself, to defend his record and to show the American people that he will not represent a third term of George Bush and Dick Cheney."
The poll also shows that most voters believe Obama is likely to win in November: 55 percent to McCain's 43 percent.

Watch CNN's Jack Cafferty discuss McCain's chances of winning »
While that may be good news to Democrats, not all are so enthusiastic.
Forty-two percent of all voters sampled in the poll believe Obama's race will make it more difficult for him to get elected.
It's a concern that is higher among Democrats. Forty-eight percent say they are worried about Obama's race, to 36 percent of Republicans, with a sampling error of plus or minus 3 percentage points.
Obama also has a problem with seniors. Critics say he sometimes sounds like he's leading a youth movement:
"This is our time. ... Our time to turn the page on the policies of the past. ... Our time to bring new energy and new ideas to the challenges we face. ... Our time to offer a new direction for the country we love," he said on June 3 in St. Paul, Minnesota.
Republicans, meanwhile, have been making steady gains with seniors for at least 16 years.
McCain now leads Obama by 8 points -- 51 percent to 43 percent -- among voters 65 and older, the poll shows.
It is something that Obama is trying to deal with.
"I fight every single day to extend the promise of a retirement that's dignified and secure as a United States senator. And that's why I'm going to fight to make sure that a secure and dignified retirement is there when I'm president of the United States of America," Obama has said.
The greatest generation, the one that lived through the Depression and World War II, was strongly Democratic. They're passing from the political scene, and Obama is trying to rally a new generation of Democratic voters to replace them.
E-mail to a friend

CNN political producer Ed Hornick contributed to this report.
All About John McCain • Barack Obama