WASHINGTON (CNN) -- A top legal adviser to the Pentagon squelched objections from legal experts when the military was writing rules that cleared the way for harsh interrogation of prisoners, a former lawyer for the senior U.S. military commander testified Tuesday.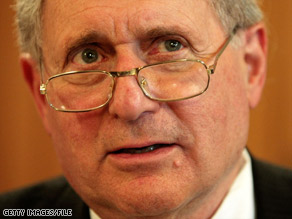 Sen. Carl Levin says officials damaged intelligence gathering by approving harsh interrogation techniques.
In November 2002, lawyers for all the major branches of the armed services objected in writing to some of the recommended interrogation techniques before they were officially approved, Sen. Carl Levin, D-Michigan, revealed for the first time Tuesday.
William J. Haynes, then the Pentagon's general counsel, indicated he did not want the services to continue reviewing the guidance in the works, retired Adm. Jane G. Dalton, a former legal adviser to the chairman of the Joint Chiefs of Staff, told the Senate Committee on Armed Services.
Dalton said her boss, Gen. Richard Myers, told her that "Mr. Haynes did not want this process to proceed." Myers was then Joint Chiefs chairman.
"I was told to stop the broad-based analysis," she said.
Sen. Claire McCaskill, a Missouri Democrat, demanded Haynes explain whose legal advice he had relied on in making his official recommendation on interrogation.
Haynes did not give a clear answer to the question, but denied advocating torture.
"Nobody has advocated torture, period," he said. "I don't advocate torture. Effective interrogation is what we are after. My job in this exercise is to talk about what does the law permit, and what does it prohibit."
He later told Sen. Jack Reed, a Rhode Island Democrat, that he had not seen objections from senior military lawyers until this year: "You are referring to a group of memos that I do not recall seeing at the time."
But he added, "I don't want anyone to walk away from my statement about that to suggest that I don't -- didn't know that there were concerns about how the DOD should interrogate prisoners."
The White House has denied the United States practices torture.
According to Levin, Haynes recommended to Rumsfeld that harsher interrogation was legally justified.

Watch as Levin disputes notion that a "few bad apples" are to blame »
Rumsfeld signed a December 2002 memo approving techniques such as threatening prisoners with dogs and forcing them to stand for prolonged periods.
"I stand for 8-10 hours a day. Why is standing limited to 4 hours?" Rumsfeld wrote on the memo, according to Levin.
Senators are seeking to discover who approved harsh interrogations of prisoners held by the U.S. military at Guantanamo Bay, Cuba, and in Iraq and Afghanistan.
Don't Miss
"How did it come about that American military personnel stripped detainees naked, put them in stress positions, used dogs to scare them, put leashes around their necks to humiliate them, hooded them, deprived them of sleep and blasted music at them?" Levin asked in his opening statement at the committee hearing.
"Senior officials in the United States government sought information on aggressive techniques, twisted the law to create the appearance of their legality and authorized their use against detainees," said Levin, the committee chairman. "In the process, they damaged our ability to collect intelligence that could save lives."
Republican Sen. Lindsey Graham, a military lawyer by training, said in his opening statement that "bizarre" legal reasoning was used to justify the harsh techniques.

Watch Graham call the legal analysis "irresponsible" »
The South Carolina lawmaker predicted the opinions supporting the techniques would go down in history "as some of the most irresponsible, shortsighted legal advice" ever offered, but he said he is convinced it was put forward with the country's best interests at heart.
Levin was especially critical of former Defense Secretary Donald Rumsfeld, who he said pushed for harsh interrogations in the face of objections from top military lawyers. Rumsfeld was not present at the hearing.
"When Secretary Rumsfeld approved the use of abusive techniques against detainees, he unleashed a virus which ultimately infected interrogation operations conducted by the U.S. military in Afghanistan and Iraq," Levin said.
A former Pentagon official told the panel Rumsfeld wanted the military to conduct interrogations because he envied other agencies.
"I think it would have been unthinkable to say to the secretary ... 'The people who were really good at this are law enforcement; we should talk to the FBI, talk to the DEA [Drug Enforcement Administration], talk to other law enforcement agencies that have been conducting interrogation for their entire careers.' I just don't think he would have accepted that answer," said Richard L. Shiffrin, the Pentagon's former deputy general counsel for intelligence.
McCaskill expressed frustration about the committee's inability to discover who was ultimately responsible for the decision to abuse prisoners.

Watch McCaskill express her frustrations »
"There are still people involved at the periphery of this that are in positions of responsibility in today's government, so our frustration is that we would like to hold someone responsible, and it's like trying to catch shadows here," she said.
At least one witness took responsibility for the legal advice she had offered, but she expressed surprise about how it was implemented, apparently without further review.
"No one tried to influence me," said retired Lt. Col. Diane Beaver, a former staff judge advocate at Guantanamo Bay. But she added, "I did not expect that my opinion ... would become the final word. I did not expect to be the only lawyer to write an opinion on this monumentally important decision. ... If my legal opinion was wrong, then I regret the error very much."
E-mail to a friend

All About Torture • Guantanamo Bay • Lindsey Graham • Carl Levin