From Brian Todd
CNN Washington Bureau

WASHINGTON (CNN) -- Lobbyist. It's a word that's making people and politicians cringe. But even though lobbyists are a target of Sens. Barack Obama and John McCain, many people can't do without them.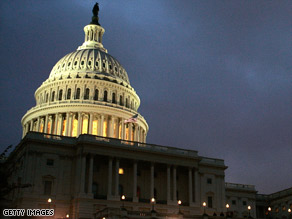 Lobbyists' influence on politics is under attack in the 2008 election.
McCain has long championed reducing the power lobbyists have in Congress.
"We need to close the door firmly on corporate lobbyists," he said April 22 in Youngstown, Ohio.
McCain, however, has recently come under scrutiny by Obama representatives for having lobbyists working on his campaign.
"It's too bad their campaign is still rife with lobbyist influence and doesn't see a similar 'perception problem' with the man currently running their own vice presidential selection process, a prominent D.C. lobbyist whose firm has represented Exxon and a top Enron executive," Obama campaign spokesman Bill Burton said Thursday.
His comment came after McCain's campaign lashed out at Obama for having Jim Johnson, a member of the Illinois senator's vice presidential vetting team, step aside Wednesday amid criticism that he received a favorable mortgage from Countrywide Financial, a company that Obama routinely attacks on the stump.

Watch more on Johnson's resignation »
For Obama, the issue of lobbyists' influence is firm: "[We] will not take a dime from Washington lobbyists."
So how easy is this target? A Gallup Poll late last year asked respondents to rate professions in terms of honesty and ethics. Lobbyists finished dead last behind used car salesmen, lawyers and politicians.
But those who watch the industry say not every lobbyist is a backroom hack trying to rip off Americans.
"There's lobbyists for your pets. There's lobbyists for your health care. There's lobbyists for your home ... for your car ... for your job," said Brody Mullins of The Wall Street Journal.
Teachers, police and the elderly also have lobbyists working for them in Congress. Tirelessly, and in almost complete obscurity, they toil to clean up the environment and to get better benefits for soldiers.
And even as Obama and McCain talk about changing the lobbyist culture in Washington and rooting out lobbyists from their campaigns, they also need these kinds of people.
"To run for president, you have to associate yourself with people who've been in and around Washington, people who know presidential politics, know campaigns, know people who are wealthy so that you can raise money from them," said Stuart Rothenberg of the Rothenberg Political Report.
Watchdog groups say lobbying gets a bad rap because success in the profession is often heavily influenced by wealth and who wields it.
"Companies can hire up to dozens and hundreds of lobbyists and spend millions of dollars to change regulations to favor them. And consumers often can't do that. That's really where the problem comes in," Mullins said.
E-mail to a friend

CNN political producer Ed Hornick contributed to this report.
All About U.S. Congress • John McCain • Barack Obama