WASHINGTON (CNN) -- Democrats will try again Thursday to pass a bill extending unemployment benefits after it fell three votes short of a needed two-thirds majority on Wednesday.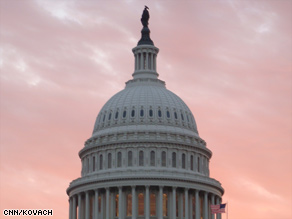 A bill the House is debating would extend unemployment benefits by at least 13 weeks.
"We expect it to pass tomorrow," said House Majority Leader Steny Hoyer, D-Maryland.
The vote, 279-144, was short of the two-third vote required by House rules. The measure enjoyed significant Republican support despite a veto threat from President Bush, though all 144 votes against it were by Republicans.
House Minority Whip Roy Blunt of Missouri said the Republican leadership's goal was to reduce GOP defections so that we have a "a veto-sustaining number." Only 49 Republican voted in favor of the bill.
The House Democratic leadership had brought bill to the floor under rules that required the two-thirds vote rather than a simple majority, in part, to see whether there would be enough votes to override a presidential veto.
The House earlier approved an extension of unemployment benefits that was attached to a war funding bill last month. The White House has objected to the extension being attached to the war funding bill, however, and the Senate has yet to take up the legislation.
The measure would have provided up to 13 weeks of benefits to unemployed workers who have used up their regular unemployment, which in most states runs for 26 weeks. The additional benefits would have expired in March.
Workers in high-unemployment states would have been eligible for an additional 26 weeks of benefits.
The non-partisan Congressional Budget Office estimates that 3.8 million unemployed workers would have been helped by the bill.
"You have gas prices at $4 a gallon, you have food prices going up and you have members of this House of Representatives who say to the million and a half people who have exhausted their benefits, 'I'm sorry, we don't think you need them,'" said Rep. Jim McDermott, D-Washington.
According to Democratic aides of the House Ways and Means Committee, the extended benefits would have been equal to the benefits paid by regular unemployment insurance, which aides said averages $290 a week.
The additional benefits were to be paid out of federal unemployment benefit trust funds, which contain more than $35 billion, committee aides said.
Democrats argued that rising unemployment, the slowing economy and rising gas prices makes the extension necessary.
Don't Miss
Democrats argued that the rising unemployment, the slowing economy and rising gas prices made the measure necessary. "How many people do you know are unemployed?" asked Rep. Stephanie Tubbs Jones, D-Ohio. "How many people do you know been walking looking for a job, need an opportunity, can't figure out how they're gonna pay for gas that costs $4 a gallon, milk that costs $3.50 a gallon, loaf of bread that costs $3 -- how many people you know like that?
"Why not extend unemployment? Why not give these folks an opportunity? They were hardworking people. They were part of the working class of America and now are locked out and left out the process."
But the White House called the unemployment extension "a flawed bill" and said the president's advisers would recommend that he veto the bill if it comes to his desk.
"The unemployment rate is clearly well below the rates that the U.S. government has historically justified extensions of unemployment benefits wholly paid for with federal tax dollars. And the bill would extend benefits even in states with unemployment rates as low as 2.6 percent," Tony Fratto, a White House spokesman, said in a statement. "With scarce federal dollars, it's not fiscally responsible to extend benefits in states with very low unemployment rates."
Fratto also said the White House objected to the low threshold that workers must meet to be eligible for the extended benefits, saying that "under this bill, individuals who have worked as little as two weeks could qualify for up to 52 weeks of total unemployment benefits."
According to the Bureau of Labor Statistics, the unemployment rate rose from 5.0 percent to 5.5 percent in May, with the number of unemployed individuals increasing by 861,000 to 8.5 million.
The growth in the ranks of the unemployed was the largest one-month increase in the unemployment rate in 20 years.
The bureau also found that the number of individuals who had been unemployed for over six months rose by 197,000 individuals in May, to 1.6 million.
E-mail to a friend

CNN's Lesa Jansen, Kate Bolduan, Virginia Nicolaidis, Deirdre Walsh and Scott J. Anderson contributed to this report.
All About Unemployment Rate • U.S. House of Representatives • Economic Issues