By Rebecca Sinderbrand
CNN
WASHINGTON (CNN) -- Four years ago, Michael Farris was knee-deep in presidential politics.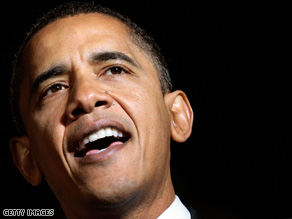 Sen. Barack Obama's campaign is to unveil its effort this month to court young evangelicals and Catholics.
Early in the 2004 primary season, he got a call from the Republican National Committee: Would he be willing to mobilize his grass-roots army on behalf of President Bush's re-election effort?
By May that year, his organization, Generation Joshua, was deep into fall planning mode. It had laid the groundwork for an ambitious turnout operation for the general election.
Action teams of young volunteers soon fanned out over the major swing states, spearheading get-out-the-vote efforts, part of an evangelical machine that kept the GOP competitive in the ground game unions and other Democratic groups typically dominate.
In one three-day span, the members of Generation Joshua knocked on more than 15,000 doors in the crucial state of Pennsylvania.
This year, Farris has yet to hear from the RNC or the campaign of the GOP's presumptive nominee, Sen. John McCain.
He has not developed any swing state strategy for the GOP. And he has no plans to start now.
"We don't feel invested in his candidacy," Farris said, "and he clearly doesn't feel invested in us."
McCain's problems with his party's socially conservative evangelical base are no secret, from the frostiness of his relationship with Focus on the Family founder James Dobson to his headline-grabbing effort early on to mend fences with high-profile movement leaders.
But the senator's moves since claiming his party's nomination have done more than erase the gains made over more than a year of careful appeals. They have hardened attitudes and sparked a fresh wave of resentment from leaders who control what has been a central element of recent Republican White House wins.
Don't Miss
McCain's acceptance, then rejection, of support from two controversial ministers, the Revs. John Hagee and Rod Parsley, led to a sense of betrayal so pervasive that several leaders said it would have been better if he had never courted their backing at all.
Campaign senior adviser Charlie Black has met with evangelical leaders to hear their concerns and court their support, but despite months of entreaties, many said they have not heard from the candidate himself.
The campaign assembled a committee of religious leaders and floated plans for a tour designed to raise passion among religious voters, but those efforts have been slow to translate into real-world action.

Watch more on how religion is playing a role in the election »
And some groups heavily involved in Bush's 2004 campaign -- representing thousands of volunteers and millions of dollars in resources -- said they plan to sit this cycle out or turn their focus to down-ballot races. This year, they said, neither the RNC nor the McCain campaign has asked for their help.
Democrats are looking to take advantage of the opening.
On Tuesday night, a few blocks from the White House, the Matthew 25 PAC held its inaugural fundraising event, a $1,000-a-head reception featuring Democratic luminaries such as Rep. Rosa DeLauro of Connecticut and Mike McCurry, a White House spokesman under President Clinton.
Matthew 25 has long been a touchstone chapter for moderate and liberal Christians, who say the passage -- "For I was hungry and you gave me food, I was thirsty and you gave me drink" -- signals their focus on social justice concerns over hot-button cultural issues.
The group's stated mission: to attract financial support from moderate evangelicals, Catholics, Protestants and Hispanic Catholics committed to electing Sen. Barack Obama president.
It will launch ad campaigns in Christian media, send surrogates onto network and cable news, and push back on e-mail rumors that suggest that Obama is not a Christian, organizers said.
Matthew 25 will focus its efforts on traditional presidential battlegrounds and a new category of swing states: traditional red states, some trending purple, with significant Christian populations likely to be receptive to Obama's candidacy.
The McCain campaign says it sends a weekly e-mail to about 600 influential religious conservatives with action alerts and issue updates, and hosts a weekly conference call.
Campaign officials say their efforts have "ramped up" significantly in the past month and a half, although a campaign official says they are probably a month or more away from hiring field staff to coordinate efforts to reach religious voters at the state level.
The McCain campaign says they will seek support throughout the evangelical community. But it's clear many of the activists who worked on behalf of Bush in 2004 may not come through this time.
"We're not taking that vote for granted," said McCain spokeswoman Crystal Benton. "We will continue our aggressive outreach into the community."
The candidate intends to meet with grassroots leaders and organizations to stress that he is "the only candidate who shares their principles like a 24-year pro-life record and support for the belief that marriage is between a man and a woman," Benton told CNN.
The effects of large-scale Christian conservative opposition to campaign finance reform still linger, but the campaign says evangelical and Catholic voters will find more to dislike in Obama's Senate record. And it's ready to remind them, by way of targeted contrast mailers and possible ad campaigns in Christian media outlets.
The message: Evangelicals may not love McCain, but they'll find even less to like in Obama.
The success of the Matthew 25 PAC would mark a sea change in the electoral landscape, unprecedented but not a bolt from the blue.
Polls have showed that evangelicals, following national trends, are disaffected with Republican leadership and increasingly up for grabs.
The organizer of the Matthew 25 effort, Mara Vanderslice, led the religious outreach for the Democratic presidential ticket in 2004 and -- perhaps more troubling to the GOP -- has done similar, and successful, work for winning Democrats in reliably red states and battlegrounds, such as Kansas Gov. Kathleen Sebelius, Ohio Gov. Ted Strickland and Sen. Bob Casey of Pennsylvania.
Vanderslice hopes the group will become a political mainstay, backing candidates at every level of government. This year, it has just one mission: supporting Obama's presidential bid.
This new energy has not been matched among conservatives. Same-sex marriage has galvanized some issues-motivated activists, but the Republican standard-bearer has yet to galvanize longtime evangelical foot soldiers this campaign season.
Since former Arkansas Gov. Mike Huckabee ended his presidential run, many organizers and former Huckabee backers such as Farris have taken to the sidelines and said they have no plans to re-enter the fray before Election Day.
And as reports surface of McCain's difficulties with evangelical leaders, Obama's campaign revealed an ambitious effort to appeal to young evangelicals and Catholics, to be unveiled this month.
In a mirror image of the Generation Joshua effort that backed Bush four years ago, the Obama campaign is planning the Joshua Generation Project.
The program, named after a biblical reference Obama used on the campaign trail, will include blogs, concerts and house parties.
The name is drawn from the biblical account of how Joshua's generation, which followed the one that fled Egypt with Moses, led the Israelites into the Promised Land.
The goal? To capitalize on an undercurrent of excitement over Obama's candidacy that has begun to become apparent among young evangelicals, including those attending Christian colleges and universities.
The program is the tip of an intensive, months-long outreach effort by the campaign. On Tuesday, in advance of its debut, Obama met privately in Chicago, Illinois, with about 30 evangelical, Protestant and Catholic leaders. They included Bishop T.D. Jakes, the megachurch minister, and Douglas Kmiec, an influential law professor who opposes abortion rights.
Farris, who said he's glimpsed evidence of Obama's growing support at conservative stronghold Patrick Henry College, where he is based, is planning legal action over Obama's use of the Joshua Generation moniker.
Still, he concedes his respect for the effort.
"The Democrats have learned how to reach out to religious voters," Farris said. "I think Republicans have forgotten."
E-mail to a friend

All About Democratic Party • Republican Party