From Mary Snow
CNN Correspondent

WASHINGTON (CNN) -- One after another, they jumped ship and left Sen. Hillary Clinton's campaign to back her Democratic rival, Sen. Barack Obama. And although the chapter on her campaign may be closed, there are still open wounds over those who've crossed the Clintons.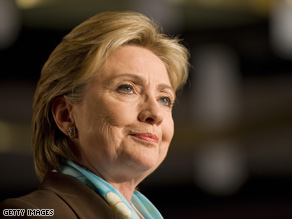 Former aides to Sen. Hillary Clinton say those who switched their support to Sen. Barack Obama may be on the outs.
"So, today, I am standing with Sen. Obama to say, 'yes, we can!' " Clinton said Saturday.
Yes, Clinton can support Obama in his race for the presidency. But as for the former Clinton supporters who switched sides, forgiving and forgetting might not come that easily.
The New York Times reported that some Clinton loyalists have been keeping tabs on those who have crossed the Clintons.
But CNN contributor and longtime Clinton backer James Carville told CNN's Wolf Blitzer on Wednesday that article is "laughable."
"It's a very silly piece. ... There really wasn't a list. ... It's laughable. I talked to a lot of people in Clinton land today, and they're not even sure what the point of the story was," he said.
One former Clinton adviser, however, said there's no doubt some have forever burned bridges with the power couple.

Watch more about the Clintons »
Don't Miss
"I think it would be wrong to say that the Clintons would have an enemies list in the Nixonian sense. They do have long memories, but I don't think they have long knives after the people who broke with them," said David Gergen, CNN's senior political analyst.
Former Clinton aide Lanny Davis is one such loyal Clinton supporter with a long memory.
"I certainly know that I will never forget. ... I can always forgive, but I won't forget, as President Kennedy once said," Davis said.
Davis said he's not upset that some former Clinton supporters endorsed Obama. He said he's upset because he thinks they violated what he calls a fundamental rule of life.
"You don't trash publicly somebody who's been good to you. Period. And that is why Bill Richardson is the No. 1 person whose name evokes the most anger in me," he said.
Former Clinton administration official Richardson said he knows that the Clintons have been unhappy with him since he endorsed Obama -- and he's not the only one thought to be on the outs.
The New York Times said several Kennedys won't be in good graces, along with some members of the media, like NBC's Chris Matthews and Keith Olbermann and Vanity Fair's Todd Purdam, who drew ire from Bill Clinton for his recent profile of the former president.
So what does it mean? Most likely cold shoulders and no favors.
Former Clinton aides said Bill Clinton can't hold a grudge and can forgive and forget. Hillary Clinton, they said, takes it more personally, and it could take her longer to forget.
E-mail to a friend

CNN Political Producer Ed Hornick contributed to this report.
All About Hillary Clinton • Bill Clinton