PETERSON AIR FORCE BASE, Colorado (CNN) -- No matter who winds up being the next president, he is likely to "take a sensible approach" to the Iraq war, Defense Secretary Robert Gates told CNN in an exclusive interview Tuesday.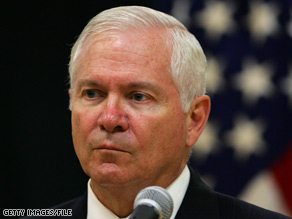 The U.S. "can't get the endgame wrong" in Iraq, Defense Secretary Robert Gates says.
"Based on what I read in the newspapers, I think either person who is elected president is going to come in and take a close look at it," Gates said of the situation in Iraq.
The two presumptive nominees for the major political parties -- Republican Sen. John McCain and Democrat Sen. Barack Obama -- have greatly differing positions on the war in Iraq.
McCain supports President Bush's current strategy and has said he is willing to continue the deployment of U.S. troops in Iraq until the country has reached a level of political stability.
Obama, on the other hand, has vowed to begin a withdrawal of combat troops almost immediately after he would take office in January, if he wins this fall.
The defense chief also said the next president would receive the blame if the "endgame" is not handled correctly.
"I've said repeatedly we can't get the endgame wrong. The next president would suffer the greatest consequences if we do get the endgame wrong, so I think whoever's elected is likely to take a fairly sensible approach to it," he said.
Gates also spoke about a security agreement being negotiated between the United States and Iraq, and how it might affect the next U.S. president.
"I'm no lawyer, and the State Department is negotiating this, but my view is that if it's an executive agreement that simply provides the authorities for our troops to be there, and what are the rules under which our troops are there, the kinds of agreements that we have with 80 or 90 other governments, then I think that it doesn't bind the future president at all and probably doesn't need to be ratified," Gates said.
"On the other hand, if it emerges in a way that does make binding commitments that fit the treaty-making powers, or treaty ratification powers of the Senate, then it'll have to go in that direction," he said.
And he reiterated what other officials have said: "We have no desire for permanent bases in Iraq."
Asked what would be considered a permanent base, Gates, speaking at Peterson Air Force Base, joked, "This is a permanent base."
Asked about U.S. installations in Korea and Germany, he said, "I think you would have to look at them as permanent bases. They've been there for 50 years; they are U.S. facilities in the sense that they are U.S. only in many instances. That's not what we have in mind" in Iraq.
Last week, Gates accepted the resignations of the top civilian and military leaders of the Air Force, Michael Wynne and Gen. Michael Moseley, after a critical report on the mistaken transport of nuclear-tipped missiles and shipment of other missile components.

Watch Gates say he wants to restore 'excellence' in Air Force »
He previously dismissed the head of the Army over conditions at Walter Reed Army Medical Center.
Asked whether he was trying to solve problems or send a message through the oustings, Gates said, "I think it has to be about solving the problem. These are good people. They've rendered good service to the country, but it just becomes my conclusion that after a period of time, after an investigation or whatever, that they either didn't recognize the problem early enough [or] weren't aggressive enough in pursuing it, and that new leadership is needed to really get on with correcting the problems."
As to whether he would continue serving in another administration, Gates said, "I learned a long time ago never to say never, so my answer is: The circumstances under which I would do that are inconceivable to me."
E-mail to a friend

All About Robert Gates • Iraq War • John McCain • Barack Obama