(CNN) -- Now that she has ended her historic run to become the first Madame President, many are speculating about what Sen. Hillary Clinton will do next.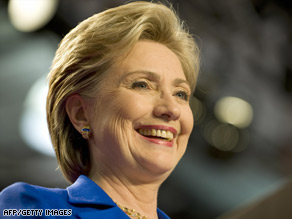 Sen. Hillary Clinton won't be the next president, but there are several other roles she could fill.
On Saturday, she held her last rally, telling thousands of supporters she was endorsing her former rival, Sen. Barack Obama, who became the presumptive Democratic nominee Tuesday.
"The way to continue our fight now, to accomplish the goals for which we stand, is to take our energy, our passion, our strength, and do all we can to help elect Barack Obama the next president of the United States," she told the packed crowd at the National Building Museum in Washington.
Clinton is expected to return to the campaign trail to stump for Obama.
Some of her top backers are hoping she will play a larger role in the Obama campaign by becoming his running mate.
Clinton told New York lawmakers this week that she'd be open to becoming the Democrat's vice presidential nominee, some of them said, but Obama has said only that Clinton "would be on anyone's short-list."

Watch pundits debate whether Clinton's speech could lead to VP spot »
Democratic analyst Jamal Simmons says Clinton has reason to look beyond a joint ticket.
"Hillary Clinton may actually think she spent the last year, year-and-a-half getting out from the shadow of Bill Clinton. She may not want to get underneath the wing of Barack Obama," said Simmons, an Obama supporter.
Apart from the vice presidency, analysts say, there are several roles Clinton could potentially fill.
The Next President
CNN examines the two nominees for president. Who are they, and how do they plan to get elected?
Sat & Sun, 8 p.m. ET
Some New York Democrats would love to see a Gov. Hillary Clinton in 2010.
But the primary fight would put her up against David Paterson, New York's first African-American governor. Paterson took over after Eliot Spitzer stepped down in the wake of his call-girl scandal.
Others say Clinton could aim for Harry Reid's powerful position as Senate majority leader, but there are a some major obstacles on that career path.
Sen. Dick Durbin of Illinois, the assistant majority leader, is next in line. He's followed by Sen. Charles Schumer, vice chairman of the Senate Democratic Caucus. And of course, Reid would have to resign.
Clinton could potentially add Supreme Court justice to her résumé, but she would be in her early 60s if the offer came.
Don't Miss
Presidents tend to appoint younger justices, like 53-year-old John Roberts, so their legacies can carry on longer.
Should Obama become the president, he could carve out a place for Clinton in his Cabinet. Based on Obama's own words, the idea might not be too far-fetched.
"Lincoln basically pulled in all the people who had been running against him into his Cabinet, because whatever personal feelings there were, the issue was 'How can we get this country through this time of crisis?' " he said last month in Florida.
And in declaring victory Tuesday, Obama had kind words about Clinton's push for health care reform.
"You can rest assured that when we finally win the battle for universal health care in this country, she will be central to that victory," he said.
Clinton could also continue her White House aspirations. Some angry voters wonder whether she ought to dump the Democrats and run as an independent. She did rack up more than 17 million votes in the primary. Analysts, however, say don't count on it.
"If she runs as an independent, then she becomes the Ralph Nader of the 2008 campaign, and look at where Ralph Nader is today," said Jeanne Cummings of Politico.com.
Many analysts say the best option for Clinton is to return to the Senate, where she can establish a powerful influential voice like that of Sen. Edward Kennedy.
Now that's she has proved that she can step out of her husband's shadow, she could return to the Senate as an even more formidable force, bringing with her all the experience she picked up on the campaign trail.
Clinton has said that in her immediate future, she plans on doing whatever it takes to make sure Democrats take back the White House.
"I am committed to uniting our party, so we move forward, stronger and more ready than ever to take back the White House this November," she said Tuesday after Obama clinched the nomination.
Robert Zimmerman, a superdelegate who supports Clinton, said Clinton's next moves will probably include working to make sure her 17 million-plus voters throw their support to Obama.
"Ultimately, Hillary Clinton is going to be judged -- whether she runs for vice president or not -- by how successfully she can help bring her coalition to the Democratic nominee," he said.
E-mail to a friend

CNN's Carol Costello contributed to this report.

All About U.S. Politics • Democratic Party • U.S. Presidential Election