WASHINGTON (CNN) -- Sen. Barack Obama, the newly minted presumed Democratic presidential nominee, said Wednesday that it was "very humbling" to be the the first African-American to lead a major party's ticket and expressed confidence the party would unify behind him.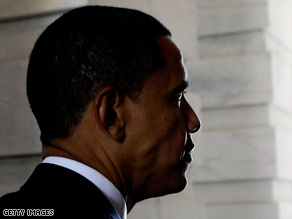 Sen. Barack Obama arrives at the Capitol on Wednesday after capturing his party's presidential nomination.
"You think about all the people who had to knock down barriers for me to walk through this door," he said. "And the challenges they went through were so much more difficult, so much more severe, and the risks they took were so much greater that I will say, last night standing in that auditorium, it struck me that it was testimony to them."
The senator from Illinois also said his successful campaign for the Democratic presidential nomination has taught America's children that the Oval Office is within anyone's reach.
"I have heard from a number of people already, both black and white, that their kids -- 7, 8, 9 years old -- take for granted now that, of course, a black can run for president, that a woman can run for president," he said. "There is a matter-of-factness to it that I think bodes well for the future."

Listen to Obama call his victory 'humbling' »
Asked whether he was disappointed that his rival for the Democratic nomination, Sen. Hillary Clinton, did not concede outright Tuesday night, Obama said his priority was unifying the party.
Clinton will officially suspend her campaign for the presidency by the end of the week, her campaign said.
Obama won more than the 2,118 delegates needed to capture the nomination after the primaries in South Dakota and Montana on Tuesday. The win came after five months of sometimes bitter contests with Clinton. He now has 2,158 delegates, according to CNN estimates.
Clinton vying for VP?
What's next for Sen. Hillary Clinton? AC360° investigates.
Tonight 10 ET
"I just spoke to [Clinton] today, and we are going to be having a conversation in the coming weeks," Obama said Wednesday. "I am very confident how unified the Democratic Party is going to be to win in November." iReport.com: Obama/Clinton -- dream team or nightmare?
Clinton's supporters and party leaders are already asking about her next move.
Both candidates were in Washington on Wednesday. They were both to address the influential American Israel Public Affairs Committee, and later they were expected in the Senate for a budget vote.
Obama and Clinton ran into each other at the AIPAC conference and had a brief chat, Obama spokeswoman Linda Douglass said.
"It wasn't a detailed conversation," Obama said. "As I said, I am very confident about how we're going to be able to bring this party together."
Don't Miss
Before the AIPAC conference, Obama said of Clinton, "She's an extraordinary leader of the Democratic Party and has made history alongside me over the last 16 months. I'm very proud to have competed against her."
On Wednesday, Obama tapped a three-person team to vet vice presidential candidates. Washington insiders Jim Johnson, the former CEO of Fannie Mae, and Eric Holder, a deputy attorney general in the Clinton administration, will conduct the review along with Caroline Kennedy, daughter of President Kennedy and a prominent Obama supporter.
Obama has been pressed by at least one Clinton supporter to offer her the vice presidential nomination in the name of party unity.
Billionaire businessman Bob Johnson, the founder of Black Entertainment Television and a close adviser and friend to Clinton, launched a campaign Wednesday to persuade Obama to offer her the No. 2 slot.
On Wednesday afternoon, Obama dodged questions about the possibility of putting Clinton on the ticket. Robert Gibbs, Obama's communications director, said that Obama and Clinton spoke by phone for a few minutes Wednesday in addition to meeting at AIPAC but that Obama did not raise the issue of the vice presidency.
Gibbs said that the vice presidential search is "going to start now in a little bit more earnestness because we're the presumptive nominee" and that Obama "looked forward to sitting down with her when it makes sense for her" to talk about her plans.

Watch Gibbs praise Clinton »
"She's been a tenacious competitor. She's accumulated a lot for this country, and we want to make sure that we're appealing to her voters and we're getting our voters out and talking to independents and disillusioned Republicans to put together the coalition that we need for November," Gibbs said.
On Wednesday, Obama's next challenger, Arizona Sen. John McCain, the presumed Republican nominee, congratulated Obama on his victory and immediately challenged him to 10 town hall meetings before the parties' conventions in late August and September.
Speaking in Baton Rouge, Louisiana, McCain cited a 1963 agreement between President Kennedy and Barry Goldwater to hold such debates as part of the 1964 campaign. Kennedy was assassinated before the campaign began.
"What a welcome change it would be were presidential candidates in our time to treat each other and the people they seek to lead with respect and courtesy as they discussed the great issues of the day, without the empty sound bites and media-filtered exchanges that dominate our elections," McCain said in a letter to Obama released by McCain's campaign.
Obama's campaign manager, David Plouffe, reaffirmed his candidate's interest in a series of debates but said the Obama campaign wanted to draw on an even older precedent for the format.
"As Barack Obama has said before, the idea of joint town halls is appealing and one that would allow a great conversation to take place about the need to change the direction of this country," Plouffe said. "We would recommend a format that is less structured and lengthier than the McCain campaign suggests, one that more closely resembles the historic debates between Abraham Lincoln and Stephen Douglas.
"But, having just secured our party's nomination, this is one of the many items we will be addressing in the coming days and look forward to discussing it with the McCain campaign," he said.
Regular joint appearances with Obama could help McCain compensate for the Democrat's fundraising success by providing him with regular free media exposure.
E-mail to a friend

CNN Candy Crowley, Roland Martin and Ted Barrett contributed to this report.
All About U.S. Presidential Election • Democratic Party • Hillary Clinton • Barack Obama