From Frank Sesno
CNN Special Correspondent
(CNN) -- Race has always been the wild card in American politics. Barack Obama reshuffles the deck.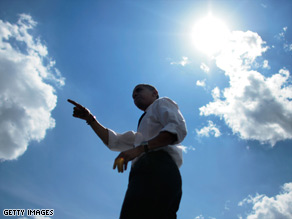 Sen. Barack Obama is the first African-American in U.S. history to head a major party ticket.
The junior senator from Illinois knows that he defies history -- and expectations.
"Nobody thought a 46-year-old black guy named Barack Obama was going to be the nominee," he said in May.
Obama, the son of a white woman from Kansas and a man from a small village in Kenya, was the first African-American president of the Harvard Law Review. He was the third African-American since Reconstruction to be elected to the U.S. Senate.
For African-Americans who lived through the civil rights struggles of Selma, Alabama, Rosa Parks and the Rev. Martin Luther King Jr., Obama is a symbol of struggle and success, progress and change.
From Obama's humble upbringings to his meteoric rise in politics, few at the back of the bus would have predicted they would ever see this.

Watch Sesno on the import of Obama's win »
"To think a few short years ago blacks and whites could not board a Greyhound bus or a Trailways bus in [Washington] D.C. and travel together through the Deep South without the fear of being arrested, jailed, beaten or even facing death," said Rep. John Lewis, a Georgian and a leader in the civil rights movement.
For millions of younger Americans -- black and white -- it's different. In school, at work, on television, they've experienced a different America. They've experienced an America that is divided but genuinely diverse.

Watch people across the world celebrate Obama's victory »
Their icons might be Michael Jordan, Tiger Woods, Colin Powell or Maya Angelou.
"When I visit a school and Obama's face comes up on the screen, it's like he's one of us. For younger people, white and black, this is now. This is here and now. This is real," Lewis said.
R&B singer Patti LaBelle said Obama will change the way African-American youth look at their future.
"I'm as excited as a kid in Toy Town," LaBelle said. "They're going to look up to him and say, 'If he can do this, so can I.' "
Many of these young people see Obama as Generation Next -- multiethnic, educated, global -- a politician who happens to be black. To them, he's more about the future than the past.
Hip-hop entrepreneur Russell Simmons called Obama the "first hip-hop" presidential candidate. He said the nomination will have a more powerful effect on older African-Americans. Young African-Americans are part of a generation that's less racist, sexist and homophobic than that of their parents.
"Younger blacks knew all the time that this was possible," Simmons said. "It doesn't seem unnatural to them. Older people are more shocked by it. Older blacks didn't want to support Obama at first because they didn't think [the nomination] was possible."
Rachel Robinson, widow of baseball player and African-American pioneer Jackie Robinson, said Obama is a "champion of social change."
"His success is a reminder that no one who dares to stand up and challenge the status quo does so alone," she said.
It has been 145 years since the Emancipation Proclamation, but in the span of a single lifetime much has changed. The military has been integrated. The schools have been desegregated. There was the King march and his assassination. There have been riots in the streets and breakthroughs in the ranks.
However the politics play out, the country is now where it has never been before.
E-mail to a friend

CNN's John Blake contributed to this report.
All About U.S. Presidential Election • Democratic Party