(CNN) -- Sen. Barack Obama marked a moment in history Tuesday evening, when he won enough delegates to secure the nomination as the Democratic presidential candidate. Obama would be the first African-American to head the ticket of a major political party.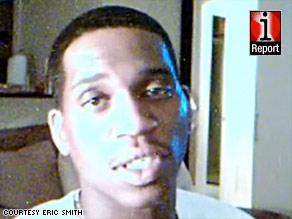 Eric Smith of Atlanta, Georgia, returned from work at 1 a.m. Wednesday and heard that Obama claimed victory.
iReport.com users weighed in on how Obama's success is changing their opinion of the country.
Excited about the social and cultural progress Obama's presumptive nomination seems to indicate, TheWarden remarks, "The fact that we have chosen this man as our potential leader shows me we have gone much further than we give ourselves credit for."
"This isn't the first time I've been proud to see what the people of this country have done. But, I'm especially proud today," he said.
Below, read more iReport.com comments on Obama's presumptive nomination, some of which have been edited for length and clarity.
evdie4: Barack Obama has absolutely inspired this country in a great time of need. He has changed my life as well as other African Americans in this country without actually winning the general election. His message of hope is what the US needs to push it in a more positive direction. We all can learn from this extraordinary American. Best of luck to him on the road ahead.
Horlet: This is far more than historic, it is a paradigm changing. You have to know people who were born in the segregated South to really understand this. People who could not try on shoes in shoe stores so they had to trace their shoes on cardboard so they wouldn't defile the shoes. To really understand what this means you have to consider it in the background of this country.
It is empowering. It is historic. It is a dream come true and I love it in every cell of my body. He won running a clean campaign with the right people supporting him. Now it is on to the Presidency and I am happier than happy.
TheWarden: Although this is not the first time I've been proud of my country, it is one of the most significant moments I've seen in our history in a long while.
Two years ago when I heard about this guy Barack Obama, I was asked by many I knew if I thought he was electable, considering he was a black American. At the time I thought, no, he wasn't, but it was nice to see American's considering the idea. Like so many others, I completely underestimated just how dynamic this candidate is.
In the end he probably proved most all of us wrong. It's nice to see so many of us were proven wrong about where we are as Americans and how we see our social culture and structure. The fact that we have chosen this man as our potential leader shows me we have gone much further than we give ourselves credit for.
And again, this isn't the first time I've been proud to see what the people of this country have done. But, I'm especially proud today.
Tischa: Barack Obama's presidential candidacy makes history not only because he's an African-American but, more importantly, because it changes the face of America to the world in one fell swoop.
The America of the last 8 years especially and the decennia before has been seen as a dominating force with subtle (and not so subtle) overtones of racist and sexist superiority. The Democratic race between Barack Obama and Hillary Clinton has shown that Americans, for the most part, are looking to update the age-old establishment. And not a moment too soon!
The reputation of Americans has been tarnished by George W. Bush's failed foreign policies and the simple act of electing Obama as the Democratic nominee has already gone far to restore a positive image.
Let it be said, I am not an American. I am an ex-pat living in Holland with close ties to the U.S. I lived there for 4 years (in the Clinton days) and I have many relatives there. I've never seen so much enthusiasm and interest in American politics from outsiders like myself looking in. Even my two year old can identify and name Obama, Clinton and McCain! Now onto the White House!
SandieAT: My grandfather died in 2003; I truly wish he could have lived to see this. He was born in the '20s in Deep South Alabama and probably never dreamed that a black man would have the chance to run this country. Black people have had the feelings that "We can build this country on our backs as slaves, but can't run it." Now, it's a new day. We have that opportunity.
kaylebleecha: I guess in textbooks, the dependency on race becomes history because you are the first of 'your kind.' It's a milestone for history, I suppose.
Yet it shouldn't matter about one's color or gender, what matters is how much he can change the disdained politics, and its society of apathy. What is historic is Obama's ability to get hundreds, even thousands of first time voters to come out to exercise their right. What's historic is the man, not the color.
Butterfly1: My grandfather was born & raised in the Deep South, in Jackson, Mississippi. Blacks didn't and could not vote. My grandfather use to says as a black person "speak when spoken to." I didn't understand until I became grow what that actually meant.
I can honestly tell you, my grandfather would have never believed what just took place. "A BLACK MAN " made headlines being voted in as the Democratic President. History is something that makes an individual appreciate how far we come. Thank God for changes.
Bochaberi: As an African American-let me be specific-as an African, born to a Kenyan Mother and Kenyan Dad, I cried on this day, this is historic. I am a mother to an African American Boy, I will tell him that, he can crash the boundaries, and be anything he ever wants to be ... anything, not matter your origin.
Jeperry1972: I never thought I would live to see America exemplify the true meaning of those words in [The Declaration of Independence]; "We hold these words to be self evident, that all men are created equal ..."
I was one of the millions of faceless people marching behind the late Dr. M.L. King, who thought we were marching for our great grandchildren. This is truly a great moment for America and a great moment for democracy!!! Now, America can feel justified in pointing their finger at other nations in defense of human rights and in defense of democracy!
LadysHoodJnl: There's hope for us after all people. I'm smiling while looking in the face of My country.
kedor290: I think Obama should be proud for making it as far as he did. But you can't vote for someone just because of their race. I just don't know if he is the right man for the job.
RDLarson: Hillary did a great job but Obama has the will and the knowledge and the strength to ask and use advice from others.
CotterDaly: CNN's front page asks us to "weigh in on history in the making."
That choice of words couldn't be more appropriate. That's exactly what has happened here. It appears that the Democratic Party has chosen their candidate - an African-American man. It's a very attractive idea; something many of us thought was a long time away.
Which is precisely what led so many people to vote for Obama - the thought of making history. Everybody wants to pat themselves on the back for being politically correct and voting for the African American man. Never mind that he's the wrong candidate, and his presidency could doom our country - that's not important. What's important is that we're making history!
Congratulations everybody!! Give yourselves a nice pat on the back.
Blackraid08: As a proud African American 28-year-old black man from Connecticut now living in Atlanta, congratulations Sen. Obama! You don't know how I feel tonight, I'm overjoyed, no words can express how I feel and words may never express that in this country.
E-mail to a friend

All About Barack Obama • Politics • Elections and Voting • Hillary Clinton • John McCain