By CNN's Simon Rushton
(CNN) -- Barack Obama came out of Super Tuesday about 100 delegates behind Hillary Clinton in the total delegate count. But Obama's momentum was unmistakable and Clinton faced some must-win contests if she was going to keep up.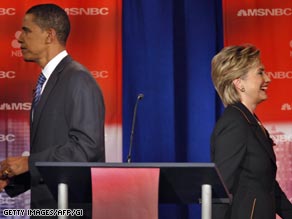 As the campaign went on, the attacks got nastier but neither found a knockout blow.
Obama was on a roll and won seven successive contests taking him ahead of Clinton in the delegate race -- but not by enough to end her challenge.
For Clinton, Ohio and Texas on the same night and then Pennsylvania, became all-important. On March 4, she had to win both Texas and Ohio, and she did. In Pennsylvania, pundits said she needed to win by 10 points, and she did.
As the contest continued the two camps began sniping at each other.
In the run up to March 4, a Clinton ad in Texas showed a baby sleeping and a voiceover saying, "It's 3 a.m. and your children are safe and asleep. Who do you want answering the phone?" Watch the ad and what its star thinks

Intended to highlight Clinton's international experience, critics said it was the politics of fear. Whether either criticism is accurate, Clinton won Texas and Ohio and stayed in the race.
Clinton was questioned about two comments she made about her international experience.
First, she told CNN she helped bring peace to Northern Ireland when her husband was president. In the UK, David Trimble, a key figure in Northern Irish politics at the time, told the Daily Telegraph newspaper her claim was a "bit silly" and Obama backers accused Clinton of exaggerating her international experience.
Don't Miss
George Mitchell, former Democratic Senate majority leader and U.S. special envoy to Northern Ireland, told CNN that while Clinton was not directly involved in negotiations, she did play a helpful role in bringing in women's groups that made a difference.
Second, Clinton described a trip to Bosnia as first lady when, she said, her helicopter was forced into a heavy landing under sniper fire and she was forced to run for cover.
News organizations checked the story and found footage of the trip showing the then-first lady and her daughter, then 16, walking calmly from a helicopter and spending several minutes chatting to a group on the tarmac including an 8-year-old girl.
Soon after the video came out, Clinton said she had misspoken.
Tommy Vietor, a spokesman for rival Obama's campaign, said the Bosnia claim was part of "a growing list of instances in which Sen. Clinton has exaggerated her role in foreign and domestic policymaking."
Meanwhile, Obama came under fire for sermons made by his pastor and long-time friend, the Rev. Jeremiah Wright Jr.
In a soundbite played and replayed across the United States on TV and the Internet, Wright says America had brought the September 11, 2001 attacks upon itself. In another clip, he says Hillary Clinton had an advantage over Obama because she is white.
The first time Wright hit the headlines, Obama distanced himself from the comments, but continued to stand by Wright as his friend and former pastor. When Wright surfaced again in late April with even more inflammatory rhetoric, Obama said the comments did not reflect the man he thought he knew and he rejected his endorsement. Watch how Obama dumped Wright -- and why

In the midst of the Wright saga, Obama gave a widely heralded speech on U.S. race relations. Still, many speculate that issues involving Wright will haunt Obama in the general election if he wins the nomination.
As the race progressed superdelegates, made up of prominent party members who are free to vote their preference at the party convention, became the most important votes in the nomination process.
In the past the nominee has usually emerged well before the convention with the necessary majority of pledged delegates. But this year, as the end of the primary season drew near with no presumptive nominee, superdelegates had the power to choose the candidate.
Going into the final two primaries -- Montana and South Dakota -- Obama was about 30 delegates short of winning the nomination and only about 30 pledged delegates up for grabs even if he sweeped both states, but a stream of superdelegates also opted for him.
And on June 3, 11 months after declaring his candidacy and five months after the first voting, Obama was finally able to tell supporters: "Tonight, I can stand before you and say that I will be the Democratic nominee for president of the United States."
E-mail to a friend