By CNN's Simon Rushton
(CNN) -- The race for the Democratic nomination was one of the closest ever, with two political stars, Barack Obama and Hillary Clinton, sweeping aside some serious opponents.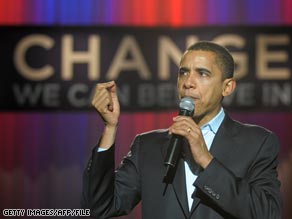 Obama has promoted himself as the candidate of change.
However it went, the nomination would be a first in U.S. history -- either the first woman or the first African-American to be nominated by either major party for president.
Eventually Obama would win through but a combination of factors -- different strengths, different appeals and party rules -- meant neither was able to wrap up the process quickly and each had to fight long and hard.
As the race progressed Clinton, a senator for New York state and wife of two-term former President Bill Clinton, found success in the big states and among blue-collar voters. Obama, a senator for the Midwest state of Illinois, scored big in the smaller states and among better educated white-collar workers.
Obama rose to prominence four years ago when his speech at the Democratic convention had pundits tipping him for an eventual presidential run, but few expected it to be this soon. Critics have pointed to his lack of experience on the international stage.
Since leaving the White House as first lady, Clinton has twice been elected to the Senate. Some critics have said Clinton brings too much baggage from her White House years to succeed in a general presidential election.
Besides the policies, character and appeal of the two lead runners, one more factor kept the race tight -- party rules.
In U.S. politics, votes are converted into delegates who are then pledged to support that runner when it comes to formally picking the presidential candidate.
Don't Miss
And in the Democratic primary races, delegates are largely assigned proportional to the vote, so, for example, if a candidate wins by 55 percent of the vote he or she wins approximately that percentage of delegates.
Obama got his campaign off to a flying start winning the Iowa caucus.
Less than a week later, after a highly publicized moment in which Clinton appeared to choke back a tear while talking about the difficult road to the White House, she won the New Hampshire primary. Watch the moment Clinton welled up

South Carolina was seen as a key measure of Obama's support among black voters and he won huge, getting more votes than all his rivals combined.
Both Clintons were criticized in the aftermath of the South Carolina primary for what some said were racially insensitive remarks.
Hillary Clinton was accused of downplaying the role of the Rev. Martin Luther King Jr. in the civil rights movement when she said King needed a partner like then-President Lyndon Johnson to make his dream a reality. Her husband was accused of belittling Obama's win in South Carolina by comparing it to the 1988 long-shot presidential run of the Rev. Jesse Jackson, also African-American.
The next major event on the primary calendar was Super Tuesday on February 5, when 22 states made their choice for the Democratic nomination.
On the road to Super Tuesday some big-name candidates fell by the wayside leaving just Obama and Clinton.
John Edwards, former senator and 2004 vice presidential candidate, tried and failed to gain enough traction for the nomination. His populist message focused on the working poor and in one memorable moment he grabbed the spotlight by calling himself the "grown-up" candidate as Clinton and Obama traded barbs during a televised debate. Before dropping out, he was probably the most viable candidate for the nomination after Clinton and Obama.
Bill Richardson had an impressive CV: governor of New Mexico, former U.S. ambassador to the United Nations and former U.S. energy secretary among other accomplishments.
Three others - Dennis Kucinich, Chris Dodd and Joe Biden - left the race after barely making a splash and former Senator Mike Gravel somehow lasted until the end of March.
Though widely predicted to be a make or break day for the two candidates, it was not. Watch how Clinton and Obama sold their Super Tuesday results

Conventional wisdom went out the window as neither Clinton nor Obama made the expected breakthrough. Obama won a raft of smaller states as Clinton racked up bigger prizes like California and New York.
Though Obama closed the gap to some degree against Clinton, the two heavyweights remained in a very close race that showed no sign of ending any time soon.
E-mail to a friend