By Judy McGuire

(The Frisky) -- There comes a time in every free-wheeling, fun-having relationship where a lady has to suck it up, buckle down and meet the people who spawned her beloved.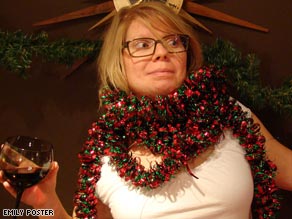 There's a thin line between entertaining and kinda creepy. Be vigilant, the author says.
Nine times out of ten, this happens around the holidays, and there is almost always a festive meal involved. The most wonderful time of the year? Yeah, right.
The first thing you need to do is get the skinny from your man. What are his parents like? Are they churchgoers? Recovering hippies? Military? You need to know what you're up against.
Though each set of parents is different (and once you throw in stepparents, you could be dealing with a couple sets), there are some universal things you should definitely not do if you want to make a good impression. Here are a few examples:
Picky Pamela
Waiters hate you because you demand an ingredient list before you'll order, dressing must be on the side, and you have an exhaustive list of won't-eats (basically anything remotely delicious.) The quickest way to alienate your BF's mom is to bring this attitude to her dinner table.
Take a little of everything and cheerfully eat what you can. Obviously, there are limits. My boyfriend's family is Greek, and each Easter I am presented with a charred length of entrails for my consumption and their amusement. The first year, I politely demurred, and they all laughed like hyenas. These days I'm not so nice, but I've earned it.
Liquored-up Lucinda
When you know you're being sized up as grandchild-carrier material, the urge to sooth your jangled nerves with a cool refreshing alcoholic beverage can be nearly irresistible. But when you're meeting the 'rents (unless they're Irish -- a McGuire is allowed to say that!) for the first time, keep the "relaxation" to a minimum. Otherwise you might find yourself morphing into ...
Freakish Frieda
No matter how much your BF's baby brother is egging you on, refrain from burping the alphabet, doing your "best" Britney Spears impression, telling your absolute favorite dirty joke, and/or demonstrating how you can tie a cherry stem with your tongue. There's a thin line between entertaining and kinda creepy. Be vigilant.
Suck-up Sarah
Do you really like his mom's jingle-belled, poly-blend Christmas sweater? Is his brother's high-pitched warbling of Frank Sinatra tunes really reminiscent of Ol' Blue Eyes, or are you just blowing smoke up to get in good with la familia? Before you begin doling out insincere compliments and phony baloney flattery, check yourself. Chances are, if you fake it, they'll know it.
Stuck-Up Sue
The flip side of the suck-up is the stuck-up. Maybe your family winters in Palm Springs, while his isn't even aware "winter" can be used as a verb. Yours dines on free-range pheasant, while his prefers Butterball, with its handy pop-up thermometer.
Before you get your La Perla briefs in a bunch, realize that less money doesn't mean less smarts. Unless you're looking to alienate your man, ditch the attitude and pass the canned cranberry sauce, please.
E-mail to a friend

TM & © 2009 TMV, Inc. | All Rights Reserved
All About Relationships