By Madison Park
CNN
Millions of American families will embrace and exchange pleasantries as they sit around the Thanksgiving table with turkey and cranberry sauce.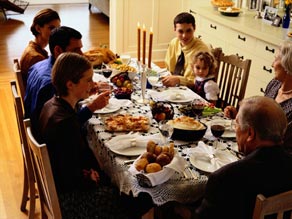 Holidays can be a tough time of the year, especially if the family is going through financial anxieties.
It's like a Norman Rockwell picture -- for maybe two hours.
The holidays are far from ideal, especially with anxieties about the economy this year, said Dr. Herb Rappaport, a psychologist who wrote the book, "The Family Gathering Disasters."
"If someone lost a job, there has been a death in the family, or someone is in the military serving abroad, you can't turn your holiday into a fantasy," he said. "People should try to be realistic and stay on target with what this holiday is about. I don't think people need perfection or the anxiety associated with perfection. What people want is genuine experience."
With the potential for family drama to spill out, experts shared their advice on keeping sane during the holidays, especially around the dinner table.
"Instead of the holidays being perceived as opportunity for relaxing and refreshing yourself, a lot of people view holidays as another additional burden to get through," Rappaport said. "You have to adjust the expectations to what's feasible in context of your life."
Economy
With the stock market seesawing, unemployment hitting the highest rate since 1994 and foreclosures on the rise, many are feeling the financial pinch. If someone is having economic troubles, should it be brought up?
"If everyone gathers and treats it like it never happened, it's like that great song in the show Chicago, 'Cellophane Man,'" said Anthony P. Jurich, a Kansas State University professor of family studies and human services. "Everyone looks through them. If you know something's there, bring it up with them individually. Get a feel whether they're OK bringing it up in the group."
If a person is OK with discussing the situation in a group setting, it could be a helpful brainstorming session.
"It could be an opportunity to problem solve," said Barbara H. Fiese, director of the Family Resiliency Center. "The tension is greater by not being able to talk about the experiences. The economic struggles are affecting so many people in so many different ways. It's going to take some strong support from other family members or other community support lifelines to get through these times."
If economic questions arise that make you squirm and feel uncomfortable, keep in mind that relatives are not asking out of malice, said Marsha Weinraub, chair of the Psychology Department at Temple University.
"Sometimes people are really concerned, but we're not ready to talk about it," she said. "When they ask, most of the time they ask because they care. They want to know how you're doing. When you don't want to talk about it, or it's too painful, you're entitled to do that."
Since Thanksgiving kicks off the Christmas season, it might be a good time to come to some agreement with the family about how to celebrate the holidays. iReport.com: Say "thanks" for Thanksgiving
"It may be a good time to say maybe this isn't the year for people to have lavish expectations," Rappaport said.
Politics
The presidential election is over, but it doesn't mean political divisions have receded. How do you have a civilized conversation when guests are from opposite ends of the political spectrum?
Being too cautious makes conversations stale. People often get so bored they turn on TV and watch football games rather than talking to relatives they haven't seen in years, Rappaport said.
"If someone can take initiative and have a discussion, why not," he said. "It's a great time for people to get to know each other. You learn things you love about people and things you don't."
Take the opportunity to listen to different viewpoints, suggested Weinraub.
"You might want to hear about why they voted for them or their analysis," she said. "People have different perceptions than you do, rather than convince them our perception is better than their's, we might learn something if we listen to them."
Weinraub suggested encouraging older generations to tell stories about what it was like in their day. Asking questions -- What were the hot issues when you were my age? Who were the politicians you looked up to? -- can open discussion between members of the family, regardless of age.
"Those are stories that are inclusive for little kids," she said. "Lots of members of the family enjoy hearing about that, too. It deflects that hot topic moment of the here and now."
If discussing politics will cause a minibrawl in your house, try asking different types of questions, said Fiese.
"You can find out what's going on around the country," Fiese said. "You may live in Philadelphia and have relatives from California. Ask 'What's it like in California during the election? And what was it like in Nebraska? What were people saying?' That's a good opportunity not to ask what they think, but what were people saying."
Personal Questions
Sometimes there's just that family member who likes to ask about your personal life. When are we going to meet your significant other? When are you going to get married?
Avoid bringing up personal topics in group situations, Weinraub said. Questions about relationships or marriages -- or lack of -- may put someone on the defensive.
"If it's a group session and you feel attacked, you can say 'maybe we can talk about that later,'" Weinraub said. "You can say, 'I'm glad you asked me. Maybe we can talk about it later.' You can sidestep without saying 'it's none of your business.' It's not fair to put someone in the spot and have to explain themselves."
Keep in mind that relatives aren't asking questions to cause discomfort, she said.
If in doubt, option out
If going home for Thanksgiving is too much drama to handle, Rappaport recommends skipping it, especially if it has lost its meaning.
"It's like being in the same play over and over. The same characters adopt the same strategy," he said. "Either you can exercise freedom. You don't have to go to places that leave you depressed, angry or anxious. Decide if you want to be there or need to be there. If you know there are problems, don't wait till you're at the Thanksgiving table. Try to deal with it beforehand."
Thanksgiving is the "least toxic of the holidays," he said. The essence of the holiday is universally embraced.
The true stress inducing holiday, according to Rappaport, is Christmas, which has all sorts of financial implications.
E-mail to a friend