(Real Simple) -- Lost your job? Turned white laundry pink? The right initial response can make all the difference in these 14 surprising situations.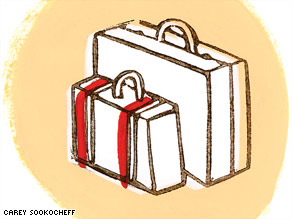 When you return from a long vacation
First: Don't rush. Rather than frantically unpacking on the night of your return, spend your first night back relaxing and letting loved ones know that you have arrived home safely. Nothing kills the calming effects of an extended break like hitting the ground running the minute you walk through your front door.
Then: Take a (planned) personal day, and use the free time to organize your home life: Unpack, pick up your pets from sitters or kennels, collect your mail, go to the market, and catch up on e-mail and phone calls. That way, when you return to work the next day, you'll be fresh, organized, and productive.
When you've been fired
First: Apply right away for unemployment benefits. If this sounds obvious, it's not. The average unemployed person spends just over four months out of work, according to the U.S. Bureau of Labor Statistics. And yet "only about 80 percent of those who qualify (for benefits) do file," says Thomas Fuller, the communications director for the Oregon Department of Employment. "There's no reason not to take advantage of those benefits, since your former employer's tax dollars fund them, whether you use them or not."
Then: Enlist legal services if you feel your dismissal involves discrimination or breach of contract, advises Pearl Zuchlewski, former chair of the New York State Bar Association Labor and Employment Law Section. But don't threaten legal action before you've confirmed with a lawyer that your case has legs, and try not to burn bridges with your former employer. "Cases are settled without trial 99 percent of the time, and you don't want to make it more difficult to come to a resolution," Zuchlewski says. Real Simple: Manage your stress
When you've witnessed a crime
First: Protect yourself. There's a fine line between being a Good Samaritan and needlessly putting yourself at risk. You won't be able to help the other person if you are in danger as well, so take yourself out of harm's way before calling 911 for help.
Then: Spend a few seconds memorizing a clue, like a physical characteristic of the suspect or a license-plate number, says Elaine Cloyd, president of Crime Stoppers USA. "In a time of distress," she says, "it's difficult to remember too much. But you might remember at least one really specific detail that can turn out to be important."
When you get bad medical news
First: Put away your car keys. Unless you want to risk turning a health threat into an injury, don't try to drive while you're distraught. Instead, "call someone to give you a ride or take a taxi," advises Gordon Harper, an associate professor of psychiatry at Harvard Medical School.
Then: Take a deep breath and "think about what you've heard in as logical a fashion as you can," says J. Edward Hill, M.D., a former president of the American Medical Association. "Ask your physician questions about how the diagnosis was made." Get a second opinion, and study your health-plan coverage to help you make decisions about treatment.
Finally, think carefully about what information you want to share with others, advises Mary Jane Massie, an attending psychiatrist at the Memorial Sloan-Kettering Cancer Center, in New York City: "To not tell means you don't get support. But to tell some people means you may be overwhelmed with phone calls you cannot answer or intrusive involvement from people you barely know." Real Simple: Helping friends in need
When you find out you're pregnant
First: Stop drinking and smoking and start taking prenatal multivitamins as soon as possible, says Linda Murray, author of "The BabyCenter Essential Guide to Pregnancy and Birth." In most cases, when you realize you're pregnant, you have been carrying the baby for a couple of weeks, so it's important to get on the right track quickly.
Then: Call your health-insurance company, says Nihara K. Choudhri, the author of "Parent Savvy." "Figure out what kind of coverage you have," she says, "and find out details, like if you need to choose a network obstetrician or if you are limited to delivering in certain hospitals." Next, decide what kind of health-care provider you're going to use, whether it's an obstetrician, a family-care physician, or a certified nurse-midwife. "And be sure to do your homework, because this person is going to have a major impact on your life for the next nine months," adds Choudhri
When your computer gets a virus
First: Go off-line. If you suspect a virus has struck your computer -- it suddenly starts working very slowly, crashes often, or seems to be doing something even when you aren't -- your first step should be to "disconnect your computer from your Internet provider to keep it from spreading," says Silas Miller, president of Rent- A-Geek, in Burlington, Vermont.
Then: If you have antivirus software, such as Norton's or MacAfee's, run a scan immediately. If the software detects a virus, it will take action to get rid of the virus and notify you when it has. If you don't have antivirus software (or if yours is out-of-date), call your computer's manufacturer for phone-based assistance, says Gretchen Miller, director of product communications for Dell. And "if you have a second PC or a laptop, use the uninfected one to get advice from the manufacturer's Web site on how to fix a virus," she says. If all else fails, step away from the machine and call a pro.
When you come into money
First: Stash your cash. No, a first-class trip to Disneyland is not the best first response to a sudden influx of riches. Instead, immediately put the money in a low-risk interest-bearing account, such as a three-month treasury bill, a short-term tax-free bond, or a CD (certificate of deposit), advises Nick Childers, a vice president and senior financial adviser for Merrill Lynch in Beverly Hills. "It gives you a cooling-off period to just relax and think," he says.
Then: Enlist a team of professionals, including a financial adviser, an attorney, and a certified public accountant (CPA), to help you figure out what you ultimately want to do with the money and to make sure you take the appropriate tax approach from the start. Get referrals from people you trust, and take your time interviewing each person. And never decide what to do with the money even to donate to a good cause -- until you speak with your team, says Donna VanCleave, interim executive director of the Virginia Lottery, one of the 12 Mega-Millions states. Then, if you still want to, take your family out to any theme park you'd like.
When you get engaged
First: Break open the good Champagne. But you knew that already. OK, so once you've both had a few glasses (and sobered up again), talk turkey. With a clear head, have a serious discussion about finances with your spouse-to-be, says Nihara Choudhri, the author of "What to Do Before I Do."
Cover income and assets but, even more important, also debts and liabilities. Ask about credit-card debt, student-loan debt, any loans from friends and family, and mortgage debt. Know that "if your spouse has preexisting debt and you combine your assets, your own finances can be at risk," she says.
Then: Consult a financial planner to help you develop a mutually agreeable strategy for merging your finances -- or keeping them separate. (Or, if it delivers peace of mind, have a lawyer draw up a prenuptial agreement.) "Couples who postpone talking about money before the wedding pay heavily later," says Chicago psychiatrist and couples specialist Dan Haycraft. Real Simple: Weddings planning guide
When your laundry turns pink
First: Separate the whites and rewash them, using a nonchlorine bleach or a cup of white vinegar. If you put the clothes in the dryer before this second wash, the heat will set the stains. "It's always better to handle anything that has gone wrong while it's still wet," says Linda Cobb, host of the DIY Channel's "Talking Dirty With the Queen of Clean."
Then: Dry as usual. And next time, separate your loads. You might have washed that crimson shirt a dozen times with your husband's tighty whities, but "just because a shirt didn't run before, doesn't mean it won't ever happen in the future," says Ilene Fudim, director of marketing for PWS--The Laundry Company, which runs laundry chains across the country.
When you get off a long flight
First: Resist the urge to snooze. "No matter where you are going, no matter what time you get there, stay up until midnight local time," says Peter Greenberg, travel editor for NBC's "The Today Show." If you absolutely can't keep your eyes open, it's OK to take a short nap, says Dianne Tamuk, a flight attendant for United Airlines. Just make sure you don't sleep for more than a couple of hours. And try to get into your normal routine as soon as possible. Get up when you usually do, and try to eat your meals, exercise, and go to bed at your regular times.
Then: Drink plenty of water to ward off kidney stones (which result from dehydration and are common among pilots and frequent fliers), urges pilot Tony Salmon, a first officer with Alaska Airlines. And, for the first day, "don't eat anything with heavy sauces or anything that your body is going to have to work extra-hard to digest," says Greenberg. Fruit, raw vegetables, and salads are all good choices.
When you are offered a job
First: Don't say yes. Thank the potential employer (with enthusiasm!), and tell her you'll get back to her within 24 hours, says David E. Perry, co-author of "Guerrilla Marketing for Job Hunters."
Then: In your next conversation, clarify what your responsibilities will be and make sure they are commensurate with the salary and benefits package. If they aren't, ask for more. "This is the time to bargain for things," rather than once you've accepted the job, says Cynthia Shapiro, author of "Corporate Confidential: 50 Secrets Your Company Doesn't Want You to Know -- and What to Do About Them."
Begin by requesting perks, like an extra week of vacation time or a signing bonus. As Perry says, "it's far easier to get extra benefits out of a company than to get a higher salary." The salary itself should always be the last thing negotiated. And remember: Even if they say no, they're not likely to withdraw the offer just because you asked.
When your pet runs away
First: "Call all shelters within a 60-mile radius of your home," not just those nearest your home, says Stephanie Shain, director of outreach for the Humane Society of the United States. Between 600,000 and 750,000 cats and dogs are reclaimed by owners from shelters each year. You can also try your police department and local veterinarians.
Then: "Make a flyer with a current picture of your pet that shows details of its face and the proportions of its body," says Kari Harendorf, an animal trainer and the host of Animal Planet's K9 Karma. "Include its sex, age, color, and weight; the date and area the animal was last seen; and your phone number, and post the flyers everywhere -- schools, community centers, even the pet-food aisle of your grocery store."
When you're in the woods
First: Stop and listen. You might hear people on other trails or the distant sound of a freeway, which can steer you toward civilization.
Then: Stay put if you don't hear anything or can't reach the source of the sound.
"Searchers work very methodically," says Adrienne Freeman, a ranger at Yosemite National Park, in California. "So if you're moving around, you might walk yourself back to an area that has already been searched and may not be searched again."
If you are carrying a mirror or some other reflective item, use it to catch the sun -- and the attention of helicopters and ground searchers. Or blow a whistle if you have one, but don't waste too much energy shouting for help.
When you lose your wallet
First: Close any financial accounts -- credit cards, bank or brokerage accounts -- represented in your wallet, says Claudia Bourne Farrell, a spokesperson for the Federal Trade Commission. The longer you wait to report stolen credit or ATM cards, the more financial liability you will face if they are used fraudulently.
Then: Contact one of the three consumer-reporting agencies (Equifax, www.equifax.com; Experian, www.experian.com; and TransUnion, www.transunion.com) to have a fraud alert placed on your credit report. (Whichever agency you call is required to share the information with the others.)
And ask your local department of motor vehicles or another government-ID--issuing agency to flag your file so that if anyone else tries to get a replacement license or ID in your name (after you have), the agency will know it is fraud. Finally -- since even items that may seem unimportant, like a gym or work ID, can be used for identity theft -- notify all the organizations you're connected with and tell them you lost your cards
E-mail to a friend

Get a FREE TRIAL issue of Real Simple - CLICK HERE!
Copyright © 2009 Time Inc. All rights reserved.