(CNN) -- Congressional leaders met with Treasury Secretary Henry Paulson and Federal Reserve Chairman Ben Bernanke on Thursday to work on a new bailout plan to stem the ongoing financial crisis.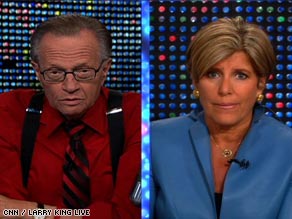 Finance expert Suze Orman says a new bank rescue proposal is a good idea, but it should have come sooner.
The plan is expected to help banks get rid of mortgage-related assets that have been hard to value and harder to trade.
Personal finance expert Suze Orman appeared Thursday on "Larry King Live" to discuss how the federal government's plan will impact consumers. The following is an edited version of the interview.
Larry King: What do you make of this, Suze? Good idea?
Suze Orman: I think it's a good idea and here's the real question -- what took you so long? Truthfully, why did we have to get to this point for them to create something like a RTC, a resolution trust. This is the solution to come up with months ago when everybody knew that these loans were going to go down. They should have done it. So once again, I'm saying to you why does it take them so long to come up with the solution that they should have come up with a long time ago? I'm grateful they're coming up with it now.
King: The market rebounded today. Good sign?
Orman: (It's a) great sign, but for today and not for necessarily the long run. Don't get suckered in just because this market goes up today or maybe even tomorrow. It doesn't mean that we're out of the woods. How many times in the past have we seen the market go up 300, 400 points and then all the way down again?
We still have serious trouble on the horizon so until it's been settled, until things have cleared out, until unemployment starts to go down again and until they figure out how to secure these mortgages and get money into the system, we have trouble. Larry, this is the beginning of the solution to the problems.
King: Republicans on the Hill today are blasting the Treasury Department and Federal Reserve for orchestrating that $85 billion bailout of AIG. What do you think of that?
Orman: I think that's a great thing for them to yell about. Of course, we had to do that. What is the matter with them? Don't they understand? I get that the taxpayers are going to have to pay for it but do you have any idea -- do they have an idea -- what would have happened if that institution had gone down? That was a massive institution within 130 countries with about 113,000 employees in every aspect all over the world, so I don't know. I'm personally grateful that they bailed them out. It was a deal. The government is going to make a serious sum of money on that. The taxpayers will, in the end, make money -- 80 percent of this company for $85 billion for one of the biggest insurance company out there. Again, I have to say that was one of the best business deals I've ever seen in my life.
King: New York Attorney General Andrew Cuomo has opened an investigation into short selling and possible spread of false information. That investigation announcement drove down the stock price of several Wall Street firms, including Goldman Sachs and Lehman and Morgan Stanley and AIG. By the way, the investigation is of investors and not employees. What do you think of that?
Orman: Well, here's what I really make of it. Did you see in London they have shut down short selling altogether? Currently, you can now not short sell and there is a rumor by "The Wall Street Journal" right now that (Securities and Exchange Commission chief) Christopher Cox is going to shut it down here in the United States as well.
Something is not right with the short selling. I don't know what it is. But when you can take down companies and you can see their stock lose 50 percent, in just a week or so, sometimes a day, something is radically wrong. This is not normal short selling. Why they got rid of the uptick rule a few years ago is beyond me. But it really, I think, goes beyond the uptick rule and they seem to be taking very desperate measures right now because something is wrong with the shorts that are out there.
King: McCain wants Cox fired, doesn't he?
Orman: Oh, he most certainly does. That was one of the things he said. I have to tell you, I don't agree with him with a lot but that's one idea. Why in the world(didn't he) come in and regulate more. Why he didn't take action sooner and bring in certain things a long time ago is, again, beyond me. But it's better to do something now than to continue to have done absolutely nothing.
E-mail to a friend

All About Personal Finance • U.S. Federal Reserve • U.S. Department of the Treasury