By Maureen Salamon
(LifeWire) -- Slack-jawed and seething, Patti Davis couldn't believe what her boyfriend was showing her: video footage of a naked romp the two had enjoyed the previous winter, taken by a hidden camera he had used to tape them without her consent.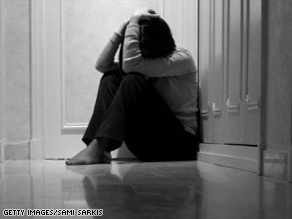 People who experience betrayal sometimes steer clear of future social interactions, a study found.
Davis knew immediately that the relationship was over. The Chicago woman later shredded the tape with scissors, changed her phone number and e-mail address, and found a therapist to help her through the shock and pain of betrayal.
"We had a very frisky sexual relationship," says Davis, 51, who works in public relations.
"I thought that night was a lot of fun. It's unfortunate you could take a fun, erotic thing like that and find out seven months later that it's on videotape."
Davis says the experience left her gun-shy about entering another serious relationship.
"I'm a lot more leery of men in general because I don't feel I've gotten over the shock of it," she says. Still, she adds, "I think I'll be in love again."
Davis' ex feels the consequences of his actions far outstripped his objective, which was "nothing other than making a little home movie."
"I didn't intend any harm or emotional betrayal or anything," says Brian Swift, 46, a Chicago electrician. "She viewed it and obviously reacted a lot differently. It was a big mistake and I'm sorry I did it, but hindsight is always 20/20."
Betrayal comes in many forms. And while infidelity may top the list, any severe breach of trust that strains a relationship, from deception to stealing, can instantly obliterate years of honorable conduct and make it difficult to trust again.
Don't Miss
Devastating consequences
Personally or professionally, the aftereffects can be devastating. According to a University of Zurich study published in May that examined how the brain adapts to breaches of trust, people who have experienced betrayal sometimes steer clear of future social interactions, and in extreme cases develop social phobia.
The experience can make those betrayed wonder how they will ever trust again. "It's a process, like grieving," says Karen Sherman, Ph.D., a therapist from Long Island, New York, who has been in practice for 25 years. "But people absolutely can heal and relationships can get better."
Beth Morgan, 47, of Southern Pines, North Carolina, has a hard time grasping the concept of forgiveness. A cancer patient whose odds of long-term survival are slim, Morgan arrived home from a stem-cell transplant last summer to find her laptop computer and VCR missing, among other items. She blamed her brother, who had stayed at the house to care for her pets, and filed charges against him.
When the case went to trial, Morgan's mother, Barbara Baxter, sided with Morgan's brother. But both say they feel betrayed, and each feels the other is lying. The charges were later dismissed.
"I didn't lie at all," says Baxter, 70, who lives in the same town as Morgan, one of her five children. "This was very, very difficult for me. It was and it still is."
Morgan is resigned to not seeing her mother or brother again.
"I'm not going to grow old, and (my mother) knows it, too," says Morgan, who was diagnosed in 2003 with myeloma, a rare bone marrow cancer. "I felt like I'd had this knife plunged into my heart. I'm very suspicious of everyone now."
However, she adds, "I do want to reconcile. I don't want to die having this situation unresolved."
Where do we go from here?
The turmoil following a betrayal can make it difficult to make logical decisions about what to do next or whether to continue the relationship. Jennifer Coleman, a counselor at a large divorce firm, says her first step with clients divorcing over infidelity is to help them process their intense grief.
About half the couples seeking representation at her company, Rosen Law Firm in Raleigh, North Carolina, are parting ways because of an extramarital affair, Coleman says.
"Every ending of a relationship boils down to a breakdown in communication or the failure of two people to meet each other's needs," she adds. "Sometimes that manifests itself in an affair."
For San Francisco resident Danine Manette, the discovery a decade ago that her husband had strayed was made more painful by the fact that she, a private investigator, had uncovered the affair herself. For two years, the couple separated. After much soul-searching and therapy, they later reconciled; eventually, they had a daughter. Manette used her experience to write the book "Ultimate Betrayal: Recognizing, Uncovering and Dealing with Infidelity."
"We didn't repair our marriage -- we started over from scratch," Manette says. "It's a happy marriage now because both of us took ownership of our own issues."
How to move on
For a while, however, Manette, 41, double-checked her husband's whereabouts -- a tactic experts say betrayers should expect and accept if they hope to make amends.
Coleman offers these steps toward healing:
• Communicate feelings of grief and anger in counseling, a safe place for these emotions.
• Confront your doubts and fears. Instead of blaming, try to discover why the relationship wasn't as solid as either person believed.
• Commit to revitalizing the relationship and preventing a future betrayal. "It's definitely a positive step," Coleman says, "but because it's so emotionally grueling, a lot of people may not choose to do it."
Moving on to a new relationship? "Trust your instincts," Coleman says. "You may be overly paranoid in the beginning, but remember that every new person you meet is not the person who betrayed you."
E-mail to a friend

LifeWire provides original and syndicated content to Web publishers. Maureen Salamon is a New Jersey-based freelance writer.
All About Relationships