By Anna Jane Grossman
(LifeWire) -- When her colleague at a Cleveland construction company fixed up Bethany Billi, the guy she was about to date seemed like a winner - on paper.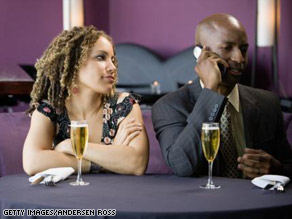 A bad fix-up can be torture for all.
The two shared an interest in the band Death Cab for Cutie and enjoyed independent films, but as Billi, 31, discovered, similar Netflix queues don't make a match.
First, he was a Dungeons & Dragons fanatic, and "he wasn't just a fan -- he, like, went to conventions and stuff," she said.
Then, when they met, he got drunk and started telling vulgar stories. Worse, "he acted like everything I said was beneath him. I'd tell a story and he'd say, 'Oh, I have a better one.'"
Billi went home wondering about her colleague's motives. "If she thought we'd really like each other, then I'm not sure she really knows me," Billi says. "Then I thought, 'Maybe she really doesn't like me and this is her way of torturing me?'"
As long as there have been friends, there have been matchups, some leading to marriage and others to disaster. Jasmine Jones, founder of Philadelphia matchmaking company Click!, has a theory about that.
"I think people have an overwhelming belief that love conquers all," she says. "It is instilled in us when we are born ... that most happy endings end up with love. People want that for those they care about."
Setups and knock-downs
Kristina Paider moved to Phoenix in her mid-20s, trying to find herself, a date or whichever came first.
So when a friend announced she knew the perfect guy, Paider was game. "She said he was tall and handsome, the whole bit," Paider, now 38, recalls. "At first I had my reservations because I'm a cynic in general, but she really talked him up, so I thought, 'OK! This is it!'"
But when she met her date, her heart sank: "I'd been expecting George Clooney, and in walked Howdy Doody." She ordered a Long Island iced tea; he ordered a plain iced tea. As the date wore on, things got worse. "I just looked down and thought, 'God, how soon until I can get another Long Island iced tea?'"
A fix-up can be torture for all involved. Susan Shapiro, a Manhattan author, takes credit for 13 marriages. "When it works out, you get to feel like a hero -- like a god," she says.
But in her book "Secrets of a Fix-Up Fanatic," she chronicles not only her methods but the madness that often ensued.
"I had one friend calling me screaming at me after I set her up. She said, 'How could you ever think I would go out with a guy who hasn't read fiction in 10 years?' I said, 'I fixed you up because you are always complaining how you have no money, and here is this handsome, sweet lawyer who will feed you! Excuse me if I didn't ask for his reading list.'"
Then there's the collateral damage. "I get very emotionally involved, and when it doesn't work out, I really feel heartbroken," she says. In another case, a couple she'd introduced subsequently married ... and divorced. "I felt really guilty," says Shapiro. "And he blamed me. He doesn't talk to me any more."
Don't try this at home
Experts say these pitfalls are common to the well-meaning amateur.
Janis Spindel, a professional matchmaker in New York City who says she's connected nearly 1,000 couples, explains: "Most people introduce people just because he's not hitched, she's not hitched, he's Christian, she's Christian. She has a pulse? He needs a date! They should go out and they'll have a good time."
Spindel, who charges between $25,000 and $100,000 per client to find a spouse, claims she can usually make a perfect match within 30 days.
Matchmaking, Spindel believes, is the "second oldest profession in the world," and she contends it's a skill you're either born with or you're not. She does research -- what are the person's hobbies? -- but in the end, she maintains it takes "some kind of clairvoyant intuition," a skill she says really can't be learned.
Helen Fisher, an anthropologist and author of several books on the history and science of love, says some are naturally better at matchmaking than others.
"A good matchmaker can size you up and figure out what you want -- and listen to what you want, too," says Fisher. Fisher is an adviser to dating site Chemistry.com and is licensed by the Matchmaking Institute, an association of professional couple-makers.
Successful fix-ups, Fisher believes, result from analyzing a complex mix of character, temperament and cultural traits, whereas amateurs are often "trying to give you what they want. It's not just looks or values or income or background or educational level. Anyone can match you by those things. There are many more subtle ways people are drawn to other people, and a good matchmaker can figure it all out without even knowing what they are doing."
Of course, there are not-so-subtle ways people are repulsed.
For Kristina Paider, the final straw on her date from hell arrived along with the bill: "He took out a fistful of coupons and a calculator and then told me exactly what I owed."
Can we get another Long Island iced tea at table two?
On the Web
Want to play Cupid? These sites can get you started:
• GreatBoyfriends.com and GreatGirlfriends.com: Think your ex is wonderful even if he or she wasn't right for you? Write a profile here.
• Engage.com: This social network lets you introduce your single friends to one another and vote on who would be the best mate for whom.
• IsACatch.com: Allows singles to create "campaigns" for fabulous friends on the theory that it's easier to brag about someone else than about yourself.
• MatchmakingFriends.com: Friends can try to set up a date for their single pals, then keep scorecards to track how the dates went and which couples clicked.
E-mail to a friend

LifeWire provides original and syndicated lifestyle content to Web publishers. Anna Jane Grossman is a freelance writer and co-author of "It's Not Me, It's You!"
All About Dating • Relationships