By Maya Dollarhide
(LifeWire) -- Bob Johnson was close to his aunt growing up. But when she learned he was gay, she began making hurtful comments; eventually, they drifted apart. Then Johnson, 43, was diagnosed with colon cancer. Relatives flocked to his side -- except for his aunt.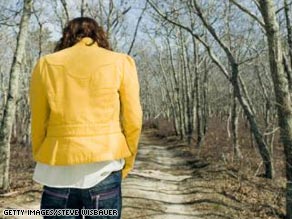 Forgiveness affects your body and your mind, expert says.
"I never heard from her. I still haven't to this day," says the New York media-relations professional.
"I'd like to think forgiveness is possible. But when her name comes up in conversation, I have a tendency to spit out of the side of my mouth," Johnson says.
Although ministers and parents might advise to forgive and forget, forgiveness is rarely that simple.
Jill Caren, 38, owner of a photography studio in Marlboro, New Jersey, says she tried many times to resolve conflicts with her estranged mother. When Caren became pregnant, she reached out again, but Caren said she still had no success. It's the last time she tried.
"I realized that I didn't need her drama in my life," says Caren, who doesn't think she can ever forgive her mother for the emotional distress she said she was subjected to growing up. "When hell freezes over, maybe then."
Different paths to forgiveness
Forgiveness does not come naturally to either sex, says Julie Exline, a professor of psychology at Case Western Reserve University in Cleveland. Moreover, men and women go about forgiving differently, says Exline, who conducted seven forgiveness-related surveys of about 1,400 college students in the U.S. from 1998 to 2005.
"What we found is that when men recalled their own offenses, they were more likely to empathize and then forgive. But they had to do that emotional work first," she says. "When the women started thinking about their own offenses, they tended to feel defensive and guilty, and that made it harder for them to forgive."
Bob Livingstone rode that emotional roller coaster. His father was physically and emotionally abusive, Livingstone says. One night, when Livingstone was 14, his father tried to hit him, and Livingstone hit back. His father wouldn't talk to him after that. A year later, he died suddenly of a stroke.
"My father was physically abusive, but the most intense hurt was his refusal to talk to me after I hit him," says Livingstone, who did not cry for 25 years after his father's death. "I just didn't know how to start the process of forgiving.
"It wasn't until I was in my forties, when I was able to empathize with my father's situation -- that he had learned ineffective parenting from his parents and that he was short-tempered because he was [physically] ill -- that I was able to forgive him," says Livingstone, 57, a psychotherapist in San Francisco.
Anger and acceptance
For women such as Ellen Girt, 46, anger, not empathy, leads to forgiveness. Girt, a journalist in New York, says her father hit her mother. "We felt ashamed of what was happening," Girt says. "This was the '60s and early '70s, and there were not resources that we knew of to help us."
Girt's parents separated when she was 10, and her father died five years later. As she grew older, Girt says, she felt angry at both her father for the hurt he had inflicted and her mother for staying in the relationship. Girt suffered severe stomach problems and found trusting others difficult. Only when she acknowledged and accepted her anger could she let go.
"Forgiving my father, and my mother for staying, helped me learn to trust my instincts and myself, be more present in relationships and build loving, honest bonds with others," she says.
Letting go, moving on
No matter your gender, experts say, holding on to hurt feelings is too taxing.
Forgiveness "affects your body and your mind," says Fred Luskin, author of "Forgive for Love: The Missing Ingredient for a Healthy and Lasting Relationship." Endlessly dwelling on the hurt, Luskin adds, "really can take a toll on your stress levels."
Girt tackled her pain and learned to forgive her father through therapy, Outward Bound sessions and meditation.
"Now I can remember good things about him. He was an incredibly effective children's advocate and community organizer in Harlem, for example," she says. "The things he passed on to me -- my sense of justice, fairness, political sensitivity, history and my power as a voting consumer -- are greater gifts than the scars he left behind."
Five ways to forgiveness
The road to forgiveness may be arduous, but Exline has advice on getting started.
• Allow yourself to experience anger, but don't hold onto it for months or years on end. When the anger starts to consume you, you've held onto it for too long.
• Express your feelings in a positive way through writing a journal or talking to a professional, close friend or family member who can help you make sense of the situation.
• Try to step into the shoes of those who hurt you in hopes you'll see the situation from their perspective.
• Write a letter about your feelings to the people who hurt you. If you decide to talk to them, Exline recommends saying, "When you did X, I felt hurt," instead of directly attacking them.
• Most importantly, have patience with yourself: "Remember, forgiveness doesn't have to happen in a day."
E-mail to a friend

LifeWire provides original and syndicated lifestyle content to Web publishers. Maya Dollarhide is a writer whose work has appeared in "Ms.," the "New York Daily News" and "Beliefnet.com."
All About Family