By Maureen Salamon
(LifeWire) -- When Stephen Leach gave up his Rockaway, New Jersey, condo at age 48 to move back in with Mom and Dad, it was out of need -- his parents', not his.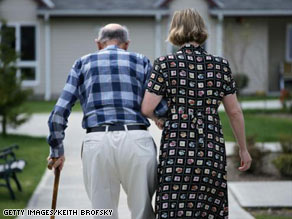 With his father suffering the ravages of Alzheimer's disease and his mother struggling to remain in the large Randolph, New Jersey, home in which they raised five children, Leach stepped in a year ago to stabilize matters.
In return, Leach will receive a greater share of his parents' assets after they've passed away than will his siblings, an arrangement his parents stipulated in their wills.
In a sense, Leach's siblings are "paying" him for the care he provides.
"Nobody's complained yet," says Marie Leach, 79, who shares caregiving duties for her 81-year-old husband with Stephen, who is single and works part time in electronics sales. "They might when they get the money and he's gotten more, but he's the one who has given up the most."
Such arrangements are becoming more prevalent as the population ages. An estimated 10 million American adults need help with daily activities, and family members are responsible for 80 percent of such caregiving, according to the AARP.
Monika White, who has a doctorate in social work from the University of Southern California, has seen the issue from both sides -- as an expert on caregiving for older adults, and as the primary caregiver to her father-in-law, who died a year and a half ago at 97.
"My husband's siblings said I should take money for driving him around and everything else I did, but I didn't want to do that," says White, 68, executive vice president of Wise and Healthy Aging, a Santa Monica, California, organization focused on care management for older adults and their families. "I wasn't comfortable taking that extra money, but I don't disapprove of it."
Family squabbles
White has often witnessed complicated dynamics among grown siblings when their elderly parents start requiring care.
"Whether it's a friendly or hostile situation, families do squabble over it," says White, who is president of the National Association of Professional Geriatric Care Managers and an adjunct professor of gerontology at USC. "A lot of times, the siblings that aren't taking care of the parent contribute money, and that's their contribution to the care."
White says much research indicates caregivers are more prone to physical, mental and psychological illnesses. "It's one of the most stressful things you can do," she says. "There's a recent study that showed even three years after the person being cared for has passed away, the caregiver still has higher levels of stress than normal."
Sometimes parents take the pre-emptive step of parsing out assets to compensate the grown child who assumes caregiving duties. Estate attorney Ken Kunzman recalls a family whose patriarch made sure his daughter, one of six siblings, would receive more money from his estate and remain in the family home for several years before selling it and splitting the proceeds as a show of gratitude for the care she gave him.
Far from objecting to those terms, the non-caregiving siblings "were all so thankful she was willing to take care of him," says Kunzman, a partner at law firm Connell Foley in Roseland, New Jersey. "I see this once in a while in wills, but even in the best families there are times where one person gets jealous or doesn't like that someone else got more."
Kunzman emphasizes that it's easier from a legal standpoint to have the terms of caregiver compensation put to paper before a parent dies, rather than after. "Survivors can do it after the death, but it's like signing a contract among themselves, and it would be a rather complex document."
Other Forms of Reimbursement
Not all families have the means to pay the sibling helping an elderly parent. Though both she and her brother live with their mother, Santa Monica resident Ellen Kelly, an insurance rep, says she does the lion's share of the work involved in caring for the 82-year-old Parkinson's patient.
The value of family caregivers' "free" help is estimated at $257 billion per year, according to the National Family Caregivers Association, a Chicago nonprofit advocacy group.
"I think it's a wonderful idea to be compensated," says Kelly, 53, "but there's nowhere for it to come from in our case."
But even lower living expenses can serve as a form of reimbursement for cohabiting adults watching over Mom or Dad.
Hugh Symonds, 52, a pharmaceutical company engineer, pays no rent or property taxes for the New Vernon, New Jersey, home he shares with his 88-year-old mother, who has dementia and attends adult day care while Symonds works.
His mother's assets cover those bills, and Hugh's three siblings didn't quibble when he told them that was the "cost" of his caregiving.
"We haven't discussed (the financial arrangement) in any level of detail," says Symonds, "but if I start feeling hard-pressed, I remind myself I don't pay any expenses for this house."
When it comes to his own affairs, estate attorney Kunzman, 71, has seen enough to prefer avoiding the issue of family caregiving altogether. He and his wife, the parents of six grown children, have purchased long-term care insurance, which offsets or covers the cost of assisted living or nursing home care.
"We're extremely close," he says, "but I can't ever picture moving in with one of my children."
E-mail to a friend

LifeWire provides original and syndicated lifestyle content to Web publishers. Maureen Salamon is a New Jersey-based freelance writer.
All About Aging and the Elderly