By Ron Dicker
(LifeWire) -- Pamela Rainey Lawler and Denis Lawler of Philadelphia have handled the travails of being married 38 years without seeing eye to eye on a lot of things. The upcoming presidential election is no different. Pamela, a 58-year-old self-described "left-left" Democrat, will be voting for Barack Obama. Denis, a 60-year-old longtime Republican, plans to vote for John McCain.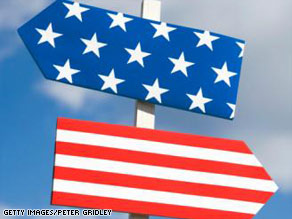 Although they joke about their situation, Pamela says it's hard to keep her sense of humor when the stakes are so high. Good thing they love each other.
"It gets hard when things are getting down and dirty and there is a lot on the line," Pamela, the director of outreach and development at an educational company, says of her husband, a lawyer. But she adds, "The foundation of [our] relationship is so much bigger than politics, and tends to trump politics."
Especially in an election season where emotions are running high, couples who don't agree on politics can keep the peace by being open and honest with one another.
"Where couples get in trouble is not so much having a different opinion; it's how they communicate it," says Grecia Matthews, a couples therapist and social worker in New York City. Couples need to be honest about their arguing styles and tolerance for criticism, she adds.
State your opinion
Good communication skills are important, it's true, but as Lorraine Duval knows, it also helps to be married to a good-natured spouse.
Duval, a 33-year-old music teacher and McCain disciple from Glens Falls, New York, admits that in the heat of the moment she has called her pro-Obama husband, Chris, by other, less loving names. "Sometimes you have to state your opinion," she says, though she emphasizes that Chris' easygoing nature diffuses the tension.
She returns the favor at social gatherings where Republicans far outnumber Democrats. She'll "go off the deep end" in his defense if she feels McCain voters are ganging up on him, says Chris, a 34-year-old mortician.
"We really didn't discuss our views until later on in the relationship," Lorraine explains. "It wouldn't have been an issue for me anyway."
Besides, points out Andre Anthony Moore, the founder of Marriage and Couples Counseling in New York City, if spouses agreed on everything, "life would be dull."
"But in the process of drinking in the other's opinion," he says, "you might get to be a bigger person."
Embrace the difference
Opinions always got a good airing in the Lawlers' home when she was growing up, says their daughter, Kristin, 37.
"At our dinner table, if you couldn't be persuasive, you were toast," says Kristin, an assistant professor of sociology at the College of Mount St. Vincent in Riverdale, New York.
But such debate wasn't divisive, it was healthy, she says. Even today, when the family gathers, they debate politics.
"I do think that my parents would make a good model for others who vote differently and who are able to see their differences in a positive light," says Kristin. "Difference is a vital principle -- it keeps you on your toes. Having a good opponent makes you a better debater. And if you want your side to win, you have to know how to make a strong political argument."
For the record, though, Pamela Lawler says the couple's three children tend to side with her.
Agree to disagree
"Elizabeth Leslie, 37, a Democrat from Sacramento, California, works hard to maintain the political peace with husband Troy Gassaway, 35, a Republican."
"It's exceptionally challenging," she says. "We agree to disagree."
Leslie confesses she can't help but try to sway her husband's allegiance -- as communications manager for the nonpartisan League of Women Voters of California, political persuasion is part of her job. Leslie, who was not speaking on behalf of the League, says she has persuaded her husband to vote her way on several proposals in the past two elections. She praised him for listening to her when he's on the fence about any legislation. But come November, he's sticking with McCain.
"My advice is for couples to hear the other out," she says. "The passion that made up their mind -- at least consider it."
And even if the debate gets ugly, consider the fringe benefits. All that emotion can stimulate friendlier activity, therapist Grecia Matthews points out: "There can be makeup sex."
Keeping the peace
Live in a house divided? Here are some tips for keeping the peace when you and your partner split the ticket:
• If disagreements get too personal, consider keeping sensitive subjects like politics off-limits.
• If you need to vent an unpopular opinion, talk with a friend who holds similar values.
• Agree on a "safe word" signifying that a tense conversation needs to end, out of respect for one another.
• After tensions peak, do an activity you both enjoy -- take a walk or go to the movies -- and remember why you love each other.
• Establish firm guidelines on when and where it's OK to bring up the campaign -- if at all.
E-mail to a friend

LifeWire provides original and syndicated lifestyle content to Web publishers. Ron Dicker, a Brooklyn-based journalist, frequently writes about relationship topics. He previously covered sports for the New York Times.
All About U.S. Politics • John McCain • Barack Obama