By Joy Hepp, with additional reporting by Sarah Jio
(LifeWire) -- As the mother of a toddler, Stephanie Delger has learned how to pick her battles.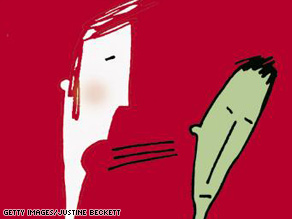 That's why, during a trip to the grocery store a few months ago, the 25-year-old Bozeman, Montana, freelance writer decided to give her son Joshua a cookie when she sensed a tantrum coming on.
But as it turned out, he wasn't the one she would butt heads with that day.
Delger happened to be sharing the aisle with a woman of around 60, who watched as Joshua grew cranky and attempted to stand up in the cart. When Delger mollified him with the cookie, the woman offered some unsolicited advice.
"She started lecturing me and telling me I shouldn't give in to tantrums and that I should have taken him outside and spanked him," Delger says.
Then, the woman did the unthinkable: She took the cookie away from Joshua, who was only 14 months old at the time.
"His little face just crumpled," says Delger, who decided to give the woman some advice of her own. "I told her [that her] behavior was completely out of line and that it was ridiculous. Her advice was unnecessary and unappreciated."
Mother and son then left the scene, and Joshua got a new cookie -- and a balloon -- as consolation.
Cindy Post Senning, a director of the Emily Post Foundation and, like her great-grandmother, an etiquette expert, says not only did Delger do the right thing in this situation, but that the same tactics should be applied to similar run-ins.
"You want to extricate yourself from that negative situation as quickly and easily as you can," says Senning. "What you don't want to do is get confrontational."
When 'advice' hurts
Well-meaning meddlers are one thing, but sometimes advice-givers can come across as just plain rude. Dani Nordin, 32, a Web and graphic designer in Watertown, Massachusetts, is still fuming about the "advice" she received from a former boyfriend.
"A few years ago, I had lost a considerable amount of weight -- over 40 pounds -- and had recently started dating a guy who lived in my building," explains Nordin. "I stopped by his apartment one night wearing my then-favorite outfit. Just as I was thinking I was all cute, he says, 'Can I tell you something? Don't take this the wrong way, but you would have the most amazing body if you just lost 10 or 15 pounds.' As he's hugging me, he says this. I was devastated, and ended up telling him off."
She broke up with him soon after.
Kim Guymon, 42, of Everett, Washington, says the advice an acquaintance gave her 15 years ago was unwelcome, upsetting -- and way too personal.
"My husband and I had been married about five years and had no children," says Guymon. "We actually weren't even trying at the time."
Still, the acquaintance, a chiropractor, assumed Guymon and her husband were having fertility issues (they weren't) and sent her a letter explaining how he could adjust her back to help her get pregnant.
"It included a testimonial letter from a fellow chiropractic student who claimed she had had her back adjusted by him and was able to get pregnant the following month," she recalls. "I was insulted."
Wait until you're asked
And if you're the one eager to share your wisdom? Stick to people you know well -- and wait till you're asked.
"Generally speaking, unsolicited advice is pretty much discounted," says Cindy Post Senning. If a situation involves a close friend or relative, it's okay to step in, but be tactful and be prepared for them not to listen.
She suggests couching your advice in the following way:
"I know unsolicited advice is the worst kind, but I have to tell you this because I know I would want to know if I was in this situation."
Tina Lewis Rowe, 61, a Denver-based business consultant and self-described advice-giver says most people whole dole out their two cents are just trying to help.
"I don't think we should go around picking on people, but if something is very irritating or disturbing and there is a reason for us to get involved, we should find appropriate ways to say something," she says.
"I have had many people thank me for telling them about their breath or body odor," continues Rowe. "One woman told me that the straight-forward and helpful way I told her, kept it from being embarrassing to her."
As one of the stars of Bravo's reality TV show "The Real Housewives of New York," Jill Zarin, a 44-year-old wife and mother of four, became known as the show's resident advice-giver.
On one of last season's episodes, she gave co-star Alex McCord recommendations for private preschools and even arranged an interview with a school administrator -- but only after McCord asked for her input. She says she didn't find out McCord chose a public school until she saw the show.
Zarin wasn't fazed. "My mother once taught me, 'Wait until you're asked for advice -- don't just offer it.' If somebody asks me, I'm happy to give my opinion."
Keep smiling
Sometimes, no matter how well-meaning or meddlesome a person can be with unsolicited advice, all you can do it laugh it off. Allen Klein, 70, a motivational speaker in San Francisco, discovered that himself.
"I once had a business in Chinatown," says Klein. "The owner of the business next door, a Chinese man, told me that he could cure my baldness. To make my hair grow, he said I should catch a very young mouse. Then put the mouse in a bottle of very good vodka. Let the bottle sit for six months or so, then, every day, rub some of the vodka on my head."
Klein had a good laugh.
E-mail to a friend

LifeWire provides original and syndicated lifestyle content to Web publishers. Joy Hepp is a reporter who writes about relationships, travel and environmental issues for several publications. Sarah Jio has contributed to such publications as "Glamour", "SELF," " Cooking Light" and "Gourmet."