By Kate King
CNN
(CNN) -- Individual U.S. investors aren't happy with the current bear market, but they're not panicking, and most are sticking with their investment strategies, according to a sampling of financial planners across the country.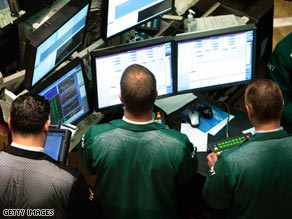 What's happening on Wall Street is causing concern, but not panic, on Main Street, financial planners say.
"A couple of people have called and expressed some concern about what's been going on. But it's very strange; people really haven't been all that concerned," Ian Quan-Soon, a New York City financial planner, said about his clients.
The investors and planners have had a series of shocks to deal with over the past year, from the subprime mortgage mess, to $4-a-gallon gasoline, to a skidding stock market and the crisis at mortgage finance giants Fannie Mae and Freddie Mac.
Clients are calling mainly for reassurance, the financial advisers say. But very few are asking to get out of the stock market.
"I think that's one of the differences that separates people who work with financial advisers, financial planners," said Dan Candura, a planner in Boston, Massachusetts. "We have a strategy in place so there's not a lot of panicky 'What do I do now?' kind of calls that I'm getting, at least."
The financial planners said they had been keeping their clients informed about the ups and downs of investing even before the market went sour.

Watch economist and author Ben Stein discuss the economy »
"They get reminded that just because they're hearing it on the media that the market is plummeting, the economy is in shambles, all of these negative things that we're having to deal with in this politically charged year -- you know, that's not their portfolio," said Jack Harmon of Atlanta, Georgia.
Don't Miss
"To some extent, they've learned to tune out some of the noise and understand that much of what is happening in the market today is actually happening in between investors' ears," said Victor Szucs, a Dallas, Texas, planner.
"If you know it's coming you can ... get prepared for it. But all of a sudden, if something happens and nobody gave you any clue what's going on or told you it could happen, you're probably going to be upset," said financial adviser Bill Carter, also from Dallas.
Financial adviser Steve Hample of Bozeman, Montana, has had some clients insist on converting their assets to cash, in spite of his advice to keep at least some of their money in stocks and other investments.
Harmon said he's had a similar experience in past downturns. "Sometimes, people just can't take it. And if they can't take it, we've got to do what we have to do to put their minds at ease, even if we know in the long term it's the wrong thing," he said.
Some of the planners said the current situation isn't so bad, seen in perspective.
"I'm hearing all the doom and gloom, and I'm not really seeing it," Quan-Soon said. "I've been in the market for 30 years. I've worked on Wall Street for many years, I've seen bad times on Wall Street, and this does not compare with what I've seen in the past."

See just how bad some indicators got in the recent past »
Hample is not so cheery. "My personal view is that this is not a normal cycle," he said. "With the subprime meltdown, and with the oil shortage, the shift in power wealth to the oil-producing countries, and just kind of the general sense of fear that inflation is hitting people -- I think there's more than the normal cycle."
The financial planners said the failure last week of IndyMac Bank didn't scare any clients into stashing their money in a mattress. But for some, it added to their sense of unease.

Watch tips on how to keep a close eye on your bank »
"This is pretty new territory for a lot of folks, a bank failure," said planner Ralph Lunt of Avon, Ohio, a suburb of Cleveland.
Lunt said his clients are worried about the financial health of major regional employers, which include two big banks: National City and Key Bank.
"The mood is one of 'Geez, we hope something bad doesn't happen to a National City, for instance,' any regional employer ... because that has a big effect," he said.
Some of the planners pointed out that even in a bad market, some areas do well. Quan-Soon says the Standard & Poor 500 Index, one of the main market indicators, doesn't tell the whole story.
"The financials tend to make up a huge percentage of the S&P, and that has been bringing the S&P down over the past year," he said. "But when you look at the individual sectors like telecommunications and the health care sector and so on, there are positive results."
He pointed to the rush to buy Apple's new iPhones when they hit the market last week. "People were lined up to buy Apple cell phones. They sold a million of them over the weekend."

Trace inflation, unemployment figures over the years »
"We certainly have been in similar dark periods," said Marilyn Dimitroff, a financial adviser in Bloomfield Hills, Michigan. "[One difference] this time is that we are in a global economy, and in some ways, I see that as very positive, because the whole capital market of the world is not going to zero."
Overall, the planners are advising their clients to stick with their long-term investment strategies, with widely diversified portfolios.
"If investors want to successfully navigate choppy markets like these without becoming seasick, they should focus on the horizon, not the waves," Szucs said.
"The market has really held up fairly well with the degree of news, the confluence of different things and the degree of it," said Barbara Steinmetz, a planner in San Mateo, California. "I don't think there's any more reason to panic now than before."
"I really think that more of the bad is behind us than is in front of us," she added.
"This is probably one of the most serious financial crises that we've had since the Great Depression," Carter said. "We think that we'll come out the other side and live through it, but there's a lot of stress out there."
E-mail to a friend

All About Financial Planning • Personal Finance • Stock Activity • Fannie Mae