By Sarah Jio
(LifeWire) -- How well do you and your siblings deal with conflict? Brenda Bredahl, 47, says that after her mother died in 1999 she and two of her siblings had to rely on the legal system to help negotiate with a brother over their mother's estate.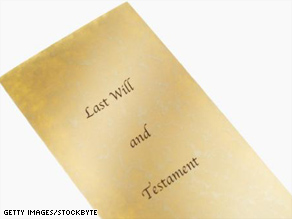 "We had a large auction to sell her personal possessions," says the freelance writer, who lives in Hudson, Wisconsin. "We all agreed to keep a few things, but it was the real estate that caused a squabble."
In short, Bredahl and the two siblings ended up filing a lawsuit against one of their brothers, who promptly filed an answer and counterclaim.
The case was settled in 2005 with an agreement to allow the brother to purchase the real estate at a fair-market price. But all left with battle scars and some hurt feelings. Their relationship today? "It's lukewarm at best," Bredahl says, speaking for herself and her other siblings.
Arguments over family heirlooms and other belongings from a parent's estate can disrupt even the closest-knit families.
"All the old resentments come out, and people who had unfinished business with the deceased will try to handle their feelings by becoming possessive, greedy and argumentative," says Tina Tessina, a marriage and family therapist in Long Beach, California, who has counseled families on such issues.
It's not about possessions, it's about feelings
Doug Stanley, an estate-planning attorney with Bryan Cave LLP in St. Louis, says when it comes to a deceased parent's will, there are bound to be hurt feelings. He describes a client who remarried after his first wife died. When the client passed away, he willed a valuable gun and the family's antique china, among other things, to his current wife -- not his children.
The client wasn't being vindictive; rather, he wanted his wife to have them while she was alive, and then pass them on to the children after her death, Stanley says. The children didn't quite see it that way. "These items were family heirlooms," he says. "The kids (expected) to get them. There were hurt feelings because someone who was foreign to them got these heirlooms."
When families fight over material possessions, says Elinor Robin, a family therapist and mediator in Boca Raton, Florida, it's usually not about the money. "It's typically about... how we feel valued or devalued, dismissed, discounted, disenfranchised and disrespected in relation to the situation."
For example, she says, "if my grandmother leaves my cousin the jewelry, it's not about the value of the jewelry -- because I probably would not have sold it anyway -- but the clear message that my cousin is better, more loved and more valued than I am. This interaction can trigger a lifelong feud."
When donating makes more sense
Even without sibling rivalry to contend with, an only child may find giving up treasured family artifacts, especially those imbued with childhood memories, to be extraordinarily difficult.
Kristin Anderson, the child of former South Dakota Gov. Sigurd Anderson, longed to hold on to her parents' entire estate -- the family heirlooms, the boxes of political mementos, the historical photos -- and the memories it contained.
"When it came time to giving away memorabilia, I couldn't," says Anderson, 54, a communications manager for a university in Michigan. "The thousands of books and political papers and personal items that he and my mother had were too precious."
Yet, Anderson says, she began to realize the significance that these items could have to others. She spent about two years combing through her family's relics. In the end, some 450 boxes of papers, photos, books, political items, plus furniture went to a museum.
"It still breaks my heart that most of the treasures are no longer with me," Anderson, who lives near Lansing. But, she adds, knowing that the heirlooms will live on and be shared with the public gives her great satisfaction.
Anderson believes that if she had siblings, they might have helped her get through the emotional upheaval of going through her parents' belongings. But, she says, "there probably would have been issues about 'stuff' -- things like dishes, linens, furniture, the car, anything that possibly would qualify as an antique, or items people use or display in their homes. And grandchildren could have added to a situation."
Family feud diffusers
A loved one's passing can be stressful enough without the added drama of fighting over family heirlooms. Here are some hints for reducing the chance of conflict:
Make sure there's a will. "My mother died without a will," says Bredahl. "Get a will, and consult an outside lawyer, executor or estate administrator the first thing upon a family member's death. Don't wait until things disintegrate."
Discuss before death. Discuss your intentions about family heirlooms with your parents and siblings before a parent passes away, says Tessina. Or, do it in the company of an arbiter such as a close family friend, a priest or pastor, or a family mediator.
"Jointly go through the possessions, with each person choosing in turn," she adds. "The arbiter makes a list of who chose what, and then people are given a chance to trade or re-negotiate, as long as the process remains calm and reasonable."
Use the sticker method. If heirlooms are in question, all siblings should view them together, says David Woodburn, an attorney who specializes in family-estate issues with Trusts and Estates Practice Group in Akron, Ohio. "Each child is given a set of colored stickers," he says. "Then they draw straws, which sets an order for picking items, and then proceed to place their respective stickers on the items they want. It sounds a little tacky, but has been extremely effective."
Hire a professional. "Do not attempt to save money by dividing property amongst yourselves, no matter how good your relationship is with your family," says Bredahl. "A [neutral third party] is much more useful in the beginning when relations are not yet strained."
E-mail to a friend

LifeWire provides original and syndicated lifestyle content to Web publishers. Sarah Jio is a Seattle-based writer who has contributed to "Cooking Light," "SELF," "Glamour" and many other publications.