By Sarah Jio
(LifeWire) -- Jennifer Bilotta thought she and her husband Michael had the perfect present for his cousin's wedding. The gift in question -- a fused-glass plate decorated with a "tacky scene of a bride and groom," she recalls -- had been given to Bilotta at her own wedding a few years earlier.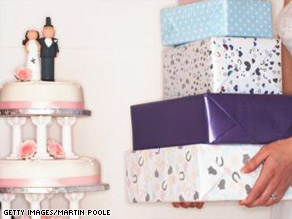 Nothing wrong with a little regifting as long as the bride and groom enjoy the gift. Or so Bilotta thought.
"She collects Barbies, and he collects G.I. Joes," says Bilotta, 33, a publicist in Wyndmoor, Pennsylvania. "The plate seemed up their alley. So for their wedding gift, we gave them the plate along with a card with a check for the usual wedding amount."
But the gift didn't go over well. "A few weeks after they got married, we were talking to them about their wedding gifts, and they mentioned this hideous glass plate that someone gave them," Bilotta says. "The card must have gotten separated from the plate, so they didn't know it was from us and they both went on about how ugly it was. We never fessed up."

Watch when to send a gift »
Deciding what to give (or not give) newlyweds is never an easy task, says Peggy Post, one of the country's leading etiquette experts and co-author of the book "A Wedding Like No Other." Before you turn into a guestzilla, however, take heart. "Gift giving doesn't have to be a stressful experience," says Post.
The wrong way to give
Some gifts should never be given -- namely those that you yourself received. Whether it's to save yourself some cash or to avoid the hassle of shopping, regifting is a wedding no-no, says Steve Kemble, star of Style Network's "Whose Wedding Is It Anyway?" and "Married Away."
"What makes you think someone is going to want a gift you did not want?" Kemble says. "Plain and simple, re-gifting is tacky! If you do not have the time to think about what a couple would really want, then don't give anything at all."
Kemble ticks off a few of his favorite wedding gift gaffes: shot glasses ("I simply do not think there could be anything tackier," he says); knives ( "they represent bad luck for a relationship"); and, worst of all, deciding that a gift isn't necessary, because you gave the bride or groom a gift the last time they got married.
"If you feel this way, then I feel you should not attend the wedding," he says. "If you are going to sincerely celebrate with them on their special day, then show that you are happy for them, and tradition says you should do this by honoring them with a gift."
The right way to give
When it comes to gift giving, Rob Johnsen, co-founder of MyWedding.com, has some simple, if calculating advice: Decide how much your relationship is worth. If the happy couple are two of your most cherished friends or relatives, get ready to fork over about $200, says Johnsen.
"A blender or silverware off a traditional registry won't quite have the sentiment you are looking for," he says.
Is the bride or groom is someone you talk to only a few times a year, yet someone you still value? Then keep your gift between $50 and $100, and feel comfortable selecting a set of dishes off the registry, says Johnsen. For distant relations, friends of friends or other lesser acquaintances, limit your spending to $50.
"Sentiment here really isn't of concern, so go for something off the registry, or some cash in a card is acceptable too," Johnsen says.
Peggy Post disagrees with putting a price limit on a wedding gift ("There's no such thing as a dollar amount," she says), but she does suggest basing the amount you spend on your affection for the bride and groom and their family. "If you're a close cousin, you'd probably want to ratchet it up a bit, rather than if you're just an acquaintance," she says.
Of course, not everyone can afford to give extravagantly, even if the newlyweds are dear friends. Not to fear, Post says: You won't be breaking any etiquette rules by splitting the cost of a high-dollar gift with a fellow guest. And, she adds, it's especially acceptable if you're in your 20s and a recent college graduate with a limited income. Cash is acceptable, too, as is deviating from the bridal registry.
"Do what you feel comfortable with," Post says. "Just don't do something totally off the wall."
Gifts that make memories
Sometimes, though, offbeat wedding gifts can impress.
Manhattan resident Samuella Becker, 53, says she'll never forget a gift someone gave her and her husband for their wedding 24 years ago. "One of the members of our wedding party, an attorney who I worked with at a major Fortune 500 company, gave us a magician to perform at our reception," explains the owner of a media relations firm.
There was just one problem: The reception, held in the elegant Crystal Room at New York City's Tavern on the Green, wasn't exactly the ideal place for magic tricks.
But, Becker says, the gift, which might have been seen as tacky by some, ended up becoming a wedding-day highlight. "All guests, young and old, were absolutely entranced and filled with wonder as the magician performed trick after trick," she says. It was a reminder, she says, that sometimes the most unusual and daring gifts can be the most memorable and welcome.
E-mail to a friend

LifeWire provides original and syndicated lifestyle content to Web publishers. Sarah Jio is a Seattle-based writer who has contributed to Cooking Light, SELF, Glamour and many other publications.