(InStyle.com) -- So you're finally ready to settle down and make that marriage proposal? There's no better time to do it than engagement season, which, lucky for you, is now! Get inspired by these uber-romantic celebrity proposals.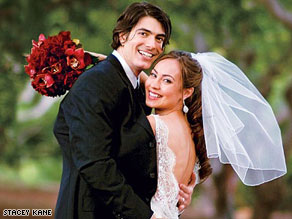 Brandon Routh popped the question to Courtney Ford while on a picnic.
Tia Mowry and Cory Hardrict
Although the set of a slasher movie seems an unlikely place for romance to bloom, that's just where it happened for actors Tia Mowry and Cory Hardrict. Shortly after shooting began in 1999 on their film "Hollywood Horror," the co-stars started spending time together.
Seven years later, on Christmas Day 2006, Hardrict, 32, told Mowry, 30, that he wanted to give her a promise ring. Then, as her entire family looked on, the "Lincoln Heights" actor yelled, "Psych!" and got down on one knee to present her with a 1.5-carat diamond engagement ring.
Antonio Pierce and Jocelyn Maldonado
Antonio Pierce, an NFL linebacker, met Jocelyn Maldonado during a celebrity appearance at an ESPN Fantasy Football Draft. Maldonado, a model at the event, instantly caught his eye. Pierce and Maldonado (who now hosts Mets Weekly) were inseparable over the next six months.
In February 2007, Pierce treated Maldonado to a helicopter ride above Manhattan, New York, before dining at Brooklyn's The River Café. Famous for its chocolate Brooklyn Bridge cake, Pierce conspired with the restaurant's manager to place the engagement ring atop the confection, which was covered with pink rose petals.
Howie Dorough and Leigh Boniello
Backstreet Boy Howard "Howie" Dorough got more than he bargained for after hiring Leigh Boniello to be the band's webmaster in December 2000. Boniello went on tour with the group and quickly grew close to Dorough.
Six years later, the couple attended a New Year's Eve party at the New Jersey home of Boniello's father. "I figured, what better timing," says Dorough, "because all of her family was going to be there, including her 92-year-old grandmother."
Just before the stroke of midnight, Dorough made a toast and presented Boniello with a custom-designed three-stone diamond engagement ring.
Brandon Routh and Courtney Ford
Three years before actor Brandon Routh donned those famous blue tights, he tended bar at Lucky Strike Lanes in Hollywood. During a party there in 2003, actress Courtney Ford repeatedly poured out the drinks he made her as a ruse to chat him up. "I kept asking him for another drink, telling him the one before was too strong," she recalls.
In 2006, Routh purchased the 3-carat diamond ring that had caught Ford's eye during an earlier visit to Neil Lane. But since the two were traveling for the Superman Returns press tour, Routh asked Gilbert Adler, one of the film's producers, to hold the ring until they arrived in England. "Poor man!" says Routh. "He carried it around for two and a half weeks." Finally, while picnicking in Glastonbury, Routh popped the question.
Roselyn Sanchez and Eric Winter
Roselyn Sanchez and Eric Winter became friends after meeting at a party in 2006 and Sanchez immediately pegged him as perfect husband material. She found out for certain that he felt the same way just two days before Christmas 2007, under a full moon at midnight, in a bay off the coast of the Puerto Rican island Vieques.
The two were seated in a double kayak, taking in the bioluminescent organisms shimmering in the water all alone, except for a tour guide in a second kayak. The scene should have been pure bliss, except that Sachez was concerned when their guide speedily paddled away.
"The guy knew to take off so Eric could propose, but imagine how I felt floating in this huge bay in the middle of the night with nobody around," Sanchez explains. "I started calling back, 'Senor, hello! Come back!' until I realized something was going on."
After an "amazing speech," Winter pulled out a 4.3-carat brilliant-cut diamond ring by Michael Barin, Sanchez's favorite jeweler. But her joy was soon laced with anxiety over the fact that such a costly bauble was surrounded by acres of sea. "I said, 'Put it away, please. I don't want it to drop in the water!'"
Anna Chlumsky and Shaun So
Actress Anna Chlumsky, 27, best known for her role in "My Girl," was awaiting her seven-year anniversary with college sweetheart and army reservist Shaun So, 28, and hoping he might pop the question.
While they were having breakfast at a café in her neighborhood a week before their anniversary, Chlumsky described a cocktail ring a friend was selling. So, who had been carrying an engagement ring for two weeks in anticipation of the perfect moment, pulled out the 1-carat, cathedral-mounted, radiant-cut bauble and asked, "Does it look anything like this?"
Guiliana DePandi & Bill Rancic
It started out all business: Giuliana DePandi was interviewing Bill Rancic, first-season winner on "The Apprentice" and co-host of the Chicago, Illinois, TV show "In the Loop with iVillage." But when the cameras stopped rolling in April 2006, a whirlwind -- and adventurous -- romance began.
Eight months later, when Rancic, 36, popped the question during a chopper flight over Chicago, complete with champagne, Giordano's deep-dish pizza (DePandi's favorite) and Michael Bublé tunes piped into the headset.
"Bill told me we were going to look at Christmas lights," says DePandi. "It was dark in the helicopter, so I didn't really get a look at the ring until the next day, when I went into shock for the second time," she says of the 4-carat cushion-cut diamond in a micro pavé setting Rancic helped design.
Jeri Ryan and Chistophe Eme
"He was hot!" Shark star Jeri Ryan, 39, recalls of first glimpsing her future husband, Christophe Emé, 38, at a food-related charity event four years ago. "He looked good in his chef's hat, and he had this ornery little spark in his eye that I really enjoy." After dating for two years, the couple opened Ortolan, their celebrated French restaurant in Los Angeles, California.
The proposal came soon after. "One night, Christophe covered my eyes and took me into our bedroom," recalls Ryan. There the die-hard romantic had placed candles, champagne and a canvas painted with the messages "And you come with me forever" in French and "Grow old along with me" in English. Emé then presented Ryan with a made-to-order cushion-cut solitaire set in pavé diamonds.
Jason Priestley and Naomi Lowde
Fate has looked after Jason Priestley. On Valentine's Day 2000 the actor met Naomi Lowde, a makeup artist from Hertfordshire, England, while walking back from a play rehearsal in London. "I was smitten," says Priestley, now 36.
The Beverly Hills, 90210 alum and Lowde, 27, immediately began dating, and in 2002 they moved back to California together. That's when fate took another turn: On August 11, 2002, Priestley was driving his race car on a Kentucky track when he hit a wall at 180 mph. Though he sustained three skull fractures, a broken back and a bleeding artery in his neck, he pulled through.
"It was a tough time, but it was also magical because we kept each other's spirits high," says Lowde. "We pushed two beds together in the hospital and put Swifty, our French bulldog, in the middle. We were together 24 hours a day, seven days a week, for three months."
In May 2004 Priestley arranged another trip to London, England -- to the very street corner where he and Naomi first met, where he presented her with an emerald-cut, three-diamond ring by Steven Pomerantz.
Rebecca Romijn and Jerry O'Connell
What happens in Vegas doesn't always stay in Vegas -- and for Rebecca Romijn and Jerry O'Connell, that's not a bad thing. Nearly four years ago the two ran into each other poolside at the Hard Rock Hotel in Las Vegas, Nevada. "I was working on a documentary, and Jerry offered to help," recalls Romijn, 35. "He spent a week operating the microphone, but later he told me he would have done anything. I don't think he really cared about the project, if you know what I mean."
For their first date the couple went to see the Blue Man Group with friends, and O'Connell had Romijn in stitches. "It was this whole Jerry show in my ear. That's how it is with Jerry. You get sucked into it!" Evidently: A year and a half later, on September 18, 2005, O'Connell, 33, proposed to Romijn in New York with a diamond ring from Simon G.
"I got down on one knee, asked her to marry me and said, 'You better say yes' a couple of times -- there was a little bit of a pause on her part," says O'Connell.
Romijn's take? "Not true!"
E-mail to a friend

Get a FREE TRIAL issue of InStyle - CLICK HERE!
Copyright © 2009 Time Inc. All rights reserved.
All About Celebrity Weddings