(CNN) -- Whenever Jack Scheper sits down at the Thanksgiving table, he takes some extra time to thank the turkey.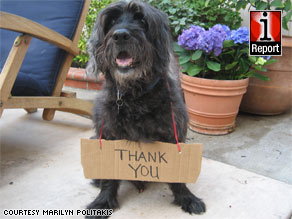 Marilyn Politakis thanks her husband, Simon, for being willing to help her keep her dog's cancer under control.
He doesn't know exactly what became of the beloved bird he nicknamed Turkey Frank, but he thinks he might have an idea.
Scheper, of Tallahassee, Florida, met Frank at a local feed store as he was purchasing some birds. He was picking up some mallard ducks and made an impulse buy of three white holland turkeys.
Back at home, the ducks were doing well, but the turkeys were struggling. Frank was the lone survivor of the three, and Scheper placed him with the ducks for company. Soon, the turkey started to think it was a duck, too, and tried to enter the catfish pond. Scheper was concerned.
"With un-webbed feet thrashing and turkey wings splashing, he too water-partied but he didn't take to it at all like the proverbial 'duck to water,' " Scheper wrote in a short biography of Frank. "Unlike this flock mates, Frank's excitement was more hysteric than ecstatic, his anatomy requiring twice the effort to swim half the distance as his web-footed friends."
Scheper soon realized he couldn't handle keeping an eye on the bird and decided to take him back to the feed store so he could be raised by someone better equipped for this task than he. He continued to keep an eye on the bird and last saw him standing with geese in a pond one crisp fall morning.
iReport.com: Read the tragic story of Turkey Frank
Thanksgiving was fast approaching, and Scheper never saw Frank again.
"No matter how much you think you're a duck, people will still eat you on Thanksgiving if you're actually a turkey," Scheper said. "Rest in peace, Turkey Frank. I'm sorry they ate you."
Scheper wasn't the only iReporter to share a thank-you story. Below is a selection of some of the heartwarming stories readers shared:
Carol Menke of Brea, California
"A thank-you to all California firefighters: Do you know you are my hero? Well, you are. I realize, as many you have told me, that you were 'just doing your job.' However, I don't know many people who would put their lives on the line for mere strangers for any amount of money. But I guess being humble is part and parcel of being a true hero. And because of your heroic efforts, I have a home to have Thanksgiving in and a reason to be truly thankful. Thank you, Carol, Hollydale Mobile Home Park." iReport.com: See a photo of Carol's heroes
Kelli Allred of Salt Lake City, Utah
"A 'twin-to-twin transfer' is what he called it. He saved my babies. I wish he were still here, so I could thank him in person. He died while jogging one morning -- just died at the age of 42. A father to twin boys, Dr. Van Lindsay left a wonderful legacy. I had the honor of teaching one of his twins many years after he died. I told that young man that his father was my hero. Thanks, Dr. Lindsay."
iReport.com: See a photo of the thriving twins now
Kyle Aevermann of Gilbert, Arizona
"I thank Anne Vreeland for letting me live in her house for the past 3½ years. Words can't express how forever thankful I am!"
iReport.com: Watch Aevermann give thanks for his housing
Peter Abate of Wilmington, North Carolina
"A daughter is beauty at its finest. Heart of an angel, soul so pure and sweet. Daughters are one of God's most precious gifts that he has bestowed upon the world. Angels in heaven do not compare to thine beauty and grace my ever-so-beautiful and lovely daughter. Seeing you at birth brought more joy to me than all the money in the world could ever do. You are morning, bright and shining, you are noon, you reside at the highest point in my heart, you are the dew-kissed night. You are my daughter, heart and soul. I have four daughters: Christa, Regina, Angel Jessica and Elena. Love, Peter and Regina Abate."
iReport.com: See a family photo with "Angel Jessica"
Marilyn Politakis of Redondo Beach, California
"When Leroy was diagnosed with lymphoma cancer, we thought our little dog's life was over. Actually, it was over, until [Marilyn's husband Simon] took on the financial burden as well as the sometimes grueling daily care that accompanies his treatment and gave him back his life. We know it's only temporary, but today, six months later, Leroy is alive and as happy as any dog could be. We wanted you to know how grateful we both are and how much we love you for all you have done." iReport.com: See the dog's thank-you note for Simon
Cindy Schultz of Franklin, Wisconsin
"Thank you, Den, for 29 fantastic years of marriage, four great kids and for always being the voice of love and reason when things get crazy. I love you to the moon and beyond." iReport.com: Schultz's husband gets his first over-55 discount
E-mail to a friend