By Jacque Wilson
CNN
ATLANTA, Georgia (CNN) -- Murphy bounds up the stairs, down the stairs, over the hurdles, through the tunnel and stops. He cautiously sidesteps the large white ring in front of him and sits down.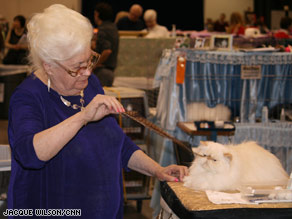 Betty Yadlosky tries to tease her Himalayan Persian named Tangerine with a feather.
"Through the ring! Come on, Murphy, through the ring!" his owner encourages, as she enthusiastically jingles a feathered toy on the other side of the obstacle.
Murphy glances over, clearly saying, "There is no way I am jumping through that hoop." And anyone watching -- anyone who has ever owned a cat -- knows he is right.
"It can be frustrating," Donna Hinton says from the sidelines of the agility course. "But it's a challenge, a new dimension to showing."
Hinton is the owner of Kevi, one of the nation's top agility cats. Dressed to impress, Hinton looks more like a business executive than a cat fanatic -- but the breeder of Maine Coon cats has more than 20 years experience in pedigree showing.
"Some people like to go to the golf course on the weekend. I like to go to a cat show," she says with a smile.
This time around, it was last weekend's Cat Fanciers' Association's International Cat Show, in Atlanta, Georgia -- touted as the Western Hemisphere's largest cat show, with 729 cats from 41 breeds and 14 countries.
Elaborately decorated cages fill both sides and the back of the convention center floor. Vendors sell everything from cat hammocks to gutter guards (even the show manager isn't sure why gutter guards are there), and a man in a wig shows off his tightrope-walking cats. But arguably the most important activity takes place just past the garbage cans marked "Dump litter here, please."
Judging
Bob Druzisky carries Zoe -- short for Mittsnpaws Zoe of Wyldephyre -- two-handed under her belly, stretching her out to her full length as they walk to one of the 12 judging rings. "[We do this] to show her off to the crowd and to avoid handprints on her fur," he says.
Zoe's judge wipes down his table with disinfectant and then picks up Zoe, staring into her eyes as her feet dangle four feet above the ground. He puts her down and proceeds to feel her coat and check her response time. At one point, she tries to escape from the table, but is nabbed by the quick-handed judge. The whole thing is over less than a minute later.
Each cat is judged by six judges throughout the weekend, show manager Emily Turner says. The cats are split into three groups: kittens (less than 8 months), champions (adult cats), and premiers (adult neutered/spayed cats). These categories are broken down again by breed, color and sex. On Sunday morning, judges tally up the points and select the top two cats from each category. A panel then picks the best in show.
"That's it in a nutshell," Turner says. Of course, it's slightly more complicated. Each judge must train for six years. They must know the standards for each breed -- written descriptions of the "ideal" cat -- and be able to tell which Siamese has the perfect ear width or which red cat has the best color.
Time and money
The ideal breed standard is impossible to reach, Turner says, but owners spend hundreds of hours, and dollars, trying. That's most evident when an announcement comes over the loudspeaker for a DNA "blue-eyed" breeding seminar, starting in one hour.
Druzisky and his wife, Jennifer, attend approximately 30 cat shows each year. The couple arrived in Atlanta with Zoe and Angel on Thursday night after a 12-hour drive from Pittsburgh, Pennsylvania.
Between gas, hotel rooms, entrance fees and cat supplies, Druzisky estimates the shows cost him between a couple hundred and $1,000 per month.
Of course, showing cats is a lot cheaper than showing horses -- as Betty Yadlosky is quick to point out. She and her husband Bill showed horses for many years before switching to Himalayan Persians.
The couple has 11 Persians, all of which need regular baths if they're showing. Each bath takes Betty Yadlosky an hour and a half to two hours, including a blow dry.
So how much time does the average owner spend grooming their cats? "Just depends on how many you have and how well you take care of them," she says. "You've got to keep them healthy and happy."
For the love of it
Back in the ring, Kevi is running Hinton ragged. He zooms through the other obstacles, only to stop short at the blue weave bars. Once, twice, three times he stops, before Hinton sighs, wiping her forehead with her arm. "I think we're tired," she says.
"Bored, not tired," agility instructor Carol Osbourne calls out to Hinton. "[Kevi] could do this all night. Keep your body ahead [of the cat] and make a wide sweep with your arm."
Hinton goes to scoop up Kevi, only to miss the rascal by inches. This starts a game of chase that ends with Kevi in a red carrier and Hinton laughing.
Putting on a show this large takes more than a year, and it's scenes like this one that convince Turner her hard work is worth it. She says most of the people who come to shows are there simply because they love animals.
"There's the best of all things," she says, speaking loudly over the call for Tokinese cats in ring three. "At night, when you go home you have this warm, fuzzy, cuddly animal that adores you and you adore him or her. I mean, how could you ask for anything better?"
E-mail to a friend

All About Cats