By Christina Zdanowicz
CNN

(CNN) -- Goldendoodle? Bernese Mountain Dog? Irish wolfhound? Chihuahua?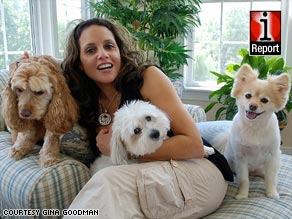 Gina Goodman says a Pomeranian would be a good pet because they're like a stuffed animal come to life.
After selecting a chief of staff, President-elect Barack Obama quickly turned to the more pressing issue of finding the perfect puppy for his girls, Sasha and Malia.
"We have two criteria that have to be reconciled. One is that Malia is allergic, so it has to be hypoallergenic," Obama said Friday in Chicago, Illinois. "On the other hand, our preference would be to get a shelter dog. But, obviously, a lot of shelter dogs are mutts, like me."
CNN asked iReporters to weigh in on what kind of dog he should get and what to name it. The response was tremendous. After all, everyone's got an opinion about which pooch will be the Obamas' best friend.
Gail Hurson, who lives outside Allentown, Pennsylvania, shared the opinion of many iReporters who want the Obamas to get a shelter dog. She says these pups appreciate having loving owners and a place to call home. iReport.com: What do you think the Obamas should pick?
"Mr. Obama, I say give your girls both a puppy of their own to care for, and give those dogs a second chance, like this country is going to get now that you've been elected to lead us back on track," Hurson said in her iReport.
Although there was a mix of monikers for the First Dog, many iReporters believe that Hope would be a good name.
"I really believe that with a new president in the White House, there will be hope," Teri Satterlund said. The Troutdale, Oregon, resident wants the dog's name to reflect Obama's message of change.
Barbara Martinez remembered that Malia is allergic to dogs, so she suggested that Obama get a Goldendoodle or a Labradoodle. Both breeds are hypoallergenic and have a sweet temperament, perfect for a family with children, she said.

See some of the more popular hypoallergenic breeds »
America's Yankee Doodle Dandy would make for a great name, Martinez said. Of course, it's a mouthful, but "Dude," "Doodle" or "Dandy" could work as nicknames.
Finding a name that would celebrate Obama's African heritage was what led Don Belgard to the name Ubuntu. The Pittsfield, Maine, resident said Ubuntu is an African philosophy that promotes "peace, harmony and good will."
Because Dale Jacquef shares a birthday with Obama -- August 4 -- he jokes that he is qualified to give some puppy advice. The San Jose, California, engineer says his Alaskan Klee Kai is a big hit with everyone. "All my daughter's friends go crazy over him, so I thought it would be a good one for the Obamas."
Elizabeth Shumway of Geneva, New York, envisions the Obamas having a fluffy Bernese Mountain Dog. These "big, cuddly pieces of fur" take a while to grow up, maintaining their puppy playfulness, Shumway said. "I could picture them standing in front of the White House with this big, beautiful dog."
Huguette Rainforth raised Irish wolfhounds on her farm outside Montreal, Canada, for seven years and thinks the Obamas should get one, too.
Rainforth thinks Obama and an Irish wolfhound would make a fine pair because of their comparable personalities.
"I think it's a very noble dog. It's very loyal, trustworthy," she said. "I just felt it was the dog for him."
A Pomeranian would be the perfect pooch for Obama, according to Gina Goodman, who runs a petsitting service out of her home in Malvern, Pennsylvania.
"They would be ideal for the sweet little Obama girls because they would be like having their stuffed animals come alive for play," she wrote in her iReport.
Paris Pujol's pet Rocco died a month ago, but she will always remember him for being a great pup. The white Chihuahua loved to zip around outside his home in Natalbany, Louisiana.
Being fast and fun-loving does not mean a Chihuahua will be too much for Obama to handle. Obama won't have to fret about it taking too long to train the puppy, because Chihuahuas are easy to train, Pujol said. iReport.com: Spunky little pup brought family lots of love
Dogs are too high-maintenance for Jeremy Larson of Belleville, Illinois, who says Obama should get a cat instead. "Cats are easier to take care of you don't have to walk them outside. They run around inside and entertain themselves."
Rusty Clark of West Springfield, Massachusetts, suggests that the Obamas go for a more unusual pet: a llama. iReport.com: An Obama llama?
When Clark thought of the "cute and fuzzy" creature, she couldn't help but chuckle at the rhyme that popped into her head. "Obama llama. It just sounded like a '50s doo-wop song," she said.
"If they've had donkeys and ponies at the White House, then why not a llama?"
E-mail to a friend

All About Pets • Barack Obama