By Katie Hawkins
CNN
(CNN) -- Brandi Robinson hoped for a beautiful outdoor wedding in the hills of Central Pennsylvania. Mother Nature had other plans.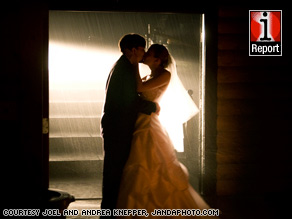 A power outage provided a unique photo opportunity at the wedding of Brandi and Anthony Robinson.
Robinson said she "stalked" weather reports the day before her April 26 wedding, only to discover that there was a 90 percent chance of severe thunderstorms during the ceremony.
She decided to move the service indoors.
As it happened, "it couldn't have stormed any harder than it did during our ceremony," Robinson wrote on iReport.com.
Claps of thunder coincided with significant portions of the service, she said. "There's a huge crack of thunder, like, 'you better think twice about that,' " Robinson joked.
But the wedding mishaps didn't stop there. A car got stuck in the mud as a guest tried to leave after the ceremony. The electricity went out halfway through the reception, plunging everything into darkness.
Robinson immediately began to worry that all of her guests would head home."Your wedding is already the shortest and fastest day of your life," she said. "I'm thinking that mine just got really short."
But Robinson's bridesmaids sprung into action, gathering and lighting candles. The band brought out their acoustic instruments, and guests moved chairs closer. Robinson said that the reception felt like a cozy campfire gathering and that folks stayed until the late evening. iReport.com: Check out Robinson's wedding day story
"I never would have thought that having a terrible thunderstorm during the wedding would be a good thing," Robinson said. "It made it very memorable."
She wasn't the only iReporter with a wedding horror story. Dozens of brides shared their tales of family dramas, ruined dresses and altered plans. iReport.com: Read more wedding disaster stories
Don't Miss
Amanda Cryder accidentally spit a mint at her husband's face while reciting her vows.
Sara Goossen coaxed a police officer out of writing a wedding-day speeding ticket.
Dan Dusenberry sliced open his thumb while helping set up wedding decorations. His wife, Stephanie Dusenberry, said the injury added significant stress to their wedding day.
A wedding guest helped bandage Dusenberry's thumb, and the couple went straight to the nearest emergency room after the reception ended.

See photos of iReporters' wedding-day mishaps »
"Dan was laughing about it after he got back from the E.R. thanks to the pain medication, but it took me a few days to see the humor in it," Stephanie said.
Couples need to accept that everything won't be perfect, wedding planner Elizabeth Espy said. "You have the image in your head, but nothing's exactly as you imagine it to be," she added.
Espy started Events by Elizabeth in Smyrna, Georgia, two years ago. She said wedding planners must remain calm to keep brides relaxed. "It's my job to make sure they don't know what goes wrong," she said.
"You have to change the way you look at things," Espy said. "You can't look at problems as disasters but as humorous incidents."
Wedding planner Calder Clark agrees. "If people go into the day with that perspective, they can have a good time."
Clark, who's been a wedding planner Charleston, South Carolina, for 10 years, says she tells couples to not get caught up in the stress of their wedding.
"It's just one day and one big party," she said. "If people spent as much time on their marriages as they do planning their wedding, the divorce rate would be much lower."
Robinson is grateful she stayed cool under pressure. "I thought, 'things are going to happen no matter how well you plan. Some things are going to happen that you have no control over.' "
It was a simple philosophy that kept her spirits high, Robinson said. "As long as we end up married at the end of this day, that's what counts."
"Looking back on this, I would not change a thing about it."
E-mail to a friend