By Jacque Wilson
CNN
(CNN) -- Michael and Sharon thought the photos from their wedding were lost forever.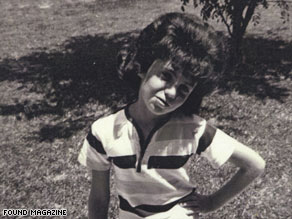 Titled "My Mom's a Beautician," this photo was picked up by Mitch O'Connell, who sent it in to FOUND.
Then a friend called the newlyweds and told them their photos were online.
The friend recognized Sharon in her beautiful white dress, holding a bouquet of yellow flowers, on a blog titled "Found Cameras and Orphan Photos."
Within a week, Sharon had claimed the photos on the blog and had the photo CD back in her hands.
Matt Preprost's blog is full of successful reunions like this one.
A coach recognizes lost -- or "orphan" -- photos belonging to some of her high school cheerleaders; a Japanese exchange student gets back photos from her first American family Thanksgiving.
For anyone who's ever left their camera in a hotel, lost a hat in the wind, or dropped a glove on the street, Web sites like "Found Cameras and Orphan Photos" are a sign of hope.
While most people spend their time on the Internet searching for information, others are online looking for something a bit more tangible. And now several Web sites are making it easier than ever to retrieve your lost stuff.
Preprost's blog posts photos that people have found, either physical photos or those on cameras and memory cards. People can email Preprost three photos from the set, along with information about where and when they were found. Preprost then posts the three online and hopes that someone spots themselves in the photos and claims them.
The blog's inspiration came from a secret posted on PostSecret.com that read "I found your camera at Lollapalooza this summer. I finally got the pictures developed and would love to give them to you." Preprost contacted the secret poster Frank Warren and decided to start a blog based on the lost camera concept.
Now nearly 100 photo sets have been posted to the blog, and 9 or 10 of them have been claimed. The 10 percent success rate encourages Preprost to keep up his work. "These cameras contain memories that their owners thought were gone for good. To give them hope and inspiration that one day a total stranger will do a good thing to help them out is a very positive thing," Preprost said.
That connection with a total stranger is part of the reason Davy Rothbart runs FOUND magazine and FOUNDmagazine.com.
"We all have a curiosity about the people we share the world with," Rothbart said. "The fact is, when you find a note blowing down the street, it's a fragment of a story. It's up to you to fill in the blanks. There's something exciting about that."
FOUNDmagazine.com takes submissions of everything from random notes to diaries to photos to postcards. A lot of the submissions are random pieces of paper that are funny, but no one would really want back. But other finds are spotted online or in the magazine and claimed by their rightful owners.
One, a 20-year letter-writing correspondence between a student studying abroad in Japan and her boyfriend at Brown University, was recognized in the magazine's third issue. A container of the boyfriend's stuff had been found in a basement at the university.
"We had an entire box of the letters," Rothbart said. "She asked if she could have them back. There was a passport and everything, and it was returned to her."
Some of the stuff claimed to be lost online may seem trivial -- a raspberry Danish, for instance -- but even that could be a treasure passed down from generation to generation. America's Test Kitchen has a forum where people can ask for recipes they've lost. And Uncle Phaedrus, consulting detective and finder of lost recipes, will personally search the Internet and other resources to find food favorites from your past.
Other lost items like jewelry, clothing and pets can be found at The Found Bin. This Web site allows you search under multiple categories or by location. The results use Google Maps to show you exactly where the item was found, making it easier to determine if it was yours.
Even lost cars can find their way home. Keith Ingersoll, from The Lost Car Registry, helps owners who regret selling their beloved vehicles find them again. Many of the site's visitors own or are buying cars and want car history information. But a few are searching for a specific car, sometimes one that belonged to a relative who recently passed away.
And for those with a slight foot fetish, Humphrey Dunn runs a photo gallery of lost shoes. He wanders beaches, streets and even cemeteries with a camera in hand. Some are obviously forgotten, the lone flip flop on the beach. But others are so obscurely placed Dunn wonders how they could ever have been abandoned.
One of his favorites is that of a four-inch heel sitting atop a large boulder on a very rocky beach. "I guess the owner discovered that they should have worn something else that day," Dunn said with a laugh.
Fortunately, he can't remember ever losing a pair of his own shoes. "But if I did, I'd hope someone would post a picture of them on the Web so I could track them down. Although, I am pretty happy that the owners of the ones I found in the cemetery didn't come back in person to claim theirs."
E-mail to a friend

All About Internet • Blogs and Blogging