TROY, Virginia (CNN) -- "My total sentence was 55 years -- for possession of marijuana with intent to distribute," recalls Carolyn LeCroy.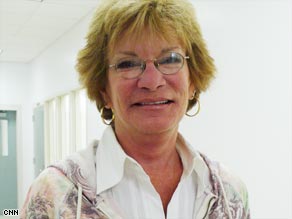 Carolyn LeCroy started The Messages Project after seeing how a lack of family visits left other prisoners unhappy.
Twelve years ago, LeCroy walked out of prison, only to walk right back in -- but this time, on her own terms.
After witnessing firsthand the effects of broken relationships between incarcerated parents and their children, the former inmate and mother of two now works to help repair those bonds. Her tool: video messages from prison.
"I took a bad situation and I made something good of it," she says.
In 1994, LeCroy's life took an unexpected turn when she was arrested. The news producer claims she had been allowing a former friend to use her storage unit.
"Believe me, I knew that it was marijuana [in there]; he had told me," LeCroy says. "I had no idea the amount."
LeCroy says police were looking for something else when their drug dog hit on her unit.
"The guy it belonged to ran, so I was literally left holding the bag," LeCroy recalls. "I'd never had even a traffic ticket. And then this happened. And I got 55 years."
LeCroy's sentence was eventually reduced and she served a fraction of that amount. But the experience in prison changed her life.
"When I was in prison, and I would get visits, I would come back to the floor, and I would see the women who never got visits," LeCroy recalls. "And they were always depressed and unhappy."
According to the U.S. Department of Justice, only 20 percent of prison inmates receive monthly visits from their children. As an exception to the statistic, LeCroy calls herself one of the lucky ones. Visits from her sons, ages 18 and 22, kept her going.
"Sometimes these prisons are a three- or four-hour drive away from home and little children have no way of getting themselves there," she says. "If there isn't a caretaker who can make the commitment, the kids just do not get to see mom or dad."
Witnessing fellow inmates' sadness, LeCroy remembers thinking, "If the women are feeling this, I can imagine what the children are feeling."
So after making parole in 1996, LeCroy used her background as a film and video producer to start The Messages Project. In December 1999, she and volunteer camera crews were granted admission to Fluvanna Correctional Center for Women in Troy, Virginia. There, they recorded video messages with mothers to be mailed to their children and families as Christmas gifts. Since then, The Messages Project has worked in six state prisons at least three times a year.

Watch LeCroy describe the personal experience that led her from marijuana to messages »
"For many of the inmates, these videos are the first time they have taken responsibility and apologized to their kids, and the first step to establishing a bond that was lost when they went to jail," LeCroy says.

Watch how LeCroy's Messages Project helps inmates connect to their children »
LeCroy and volunteers have recorded roughly 3,000 video messages, stories, poems and wishes from inmates to their children and families.

Watch LeCroy and volunteers help an incarcerated mother record her emotional message »
"One inmate taught his son how to shoot hoops; others have read their children bedtime stories," she says. "The kids play it over and over. Some won't go to sleep unless mom reads them that book." When funds allow, LeCroy sends the book with the inmate's video.
"I think a lot of people have a preconceived notion of what an inmate is," says LeCroy. "One of the things I try to do is to show that they're humans; they're real people. And they have children and they have families and they all love them."
E-mail to a friend