By Elizabeth Landau
CNN
LOS ANGELES, California (CNN) -- Given that Matthew McConaughey's personal motto is "just keep living," perhaps it's no surprise that he says the birth of his 1-month-old son Levi Alves McConaughey has not totally stopped the way he does that.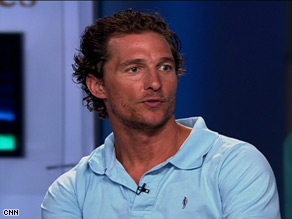 Matthew McConaughey says "can't" was a nasty word in his family, a rule he plans to continue with his son.
The actor and his girlfriend, Camila Alves, take their son out all the time, even to a John Mellencamp concert, to get him used to sights, sounds and people. They don't even tell house guests to quiet down when the baby sleeps.
"Our life has not changed, it just takes a little more prep time to do whatever it is you're going to do," McConaughey, star of the upcoming comedy "Surfer Dude," told CNN Thursday.
McConaughey, 38, still wore the hospital ID bracelet as he detailed his son's birth and philosophized about parenting with CNN's chief medical correspondent Dr. Sanjay Gupta in Los Angeles, California, on Thursday.
The first part of McConaughey's interview about fatherhood will appear on CNN's "House Call" at 8:30 a.m. Saturday and Sunday.
Levi's birth was a long process, part of which was accompanied by music. As Alves, 25, endured painful contractions at Santa Monica-UCLA Medical Center, McConaughey doubled as a DJ, playing "roots" Brazilian music at the hospital.

Watch as the actor talks about his new role as dad »
"Contractions have their own rhythm, right, so, we had to find our own rhythm to be a little bit above or on top of the contractions' rhythm. We had a good groove going," he said.
House Call
Watch for the McConaughey interview on Dr. Sanjay Gupta's House Call.
8:30 - 9 a.m. ET Saturday and Sunday
Watching Alves in labor, "you see a woman just really digging deep into her soul, and bearing pain, and being on top of it," McConaughey said. "I saw a strength come out of her I'd never seen before."
Initially, the couple had planned to make the birth go as naturally as possible. But Alves' water broke seven days before the due date, the first complication of several that eventually led to Alves taking medications, including an epidural.
In the end, doctors told Alves she needed to have a cesarean section. Levi emerged with his eyes wide open, crying, and "glad to see the day," his father said.
Though the surgical procedure took only a fraction of the 60 hours Alves spent giving birth in the hospital, the whole experience was a great journey for the couple, McConaughey said.
"We call it 'the best dance we've ever had,' " he said. "We've gone through something now that we're like, 'I know, and you know, and only you and I know, and that's good for us.' "
The names Levi and Matthew both refer to the same apostle in the New Testament, and McConaughey has always liked the name Levi for that reason. When Alves suggested they name their son Matthew a year ago, McConaughey suggested Levi instead.
Levi was still one of a few name possibilities when the boy let out his first cry at 6:22 p.m. -- a surprising coincidence for McConaughey, whose favorite verse in the Book of Matthew is 6:22.
Don't Miss
McConaughey kept Levi's placenta and intends to plant it in an orchard, inspired by an Australian Aboriginal custom in which the placenta of every member of a clan gets buried under a giant tree. The tree became a "huge behemoth of just health and strength," he said.
McConaughey's father, who died when the actor was in his early 20s, had two mottos that McConaughey will pass on to Levi: "Don't lie" and "Don't say 'I can't.' " Growing up, McConaughey's father wouldn't even respond to such claims as, "I can't get the lawnmower started."
Health Library
"Never C-A-N-T -- nasty word in our family, and that will be a nasty word to Levi."
As for their kitchen, McConaughey's family is going organic, though not vegetarian unless Levi wants it. McConaughey is adamant about limiting candy and won't use it as a bargaining tool with his son.

And when it comes to changing diapers, McConaughey says it's "not a big deal."
McConaughey and Alves decided that, rather than let paparazzi profit from the first pictures of their child, they would make an exclusive deal with OK! magazine and make money for their charity, the J.K. Livin' Foundation, which teaches children the importance of decision-making, health education and active living. They reportedly received $3 million for the deal.
He says he's not comfortable putting large walls up around his house, and strives to be a member of his community.

Though both McConaughey and Alves have achieved international recognition, McConaughey is not worried that his son will feel a burden in having to live up to their fame.

"If that's a major burden, if something like 'Oh, I've got famous parents and I can't get out of their shadow,' if that kind of thing were to happen, I got a little road trip we'll take to Africa that will sober things right up for him," McConaughey said, laughing. "No, we're living a little higher than that, a little better than that. ... He's got us, we love him."
E-mail to a friend