By Jackie Adams
CNN






WHITTIER, California (CNN) -- To most of his friends and colleagues, Muata Kamdibe was the fun-loving, dreadlocked English professor with a great sense of humor. He was outgoing and loved to laugh and have a good time.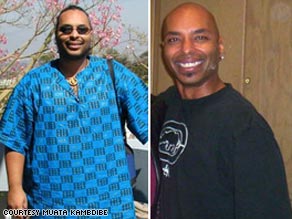 Muata Kamdibe, 37, weighed 310 pounds before he lost 133 pounds and reduced his body fat to 6.5 percent.
Chubby throughout his childhood, Kamdibe, 37, says he started gaining weight in college. Instead of gaining a little, he packed on 20, 30, even 50 pounds in a year. The stresses of life, family and career caught up with him over the years and by the time he approached his mid-30s he weighed nearly 300 pounds.
"I never felt comfortable in my own skin. I was very disappointed in myself," says Kamdibe. "I felt like a small guy trapped in a large guy's body."
But a family trip to Las Vegas, Nevada, in December 2002 would change his life.
"[I] stepped on the scale and I was over 300 pounds," Kamdibe says. "As a big guy, you always say 'As long as I'm not 300 pounds' you're OK ... it was a weight and size I told myself I would never get to."
Realizing he weighed 310 pounds, Kamdibe, who is 6 feet tall, says he was disgusted with himself and the moment brought him to tears. He knew he had to do something.

Watch more on Muata Kamdibe's success »
Don't Miss
Just one month later in January 2003, he changed his diet and started walking at least an hour a day. Even though he was leery of diets, he decided to try the Atkins diet and quickly lost 60 pounds in the first six months.
Fact Box
Muata Kamdibe's Tips
Calories count! If anyone tells you differently, keep your hand on your wallet and back away slowly.

Feed your brain to lose the weight. Educate yourself about the weight-loss process to create your own way of eating.


Establish a realistic plan to accomplish your goals. Having an epiphany that you need to lose weight is not enough.


Lie to everyone else about your weight if you'd like, but there is no room for lying to yourself anymore.


Read both sides of the debate about saturated fat and cholesterol. There's more than enough information available to make an informed decision about a diet that is good for you.


If you can't do 20 strict form push-ups and chin-ups, then you shouldn't think about touching one dumbbell. Bodyweight exercises are enough to build the body that 90 percent of the fat guys and their women really want!

In 2004, he hit a plateau and only lost five pounds the entire year. He knew something was wrong and began doing what he knew best -- research. He began reading everything he could about weight loss, how the body processes food and exercise regimens for Olympic athletes.
Kamdibe discovered he had to take a different approach to his diet and exercise regimen. Instead of lifting weights he used his own body weight for resistance. He also modified his extremely low-carbohydrate or no-carb diet -- and focused on how much food he was eating.
"You have to control how many calories you take in," says Kamdibe. "[Before] I didn't care about calories, I constantly ate throughout the day ... I didn't realize how many calories I was actually consuming." iReport.com: Your weightloss successes
Kamdibe chronicled his progress online on a blog he called "Mr. Low Body Fat." It started out as a way to hold himself accountable and update friends, but it also allowed him to inspire others who were trying to lose weight.
"I wanted to create a blog for the average person to understand that they can lose weight. They don't have to pay a lot of money to a trainer, they don't have to follow all of these different programs," Kamdibe says. "I decided to call it Mr. Low Body Fat to challenge myself."
By July 2007, Kamdibe had lost 133 pounds and weighed 177 pounds. He had also reached his goal to get his body fat under 10 percent -- from a high of 44 percent to 6.5 percent. Even though he's still working to achieve his goal of six-pack abs -- he feels and looks like a completely different person.
"It's given me this crazy notion that I can do anything I put my mind to," Kamdibe says. "Now I'm getting to know me. The face I look at every morning is new to me."

Kamdibe admits the weight loss hasn't been easy and says he's still trying to catch up mentally with his more muscular physique. The transformation has boosted his self-confidence and helped him become a well-rounded person.
"Losing weight was one of the last obstacles I had to overcome to finally figure out who I was as a person," says Kamdibe. "To be able to inspire someone else in turn, that makes me feel really good."
E-mail to a friend

Matt Sloane contributed to this report.
All About Weight Loss • Diet and Nutrition • Health and Fitness