By Jackie Adams
CNN






MARTINSBURG, West Virginia (CNN) -- Hardly a day that goes by that you won't find Tracey Wygal working out at the gym.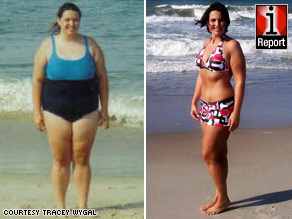 Tracey Wygal weighed 295 pounds before starting a "clean diet," keeping a food journal and exercising.
The 30-year-old middle-school teacher does cardio exercise, strength trains and follows what she calls a "clean diet."
That's quite a change for a woman who tipped the scales eight years ago at 295 pounds.
Wygal first started gaining weight in her early teens. A fast-food diet and little to no exercise helped her pack on the pounds, and her weight ballooned to over 200 pounds.
"It was my first year out of college, and that number, along with being diagnosed as morbidly obese, was very frightening," remembers Wygal. "I went to several doctors, trying to get them to prescribe a weight-loss pill."
Don't Miss
But none of her doctors would give her the quick fix she was looking for. Instead, a physician handed her a 1,600-calorie-a-day diet and told her to start moving.
At first, Wygal was shocked and refused to begin a diet that she thought was too restrictive. Even though her weight was rapidly approaching 300 pounds, she believed she had a pretty good diet and an active lifestyle.
As her weight crept up, Wygal grew more frustrated, and eventually she decided it was time to gain control of her life.
She started by keeping track of her daily calorie intake in a food diary and soon realized that her eating was worse than she thought.

Watch more from Tracey Wygal on her weight loss success. »
Fact Box
Tracey Wygal's success strategy

1. Keep a food diary. Write down everything you eat and drink. Calculate total calories at the end of the day. Be consistent in your diet.

2. Be consistent in your exercise. Create a set gym/workout schedule. Vary only when absolutely necessary.
3. Find a gym that accommodates your lifestyle (hours of operation, day care options, equipment, classes offered, etc.).

4. Change your outlook on food. Instead of equating food with happiness or enjoyment, view it as purely as nourishment or fuel for your body to function.

5. Be realistic in your goals and program. Know that it will take time to make considerable change, and don't give up!

6. Stop making excuses and make it happen! Make YOUR health a PRIORITY in your life.
"I was amazed by how many calories I was eating," Wygal said. "The food diary showed me that I really needed to get my food intake under control and helped me maintain my diet realistically."
She also started exercising.
At first, Wygal says, she was too embarrassed to go to a gym, so she bought an elliptical machine and started working out 15 minutes a day in her apartment.
"It was all I could do at first. I didn't give up, though," she said. "Gradually, my endurance improved. After losing about 30 pounds, I decided to join a small gym."
Several months later, Wygal was ready to take the next step. She hired a trainer and began a short strength-training program.
That's when something clicked.
Instead of feeling intimidated, Wygal started to love her workouts and the physical changes taking shape with her body. Ready to take the next step, she joined a larger gym, began researching different workouts and got into weight training.
Over the next three years, she lost 120 pounds and dropped seven dress sizes. Wygal, who's 5 feet 10 inches tall, says the fear of gaining weight motivates her to stick to her diet and exercise regimen because she never wants to look like she did at 295 pounds.
Now comfortable with her weight, which she says fluctuates between 170 and 180 pounds, Wygal works out at least five to six days a week. She says the key to losing weight and keeping it off is being honest about what you eat, writing it down and staying consistent. She wants people to know they can do it, but there are no quick fixes or easy outs -- just hard work.

"It won't happen overnight," Wygal advises. "Know that it will take time but it is worth it in the end."
iReport.com: Have you lost weight? Send your story, photos and video

E-mail to a friend

CNN Medical News producer Matt Sloane contributed to this report.