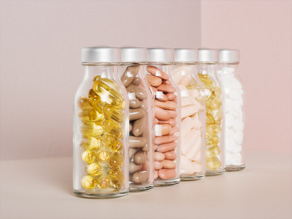 A big problem is that dietary supplements are not required by the United States to be standardized.
Overview
Americans spend billions of dollars a year on supplements in hopes of making up for the lack of nutrients in our diets, staying healthy, looking young and extending our lifespan. But do they actually work? The National Institutes of Health doesn't specifically recommend any daily supplements because there is no research or studies that show unequivocally that a specific supplement works. However, there have been studies that prove certain supplements do not work, such as ginko (to help memory) and echinacea (to ward off a cold). There are a few dietary supplements that show some benefits: calcium supplements and vitamin D (to reduce the risk of osteoporosis), omega 3 supplements (to reduce the risk of heart disease) and folic acid supplements (to prevent major birth defects).
Questions and answers
Why is it so hard to test these supplements to find out whether they really are working?
Dr. Sanjay Gupta, CNN chief medical correspondent: A big problem is that dietary supplements are not required by the United States to be standardized. This means that the manufacturers are not making sure each batch has the same consistency or chemical makeup. And obviously different consistencies in the makeup of the pills are not going to provide consistent results in the studies, or in our bodies for that matter. The government actually warns consumers that if you see a supplement bottle that boasts the claim "standardized," it doesn't mean it actually is. In other words, just because they company puts it on the label doesn't mean it indicates product quality.
What about the super cheap supplements that are sold at closeout or discount stores? Are they safe?
Consumer Reports actually did a great investigation into this. They tested the supplements sold at closeout stores and compared them with name-brand supplements. Their testing found that nearly half of the brands failed to contain the labeled amount of the nutrient. They also didn't dissolve as well as the name-brand types. So if you are going to invest in a supplement, based on this study, a name-brand kind might be the way to go. One thing people don't really need to be concerned about is taking too much or too high of a dose. Our expert at Tufts University tells us that most supplements have a margin of about five to 10 times the dose before a person actually gets into toxic territory. He says Vitamin A is really the only supplement that, in high doses, could have a negative impact on your liver.
E-mail to a friend


Background
CNN spoke with Jeffrey Blumberg, Ph.D., FACN, CNS, the director of the Antioxidants Research Laboratory at the Jean Mayer USDA Human Nutrition Research Center on Aging and a professor at the Friedman School of Nutrition Science and Policy at Tufts University. Here are excerpts from that interview.

CNN: Can taking too much of a vitamin be dangerous?

Dr. Blumberg: Absolutely! Anything at a high enough dosage can be dangerous, and that applies not only to drugs but herbs and nutrients, as well. We know that there are upper levels of safety for almost every nutrient, so you certainly can go overboard.

CNN: On which ones?

Dr. Blumberg: Well, toxicity from dietary supplements is actually pretty rare. High doses of vitamin A, we know, can cause some changes in cerebral hypertension, for example, and can cause liver problems. Most nutrients are quite safe, and the margin of safety between the recommended dietary allowances, or even what you'll find in the higher dose dietary supplements, usually provides a margin about five to 10 times the dose you'd have to take before you start getting into toxic ranges.

CNN: Are there particular diets in the world that are known to be healthier diets?

Dr. Blumberg: Looking around the world we know that certain dietary patterns are associated with greater health and lower prevalence of chronic diseases: a traditional Mediterranean diet, a traditional Asian diet, a vegetarian diet. There isn't a single dietary pattern that provides the answer to all of our problems, but we do know that particular Western diets that are very high in saturated fats and very low in dietary fiber are associated with greater risks of more chronic diseases.

CNN: What is it in those countries that make their diets so healthy? Can you pinpoint what it is about those diets?

Dr. Blumberg: Researchers have been studying healthful diets to understand what ingredient is the most potent and powerful ingredient to promote health, but we haven't succeeded. It's pretty clear there's no single magic ingredient, no wonderful miraculous nutrient that [has] all that benefit. It really has to do with the complexity of the diet. It's the interactions between the vitamins and the minerals and the fiber and the phytochemicals. It's really all those things that come together to create a healthful pattern. Nonetheless, much of our research tends to be very reductionist and we do research studies to test one nutrient at a time. And some of those studies really do work. We do know that folic acid, just by itself, can help reduce neural tube birth defects in pregnant woman. But those tend to be the exceptions. When we start talking about more complicated chronic diseases such as cancer and heart disease or Alzheimer's disease, there are many nutrients that increase risk and there are many nutrients associated with decreased risks for those diseases.

CNN: Can you eat your way to a longer life?

Dr. Blumberg: You can absolutely eat your way to a longer life, but not if that's your only strategy. You've got to do other healthful things, too, like exercising.

CNN: Can you swallow a particular pill that can zap any bad thing in your body?

Dr. Blumberg: There is no pill known to modern science that's going to be any kind of panacea for all of the things that happen to us as we age. We do know that there are some key nutrients that look to be very important: We know about antioxidants and the role they may play in cardiovascular disease and the visual disorders; we know about B vitamins that also contribute to some of those very same preventive strategies.

CNN: What effect do antioxidants have on heart disease?

Dr. Blumberg: There's an enormous amount of consistent evidence that people who follow diets that are rich in antioxidant nutrients have a lower risk of heart disease. But which antioxidant? We are not sure. It could be the vitamin C, the vitamin E, the flavinoids. It could be all sorts of compounds. There are about 20,000 different antioxidants in our diet. That's one the reasons dietary supplements can't replace a healthful diet because we don't know what's important to put in every pill. We know some things that are quite important but none of them by themselves are the answer. Indeed, we keep learning more and more about what's in our diet to promote our health.