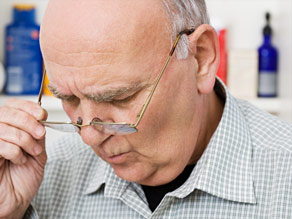 Age-related macular degeneration gradually destroys the sharp central vision you need for seeing objects clearly.
Overview
Age-related macular degeneration is a baby-boomer disease that, according to the American Medical Association, affects more than 10 million Americans. It is one of the leading causes of blindness for people over age 65. A study published in the July 2007 issue of Archives of Ophthalmology found that current smokers are four times more likely to develop this eye problem than nonsmokers.
Questions and answers
What does the study say?
Dr. Sanjay Gupta, chief medical correspondent: We're talking about a disease called age-related macular degeneration. The biggest risk factor for it is simply getting older. It usually hits after age 50, and, by the time you're 75, about 15 percent of all people have it. Smoking is also a known risk factor. But this research found the risk for getting late age-related macular degeneration is four times greater if you smoke.
Age-related macular degeneration affects your eyes, and gradually destroys your sharp central vision you need for seeing objects clearly for things like reading, driving, and even recognizing faces. The macula is the center of the retina, the light-sensitive tissue at the back of the eye. The retina relays images through the optic nerve to the brain. When the macula breaks down, things start to look blurred.
The mechanism for why smoking may increase the risk to your eyesight isn't clear yet. We know smoking increases your risk for many diseases. For example, smokers are twice as likely to die from heart attacks as are nonsmokers, according to the American Cancer Society. But the clear takeaway message here is: If you smoke, quit and get regular eye exams.
What if you used to smoke but you quit?
In this study, past smokers were three times as likely to have late age-related macular degeneration as those who had never smoked, compared with four times greater for current smokers. So, former smokers still have higher risk, but it's slightly lessened. But obviously, there are all kinds of other health benefits if you quit smoking. According to the American Cancer Society, people who quit before age 50 cut their risk of dying in the next 15 years in half compared with those who continue to smoke.
Can age-related macular degeneration be treated or cured?
There's no cure for it, but therapies can slow vision loss. It's important to get regular eye exams. An eye exam can detect macular degeneration before the disease causes vision loss. The American Medical Association recommends a screening eye exam, including detailed exam of the retina, for all people age 40 and over. And if your doctor discovers age-related macular degeneration, it's important to have frequent eye exams.
E-mail to a friend


Background
CNN spoke to Pat Wilkinson, president of the American Academy of Ophthalmology. Here is an edited transcript.

CNN: What is your response to this study?

Wilkinson: There are other data that have incriminated smoking in age-related macular degeneration. This is a good study, one of many from this group in Australia, regarded as a good group. And it's timely -- we're seeing an epidemic of age-related macular degeneration with our aging population. The incidence skyrockets at about age 50 (these study participants 49+) -- and then it really goes up at age 75. It is the leading cause of blindness in this country, in this age group by far. It will be a big problem in years ahead if we don't do a better job.

CNN: Help us understand the mechanism by which smoking would increase the risk of macular degeneration.

There are a lot of theories -- nobody really knows what causes it. There's a racial determinant -- it's much more common in whites than African-Americans. Twin studies also show the importance of genetics. We all know smoking is bad for your blood vessels, but we don't think the blood vessel theory is as strong as it used to be. The short answer is, we just don't know.

In addition to smoking, AMD is postulated to share other risk factors with cardiovascular disease, such as elevated cholesterol levels and hypertension. Does that make sense?

It certainly makes sense when you think about age. The relationship with hypertension isn't very strong; not as strong as hypertension is linked to a variety of other eye diseases. I don't want to dodge this -- but it's a complicated, unknown mechanism. They did show a trend of protection with omega-3 fatty acids.

What are the screening recommendations for AMD?

Everybody age 40 and older should be screened for the disease. Up until three to four years ago, we really didn't have treatments for this disease. Now that we have an effective treatment, the pill brand named Ocuvite PreserVision.