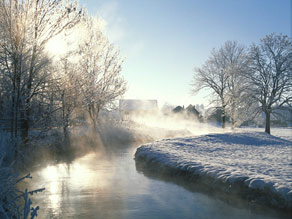 In wintery weather, knowing how to stay safe and warm is the key to staying out of trouble.
Overview
Hypothermia develops when body temperature, usually at 98.6ºF, drops below 90ºF. Frostbite occurs when parts of our bodies -- usually fingers and toes -- freeze because the blood vessels have constricted and blood flow is reduced. According to the Red Cross, about 700 people in the United States die every year from hypothermia and frostbite. People can become lost in the wilderness, stranded in their cars or trapped at home without utilities.
Knowing how to stay safe and warm is key to staying out of trouble. The Red Cross advises that during dangerous weather you should stay with your vehicle; don't try to walk to safety. Also, move your arms and legs to keep blood circulating and to help you stay warm; wear a hat, preferably one that covers your ears; stay dry; stay sober; and if you know you are going to experience extreme conditions, dress in several layers of lightweight clothing, which will keep you warmer than a single heavy coat. Most importantly, try to anticipate problems (car break down, power outage, etc.) and be prepared.
Questions and answers
So, if people stay indoors, can they avoid some of the dangers of winter weather?
Dr. Sanjay Gupta, CNN chief medical correspondent: That's a big misconception. One in every five hypothermia deaths actually occurs at home. It's not necessarily people who are outdoors who get this. More than half of the deaths happen in people ages 65 and older. So it's definitely something that can happen around the house and with minimal exposure to the environment.
E-mail to a friend


Background
According to the Red Cross, pain from frostbite may not be immediate. When the pain begins depends on how long it takes the body part to thaw. The longer the thaw, the longer the pain would be delayed.

The early symptoms of hypothermia are feeling cold and severe shivering. As the condition worsens, the shivering will decrease even as the body temperature drops. Weakness, confusion and finally unconsciousness may follow. Frostbitten areas of the body initially turn pale and the feeling is lost. Neither condition is painful, which is why they are deceptively dangerous.