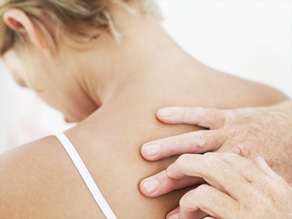 Pain in the neck and back may go away on it's own without expensive treatments.
Overview
According to a 2008 study from the University of Washington, expenses related to back and neck pain have increased to more than $80 billion a year, but functional disability and work limitations do not seem to be improving. In other words, patients are spending money on prescription pain medications, surgery and MRIs and other imaging studies on a problem that, in most cases does not require a doctor's care. Most patients would do just as well by waiting, exercising or taking over-the-counter pain medications before visiting the doctor.
Questions and answers
What about enlisting a chiropractor? Does manipulating the spine work for pain?
Dr. Sanjay Gupta, CNN chief medical correspondent: Many people visit chiropractors to avoid having to take medication. Most experts will tell you to go see a chiropractor to get some short-term relief from your pain, and I stress short term. There is no evidence that this works over the long term. One big study found that going to a chiropractor is about as effective as going to your primary care doctor or taking a prescription anti-inflammatory medication. So it's going to give you some relief, but it's not a long-term solution. Lifestyle changes such as exercise, maybe yoga, losing weight and getting pressure off the low back are great solutions over the long term.
So we're spending too much on back problems that will probably pass most of the time but obviously there are times people should see their doctors, right?
Right. Most people, about 80 to 85 percent, will have their back pain go away in two to three weeks. They shouldn't worry. Folks with chronic pain lasting longer than two to three weeks should see a doctor.
Older patients, in their 60s or 70s, should see a doctor. For them, back pain may be a sign of a more serious problem. In younger patients, back pain itself is not a big problem, but when it's accompanied by numbness for more than a couple of weeks, there could be something more serious going on. Again, most of the time back problems will improve in a few days or weeks, so you may want to wait it out a little while before rushing to get that procedure or that MRI.
E-mail to a friend


Background
CNN spoke to Dr. Nick Dinubile, former president of the American Academy of Orthopedic Surgeons. Below are some excerpts from the conversation.

Dr. Dinubile: This study comes as no surprise to me. The interesting thing is, we don't seem to get people any better. The suggestion of the study is that people with back problems are not doing any better even though they are spending so much money.

CNN: When should a person actually get these procedures or see a doctor for back pain?

Dr. Dinubile: Back surgery is good for things like when you experience weakness in a leg even though the rest of the back is healthy. Those people do great if we take the disc out. Or it is good for absolute reasons like progressive neurological dysfunction. Or if a person starts to have bladder issues or gets into those progressive neurologic deficits, then you absolutely need surgery. Also if there is significant instability in the back.

There should be less imaging, less back surgery. [The United States] has 10 times the amount of back surgery as other countries. We think more back surgery is better. Just because we have newer, less invasive techniques like small incision surgery doesn't mean you need more.

CNN: Why do more people complain about back pain?

Dr. Dinubile: A lot of people are out of shape, overweight. People who smoke have a higher incidence of low back pain and a higher complication rate after back surgery.

The bottom line is there is no quick fix for back pain. We really have to think about changing our lifestyle. Fitness protects the lower back. There was a landmark study with firefighters: the fit ones missed less time from work and were less likely to file worker's comp claims.

Patients want MRIs; there should be very strict guidelines about when they are given. You can look at most back episodes like the common cold: You've got to ride it out. Jumping into surgery is not good. We know that about 70 percent of people with back pain are over the episode in two weeks if the problem is in the back only. Another 10 to15 percent are over it in the next two weeks. For the rest it may be chronic pain. But for the majority of people, pain will run its course.