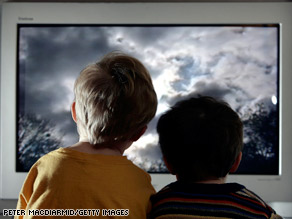 Overview
Daily television viewing for two or more hours during early childhood can lead to behavioral problems and poor social skills. The study, which is published in the October 2007 issue of Pediatrics, was conducted by Johns Hopkins researchers on children aged 2 to 5.
Questions and answers
Is your child acting out? It may be time to turn off the tube. Haven't we heard this before?
Elizabeth Cohen, CNN medical correspondent: Yes, but it's an issue that the American Academy of Pediatrics says that parents still don't understand. This study zeroed in on how much TV kids are watching at two key times in their development: age 2 and again at age 5, when it's time for kindergarten.

We've reported a number of studies demonstrating the negative effects of heavy television viewing for kids, everything from attention deficit hyperactivity disorder (ADHD) to poor vocabulary development. The AAP has guidelines for TV viewing and children: children younger than 2 should not watch television, and children 2-years-old and older should watch no more than two hours of TV per day.
What about parents -- you know who you are -- who put a TV in a child's bedroom?
Cohen: Bad. The study found having a TV in a kid's bedroom at 5.5 years of age was associated with behavioral problems, poor social skills and poor sleep. Forty-one percent of kids in this study had a TV in their bedroom. It's never too late to start limiting TV viewing by your kids.
E-mail to a friend


Background
CNN spoke with Dr. Victor Strasburger, author of many parenting books and the chief of the division of adolescent medicine at the University of New Mexico School of Medicine. He is one of the authors of the American Academy of Pediatrics' policy statement on children and television but unconnected to the Johns Hopkins study. Here are excerpts from the conversation:

CNN: What strikes you about this study?

Strasburger: I wrote the AAP guidelines; parents are clearly ignoring our advice. Most parents are unaware of the AAP guidelines, or don't believe them. Clearly kids watch too much TV, screen too much media. From this study, it looks like we're looking at younger, less educated parents at risk for letting kids watch too much TV. As the authors point out, what they're watching is equally as important as how much they're watching. This study doesn't look at content.

CNN: What about effects on behavior?

Strasburger: They found an association. Kids who are having behavior problems will want to withdraw -- not socialize -- and watch TV. It's not a causal relationship. I'd like to see the sustained viewers -- preteens and teens -- and the effects of kids watching a lot of TV for a long time. They are at significant risk not just for behavioral problems, but obesity problems, as well, in addition for the risk of early sex and drugs, since they're seeing a lot of PG and R-rated material.

CNN: But it's not easy for parents to wean kids off of TV, especially if it has been used as a baby sitter.

Strasburger: On a list of 100 top things you want to argue with your child about, TV is number 99! We consider this one of the most urgent areas of inquiry I can think of in the area of children's health. If you're a parent or pediatrician, you have to understand, media cut across every single issue you have with kids: behavior, aggression, sex, obesity, suicide.

CNN: What's the headline on this study?

Strasburger: Excessive TV viewing for kids needs to be tackled head-on. This is a pervasive influence on child development, and we're not studying it well enough to understand what needs to be done.

Parents need to get the TV set out of the kids' bedrooms, now. That is becoming an AAP directive. There is no reason for it. Previous studies have shown us TV sets go in kids' bedrooms so parents can watch what they want to watch. Parents should also be observing academy guidelines: Less than two hours a day. Not only that, but observe those hours watched. You have to control what your kids watch. They could be watching shows that make you blush, and you have no idea.