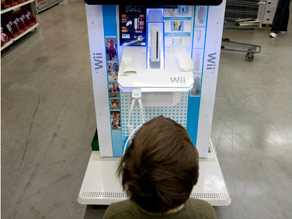 Energy used during interactive games was much lower than real sports, researchers said.
Overview
Many kids love interactive video games that involve movement, such as Dance Dance Revolution and Nintendo Wii sporting games. Kids who don't already have them really want them. But can these games help kids lose weight and get fit? How do they compare with real sports? New generations of active computer games stimulate greater energy expenditure than sedentary games, but they are no substitute for playing real sports, according to a study in the British Medical Journal in December 2007.
Questions and answers
Can these games keep kids fit?
Dr. Sanjay Gupta, CNN chief medical correspondent: It depends on what you mean by fit. The average American child spends four hours watching television each day. Many spend the rest of their time sitting on the couch. The Centers for Disease Control and Prevention recommend that kids get at least an hour of moderate to vigorous physical exercise each day to stay healthy. So, any game that gets kids up and moving is a good thing. But a small English study found that although kids who play these games are burning calories, they're better off going out and playing real sports instead of jumping in front of a TV screen.

Dr. Gupta explains how video games could help kids exercise. »
Researchers say energy used during interactive games was much lower than during the real sports, such as bowling, tennis and boxing. It was not intense enough to really make a difference toward achieving the daily recommended amount of physical activity for children.
How do video games compare with real sports in terms of calories?
Gupta: Kids who played an interactive boxing game for an hour used 175 calories. But if they participated in a real boxing program, they burned more than twice that amount, 384 calories, in an hour. Interactive bowling used 168 calories in an hour, while bowling at the bowling alley used 192 calories per hour. So there is a difference.
But haven't there been other studies showing that kids do lose weight using these games?
Gupta: Yes, I've done a lot of stories that have looked at the effects interactive video games have on kids' weight, and the results have been pretty impressive. A recent study out of the Mayo Clinic in Minnesota found kids playing these types of active video games burned twice -- sometimes three times -- the number of calories compared with kids playing traditional games. We've profiled kids who have lost loads of weight by playing these games, so they do have positive effects.
What's the best way to keep our kids fit and active?
Gupta: Get them off the couch! If they can't go outside, at least keep them active with an interactive video game. It's better than sitting. But if they can go out and play or participate in school or team sports, have them do it. There's no replacement for the real thing.
E-mail to a friend