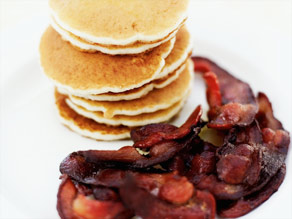 The abundance of fried food means higher calories and more saturated fats.
Overview
Traditional Southern food tastes great, but it's often high in calories and saturated fat. As a region, the South suffers from higher rates of strokes, high blood pressure and high cholesterol.
A 2007 CDC survey found that states in the Southeast and Southwest were also leaders in heart disease. While the reasons aren't always clear, factors such as lower access to health care, lower exercise rates, socioeconomic and cultural differences and poor eating patterns all contribute to the higher rates of chronic disease.
Questions and answers
How healthy are Southern favorites such as biscuits, hash browns and grits?
Dr. Sanjay Gupta, chief medical correspondent: Traditionally, food in the South is not as healthy as it could be. There's a lot of fried food with even some steaks being battered and fried. Let's take a breakfast dish at a popular restaurant chain of three sausage links, hash browns, two eggs with cheese, a biscuit with butter and jelly and orange juice. That's a total of 1,650 calories and 101 grams of fat. Forty-two grams of the dish are artery-clogging saturated fat. This meal contains 75 percent of your daily calorie allotment and more than a day's worth of saturated fat.
A high-fat diet can really do a number on your body. You have less energy, and you increase your risk of obesity, heart disease, diabetes and some forms of cancer. In fact, these are all issues that have been problems in the South for some time.
Are Southerners less healthy than the rest of the country?
Gupta: You can't make a blanket statement like that. However, people in the South do struggle with some chronic diseases. They have more heart disease and stroke than the rest of the country. The top five states for people who die from strokes are Arkansas, South Carolina, Tennessee, Mississippi and North Carolina. The states with the highest proportion of heart disease are West Virginia and Kentucky, followed by Mississippi, which was ranked the unhealthiest state in 2007.
What are the reasons for this?
Gupta: There are two major reasons: lifestyle and medical care. People in the Southeast have higher blood pressure and cholesterol levels. They have diets that are higher in saturated fats. They eat less fiber, and fewer fruits and vegetables. Plus, they exercise less. In some states, they exercise 15 percent less than the rest of the country. Southerners also have less access to health care. This is true for more than 20 percent of those in Arkansas, Louisiana, Mississippi and Florida. Compare this to Minnesota and Wisconsin where only 9 percent don't have coverage.
E-mail to a friend


Background
CNN spoke with Greg Heath, D.H.Sc., M.P.H., former epidemiologist at the Centers for Disease Control and Prevention and head of the Department of Health and Human Performance at the University of Tennessee at Chattanooga. Here is an edited transcript.

CNN: Is the South unhealthier?

Heath: If you look at it from a disease point of view -- the prevalence of conditions like hypertension or coronary heart disease deaths, heart attacks or strokes -- you can see an emerging pattern through the South and Southeast streaming out into Louisiana and Texas. There are higher rates of this disease relative to other parts of country. If you look at it like a map, you have a band of heart disease deaths that go through this area. In the Mississippi and Ohio valleys, which have a number of Southern states, you have the coronary valley. Rates of death due to coronary heart disease, heart disease and stroke are higher than other places in the country, when compared with the West and Southwest.

Another way to look at this is through the health behaviors that are associated with these diseases. These are people who are identified through height and weight self-reported. The surveys are done by phone in every state.

Generally, when you look at patterns of risk factors for heart disease, diabetes, smoking, fruit and vegetable intake, physical activity and high blood pressure (all self-reported), it covers a whole waterfront of risk behaviors that are associated with these chronic diseases.

Overweight and obesity are higher in the South, even when you adjust for age and socioeconomic status. We see an emerging pattern that looks similar to the death rates in terms of these chronic diseases. We see higher estimates prevalent across these states.

When you look at race, ethnicity, particularly African-American and/or Latino or Hispanic when compared with white population -- the rates of disease tend to be higher (not just in South). Some of this goes away when you control look at socioeconomic status.

A person who has a college education, regardless of race/ethnicity, will have a better health profile, than a person who is of lower income or lower education attainment. That transcends race or ethnicity. Poor uneducated white folk are just as likely to have a poor health profile as some of other races.

Another issue is access to health care. For example, when I was at CDC, I reported on some of these disparities. What you see, when asking people between the ages of 18 and 64 if they have any kind of health-care coverage, 88 percent or more that say yes. Most Southern states are less than 77 to no more than 85 percent of the population indicating they have some kind of health-care coverage. At least 20 to as high as 30 percent are reporting they don't have any health coverage. When compared with other parts of the country, it seems to be much higher.