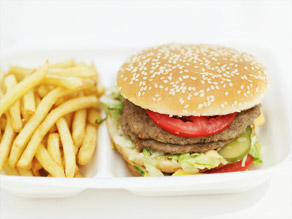 A fast-food hamburger contains about 750 to 800 milligrams of sodium -- half of a young child's daily limit.
Overview
Children who eat less salt consume fewer sugar-sweetened soft drinks and may significantly lower their risks for obesity, elevated blood pressure and later-in-life heart attack and stroke, according to a study in Hypertension: Journal of the American Heart Association from February 2008.
Questions and answers
How can you reduce the amount of salt in your kids' diet?
Dr. Sanjay Gupta, CNN chief medical correspondent: It's really important to reduce the amount of sodium because it does make a difference. These researchers said that cutting kid's salt intake by half -- that's about three grams -- has the effect of reducing soda intake by two soft drinks per week.
Let me give you some examples of how to do that: Staying away from fast food such as pizza, hamburgers and hot dogs is a good idea because these foods are high in sodium. A fast-food hamburger contains about 750 to 800 milligrams of sodium, or about half of what a young child should get on a daily basis, and that's just one sandwich. Keep them in moderation and certainly don't sprinkle any more salt on them. There are also lots of low-sodium alternatives to products that tend to contain a lot of salt -- soup and cheese, for example. Fresh fruits and vegetables are always a good way of getting nutrition without salt.
What's the deal with salt?
Gupta: Study author Dr. Graham MacGregor said that salt isn't really used as a preservative any more, and the amount of salt contained in processed foods is much higher than we need in our diets.
Is soda bad for you?
Gupta: Soda is associated with a number of health issues. For each additional drink per day, a child is 1.6 times more likely to develop obesity later in life. Studies have also suggested a link between soda and osteoporosis.
E-mail to a friend


Background
Study author Dr. Graham MacGregor of St. George's Hospital Medical School, London, England, spoke to CNN. Here's an edited portion of the conversation.

MacGregor: Salt is playing a hidden role in the obesity epidemic by causing more intake of sugary soft drinks. Children get habituated to a salty taste. Much of the obesity epidemic is in the hands of the food industry. The most important thing possible is to cook fresh food as much as possible -- those meals will have very little salt at all. Virtually no products use salt as a preservative anymore. Choose bread with less salt, choose cereals with less added salt. Try to avoid these very salty ready-made foods.